PHOTOGRAPHS BY GARY BINDMAN
---
Alice + Olivia dropped a flower bomb on Fashion Week El Paseo Wednesday night (March 21) with a collection of equal parts aspiration and attainability.
In a nod to this sunny locale, palm print opened the show — a floor-length draped dress in white fabric with bold green leaves, followed by a breezy wide-leg pant and sheer wrap blouse, and a shift dress, all in matching fabric. Bright florals appeared in embroidery on denim flares and in delicate spray patterns on ruffled chiffon skirts.
Vibrancy dominated, captained by an ultra-modern neon coral that popped up in color-blocked kitten heels and made a serious statement in the form of an A-line lace midi skirt and, later, a supple deep-pocket duster coat with cropped sleeves, both of which will ease the cool-weather fall wardrobe into spring and summer.
If designer Stacey Bendet's world were an emoji, it would be the unicorn. It's life in unabashed Technicolor. One of the brand's core values is female empowerment, and through her designs, Bendet aims to inspire a sense of stylish fearlessness. When you see the Alice + Olivia woman, you want to be her. And the beauty of Bendet's price-point is that you can.
She launched the line in 2002 with a classmate from the University of Pennsylvania. The two split early on, and Theory founder Andrew Rosen joined as partner in 2003.
Her goal? She just wanted to fabricate a wicked pair of pants.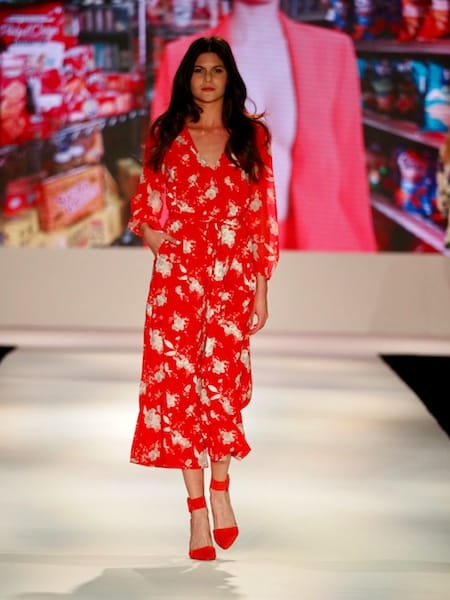 When you see the Alice + Olivia woman, you want to be her.
Those "Staceypants"got picked up at Barneys New York almost immediately. They snowballed into a lifestyle brand that dishes up a full range of fashions for the funky, feminine dresser and are available in more than 800 stores in 50 countries around the globe
Local stylist Neil Cohen, who attended the show, describes Bendet's aesthetic this way: "I always like to put things into two categories — there's minimal, and then there's maximal. She does maximal, and she does it great. It's embroidery, it's sequins, it's maxis, it's bell bottoms. She takes all the trends and gives them her signature spin."
Squeals filled the room as the Ryley low-rise bell jean pranced down the runway — a gorgeous flare, hand-embroidered in a kaleidoscope of '70s-inspired flora and topped with a graphic tee and metallic sequined jacket. Next up, a complementary ensemble paired a yellow snakeskin-print coat with another great pair of jeans, this one with rainbow patches on the bum.
Light and frilly cocktail dresses with asymmetrical ruffle necklines, summery off-the-shoulder maxi dresses, satiny gowns, and sophisticated separates (some solid color, some head-to-toe print) received an update with sporty bomber jackets and fierce platform shoes. There was a fitted midi shift dress in silver sequins with an exposed-back zipper and playful primary-hued hand-embroidered flowers.
There was an opalescent dusty-rose damask pant suit, with super-flare asymmetrical ruffled legs. For the finale look, Alice + Olivia spread a thick layer of blue icing on the ready-to-wear cake when the voluminous Posey ruffled ball-gown skirt traipsed toward the cameramen; the Lacey crop top, fully ornamented with tiny sequins, scintillated beneath the rainbow spotlights.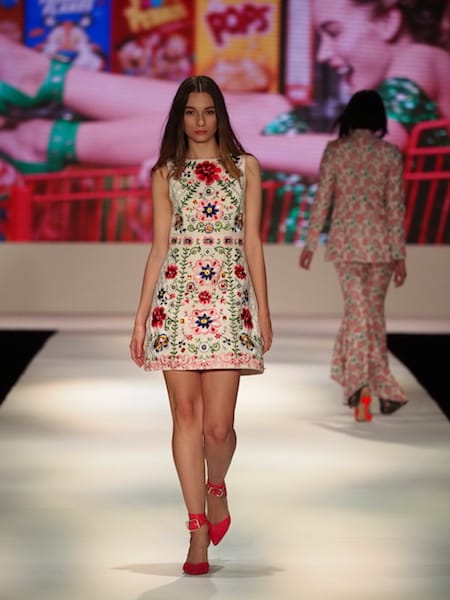 As the show came to a close, the sea of Fashion Week habitués in spunky patterned dresses and colorful Mr Turk sport coats spilled from the tent. Many flitted around the Alice + Olivia pop-up shop, touching pieces from the runway up close, as well as other designs from Bendet's Spring/Summer 2018 collection.
"It was fun and fresh and colorful, and a very good prediction of what lies ahead," Fashion Week producer Susan Stein said backstage after the models had dispersed. "We saw ruffles, we saw sheer, and lots of flowers, which is truly the biggest trend of the year."
The evening benefited YMA Fashion Scholarship Fund, which provides grants to students pursuing careers in the fashion industry.
Shop the designs today (March 22) at the Alice + Olivia Trunk Show at the Fashion Week El Paseo tent from 11 a.m. to 3 p.m. In the evening, graduates of the Fashion Institute of Design & Merchandising present their collections at 8 p.m.
VIDEO: View the entire show of fashion from Alice + Olivia.