PHOTOGRAPHS BY ARI SETH COHEN
---
I fell for Ari Seth Cohen in 2015 when I was invited to the premiere of his film Advanced Style at the San Diego Jewish Film Festival.
Cohen celebrates the fearless "fashion and wisdom of the senior set" on his blog, which he has parlayed into a best-selling book (and a sequel) as well as the namesake documentary. At the festival, he asked to take my photo (that's really why I fell for him) but then said I was too young to be part of his Advanced Style entourage. So I was surprised, and delighted, to see my photo — with 1,795 likes! — on his Instagram feed.
In February I interviewed Cohen at Rancho Mirage Public Library, where we talked about many images from his second book, Advanced Style: Older & Wiser.
For this month's issue of Palm Springs Life, Cohen focused his lens on some of the stylish seniors in the Coachella Valley.
COLLEEN HEIDEMANN
—
"I never purport to be knowledgeable about
the world of fashion
and how it relates to anyone other than
myself. I assemble that which I wear exactly in
the way that I see it must
be worn, hoping to obtain its best presentation.
I don't consider myself to
be anyone's fashion guru.
I am solely my own."
booker t. hall
—
"Fashion for me has always been: stay current, adapt for my age, and a fierce silhouette, employing a great tailor to make your clothes fit like a layer of skin."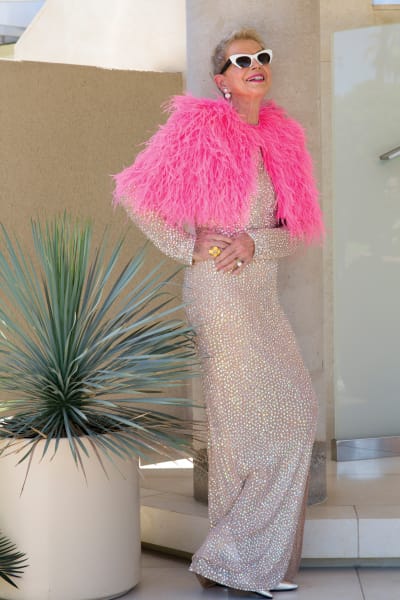 donna macmillan
—
"I would much ratherbuy a new dress, shoes, or whatever than an expensive bottle of champagne or, in some cases, a new car. However, I like fashion for fashion's sake. Another thought is to use fashion to make something different and, of course, always to make you feel good."
PATRICK MCDONALD
—
"As I get older, keeping true to my dandy style is how I live my life: always dandy!"
Pat Moomjian
—
"Style is about knowing yourself. Knowing what looks good on your body. I can go through a group of clothes and immediately be drawn to specific pieces."
cheryl barnes pariser
—
"I find that many of
today's styles, for my
age, can be a little too matronly. I tend to feel younger, stronger, and more confident in clothes with an edge. I guess it
goes with my red hair."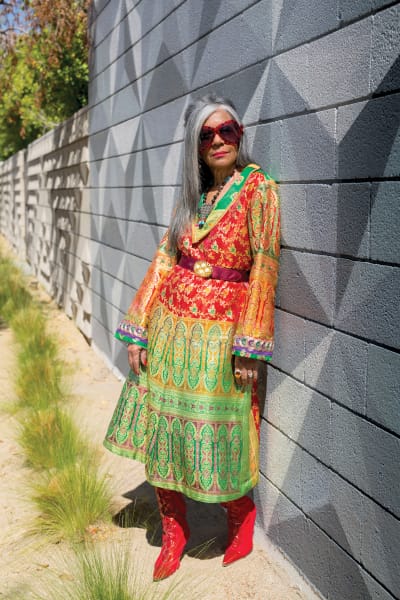 aimee fisher
—
"I am a poet and a
world traveler. My
fashion style reflects
my lifestyle. I feel
most dressed up
when I am donning
exotic ethnic wear
that is impressive
and alluring."
Gordan and Jorie Parr
—
"I consider fashion a creative art that brings
joy to the wearer and
the beholder," says Jorie Parr, shown with her husband, Gordon. "Style, like a sense of humor, is
the last thing they can
take away from you."