PHOTOGRAPHS COURTESY CHRISTOPHER KENNEDY
---
Still Blushing
This rosy roundup proves blush pink with a hint of champagne, gold, or brass will keep on flushing cheeks into 2019.
MAJOR HANG-UPS
From pool-meets-sky photography to abstract works, the Christopher Kennedy for Wendover Art Group collection delivers an exuberant aesthetic at home in modern spaces. "I have come to realize that, sometimes, no one even pays attention to the upholstery," Kennedy has said. "It is the artwork that goes over the sofa that — if done right — really catches your eye."
At Christopher Kennedy Inc.
PHOTOGRAPH COURTESY OF CHRISTOPHER KENNEDY FOR WENDOVER ART GROUP
FLOWER POWERED
Few lotions endure for more than 30 years. The time-tested formula of Goldleaf Perfumed Body Crème by Thymes joins the elite list. Jasmine,
rose, hyacinth, and lily of the valley carry its floral fragrance with hints of oak moss. 
At Tuverson & Co. 
PHOTOGRAPH COURTESY OF THYMES
PLEASE BE SEATED
A quilted backrest adds texture to sculpture in the stackable Saint Tropez chair. The ergonomic polycarbonate shell comes in a range of transparent and opaque shades. Shown: Transparent Amber and Glossy Pale Pink on a polished brass base.
At Callagaris by Pomp Home.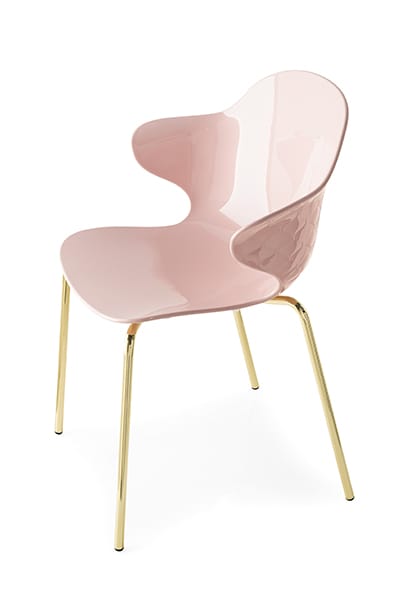 PHOTOGRAPH COURTESY OF CALLIGARIS BY POMP HOME
ADD BLUSH AND BLEND
 Stylish door fronts by Semihandmade are like professional makeup for IKEA cabinets. Their line of modern beadboard doors (as shown on this blush credenza) are in collaboration with designer Sarah Sherman Samuel. Other colors are available for those who are still working up to a comfort
level with pink furnishings.
At Semihandmade.
PHOTOGRAPH COURTESY OF TESSA NEUSTADT 
PHOTOGRAPH COURTESY OF SARAH SHERMAN SAMUEL
WARM AND TOASTY
Smeg was founded in 1948 in Northern Italy. So it's fitting that this sprightly Pale Pink is one of nine retro shades the company has perfected for its high-end toaster collection. The powder-coated steel body, polished chrome base, quirky stainless steel ball lever knob, and back-lit chrome dial are all well and good. But its sleek exterior that shines like an Italian show car and the choice of nostalgic hues are the cream cheese on the bagel.
At PS212.