PHOTOGRAPH BY GARY BINDMAN
---
This past February, Carolina Herrera took her final bow at New York Fashion Week before stepping down from her eponymous fashion label. With Pre-Fall and Fall 2018 being the last two collections with Herrera officially at the helm, there was palpable excitement in the crowd gathered at Friday night's (March 23) Fashion Week El Paseo show.
The house was packed: every seat was taken and the wall was lined with spectators. The crowd was vocal and clapped loudly when a particular look caught their eye. It became clear as the night progressed that similar threads ran through both collections, namely those of optimism and gusto - the perfect statement to tie the ends of her 37-year-long career.
Herrera did not begin her career until she was in her 40s. It may be one of her strongest assets. There is an air of confidence that exudes from every detail of her designs that comes from self-assuredness and experience. Playful, bold details also have a worldy quality to them that reflects the designer's strong sense of self.
Looking to Flemish paintings for inspiration, Pre-Fall was ripe with colorful touches and plenty of embroidery. Florals were approached not from the traditional sense of print or pattern, but more in the traditional sense of ornamentation, often acting as the start of a story and positioned as focal points on otherwise clean lines.
The clothes showed the impeccable tailoring that Herrera herself is known for, and even billowing fabric seemed to move with a sense of control. Updated, wearable details gave an air of youth and energy that presented a clear vision for the future.
PHOTOGRAPH BY ARIANA BINDMAN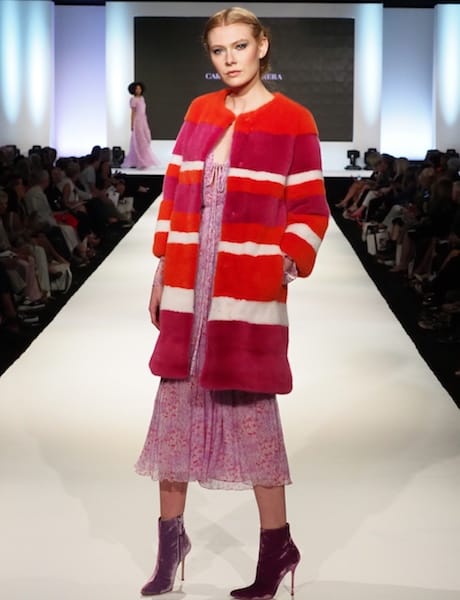 PHOTOGRAPH BY GARY BINDMAN
PHOTOGRAPH BY ARIANA BINDMAN
Fittingly, Fall 18 was not only a trademark collection, but one that has been amplified. Simple, monochromatic pieces were reimagined with a twist, manifested with pleats, elbow length flute sleeves, and abstract, amoebic prints. A master at balancing restrained minimalism with maximalist flare, demure hems and necklines were anything but stodgy, with flirty details and precision fit adding a discreet touch of sex appeal. Among others, a delicious black wiggle dress and a lavender gown with voluminous sleeves and diaphanous layers were the perfect palette cleansers between prints.
PHOTOGRAPH BY GARY BINDMAN
The finale epitomized the key aspects of Herrera's aesthetic: White button downs were cuffed and belted and paired with a sea of colored, full taffeta skirts in an homage to Herrera's iconic look. As the models left the runway, Herrera's final statement was clear. The designer'd greatests strength is a timeless point of view that has been refined with each passing year. Although Herrera will continue in an ambassador-like role for her line, it's difficult not to see these last two collections as a celebratory finale to what may inarguably be one of the greatest designers in American history. While the fashion world is eager to see how the handoff to the new creative director, Wes Gordon, will go, there is no doubt that the infallible vision that has turned Herrera into a household name will remain a powerful one
PHOTOGRAPH BY ARIANA BINDMAN
Spectators will have a chance to take a closer look at both collections on Saturday (March 24) at Saks Fifth Avenue on the second level of The Gardens on El Paseo from 10 a.m. to 7 p.m., and on Sunday (March 25) from 11 a.m. to 6 p.m. in Palm Desert.
For information and tickets to Fashion Week El Paseo, visit fashionweekelpaseo.com.
VIDEO: View all 80 pieces of Carolina Herrera's Pre-Fall and Fall 2018 collections.