PHOTOGRAPHS BY LUCY MARIE PHOTOGRAPHY
---
Although I hail from Charleston, South Carolina, there is something about Greater Palm Springs that makes me feel right at home. Who wouldn't be happy surrounded by a Crayola box of color and such delicious food? This glorious desert is definitely on point with my goal to make every day feel like the weekend.
Friday Afternoon
The Weekend House
Check in early so you can soak up all the fun at the fabulous Weekend House, a midcentury vacation rental in Palm Springs. All the necessities are here: pool, hot tub, and games including pingpong and cornhole. Then, take a DIY neighborhood door tour: Start at the corner of East Sierra Way and South Camino Real and head toward South Caliente Drive.
Saturday Morning
Estrella Spa
at the Avalon
Start your day with a little relaxation at my favorite sanctuary in Palm Springs, the Estrella Spa at the Avalon Hotel and Bungalows. It's almost worth booking an appointment just to wander the beautiful hotel grounds. On Saturday mornings, partake in yoga, a good way to get your Zen on after the previous day's flight or car ride.
Saturday Afternoon
Frankinbun
I was initially inspired to visit Frankinbun purely to see the fabulous wallpaper designed by the owner's wife, clothing designer Candice Held, but upon trying a hot dog I figured out what the real fuss is all about. You'll find traditional franks as well as vegan-friendly options.
Saturday Evening: Azúcar at La Serena Villas
Hit up Azúcar for a tasty Mediterranean- and Spanish-influenced meal in chic, escapist surroundings. The rooftop is just as delightful as the open-air poolside restaurant below, so climb the stairs for a drink and a sunset view.
Sunday morning
Uptown Design District
Plenty of cheery boutiques are sprinkled along North Palm Canyon Drive, and the new Christopher Kennedy store is a good place to start your shop 'n' stroll. You'll find a mix of decorative accents and furniture, as well as cheeky touches like dog and cat artwork. Down the street is Trina Turk's flagship store, stocked with everything from colorful swimwear to objets d'art.
Sunday afternoon
Holiday House
Fuel up at the Holiday House and plan to linger. This place is the epitome of leisure. Vibrant décor and an inviting ambiance make it almost impossible to leave. Try the avocado chicken salad and a glass of rosé, then explore the tiny (but thoughtfully stocked) gift shop while you await fresh-baked cookies for dessert.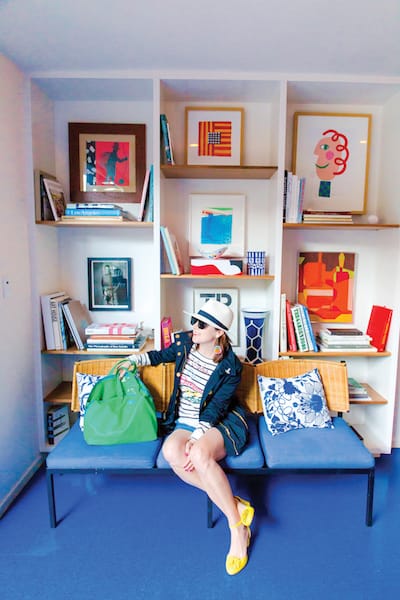 Liz Martin is the author of lifestyle blog Charleston Weekender. Follow her on Instagram at @charlestonweekender and view more of her adventures at thecharlestonweekender.com.