---
Herve Glin loves the culinary life.
Sitting down with the chef extraordinaire of the Parker Palm Springs over a plate of Waz-za Waffles at his breakfast spot Norma's had me smiling the entire time. His laughter is infectious, finding humor in most everything and enjoys poking fun at himself. The fruit-filled waffle with the crackly brûlée top we made (see the video) was just the icing on the cake.
Tell us how you became a chef.
I started when I was 14. I had an apprenticeship in France where I come from. Moved to Paris when I was 18 and worked with a nice restaurant there. I had the chance to move to Montreal to work for the Four Seasons Hotel, the Hilton hotel. One of the chefs took me to Houston, Texas. That was my first time in the U.S. and I loved it. From there we traveled and came to California. I worked in Napa Valley and San Diego before I came to the desert. I've been here for the last 15 years. I love the desert. The hotel here is fun and I enjoy every day, no question about it. We take care of four restaurants - Mister Parker, Norma's, The Lemonade Stand and Counter Reformation, the little wine bar we have. Each one has a different style. It's more exciting to be a chef and be involved in that.
What is your favorite cuisine to eat?
My cooking is the only one I like. (laughs) Just kidding. I like Asian. I had the pleasure to go to Vietnam and Japan. I'm very impressed with the Vietnamese cooking. Asian style cooking is what I like. I was not raised on that type of cooking so for me it was a discovery. I like the balance of the flavor, the balance of the sweet and the sour. That's what I want.
VIDEO: Watch Chef Herve Glin and writer Tiffany Clark create a special waffle called the Waz Za? on the menu at Norma's at the Parker Palm Springs.
Is there a chef you admire?
Paul Bocuse and Joël Robuchon. I had pleasure to work in both of their kitchens. They teach you how to make each dish personal and to love each dish you do. Teach you to make the dish perfect each time you make. You have terrific chefs in the U.S. I'm impressed with the Hispanic chefs coming up now. Very good.
Which person would you most like to cook for?
He passed away a long time ago. Auguste Escoffier. He wrote a book and was a chef at the Ritz Carlton a long time ago. I'm sure I would learn from him by his criticism. That would be the guy I would like to cook for. He would find something in everything I cook, but that's what you want, the criticism.
Last weekend on earth, where you would most like to eat?
Between Tokyo and Ho Chi Minh. The people in Ho Chi Minh are very fun. You travel with a scooter. So many items you can play with. In Tokyo, the sushi, the sashimi, everything they do is close to perfection. For the wine, it would be Champagne.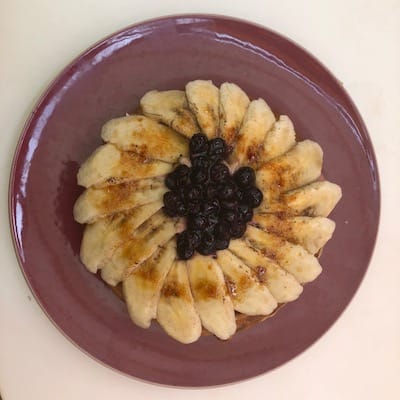 PHOTOGRAPHS BY JIM POWERS
WazWa? includes Raspberry hollandaise, egg yolk, butter, brown sugars, raspberries, lueberries and bananas on top, caramelized with brown sugar. Blueberries are sautéed with Grand Mariner on the top.
Do you have any advice for upcoming chefs?
You have to believe in what you do. Do not take a job for the money. The money will come, but you need to believe and cook for yourself. Cook your best for the people you serve, but never think you are the best, never.
Is there any food you don't like, that you don't eat?
Have you looked at me? Do you not think I like every food? I don't see anything I don't like. When I was in Vietnam I ate rat and snake. It was well done. First time I arrived at 10 p.m., and went straight to the street food and did not stop eating until 3 a.m. It was outstanding. You don't stop; you want to try everything. I went to the Mekong River to a family farm out in the middle of nowhere. I was like, "I could die here and nobody would never know." The mother made the meal on an open fire, clean the fish, grill the fish. It was outstanding!
What is your favorite ingredient to work with?
I'm a fish-oriented guy because I like to cook fish. I like to cook vegan, too. I think it comes with the season and the time in your life. My wife is a vegan. I like to see what's at the market and go "I'll take that and I'll take that and I'll take that," and build something around it.
If you weren't a chef what would you be doing for a living?
Carpenter. I can build furniture. I don't, but I would be happy to do it. What is bad is that I'm not good at home projects. And my wife says, "You want to be a carpenter? I don't think so.
PHOTOGRAPH BY STEVEN SALISBURY
But I was ready to be a carpenter when I was younger. I went to school to be a carpenter. My dad's friend said I need help on the weekends. I started to do the cooking. It's the same line. You can create in your cooking, work with your hands. You work with your hands. As a carpenter you can work with your hands and build something.
Is there anything in your fridge at home that we would be surprised by?
I like to have turkey. I like to have cheese, of course, French and Champagne in the fridge. Different dressings, mustards, different ingredients to play with.
What's your favorite tool to use in the kitchen?
The Santoku knife. It's a Japanese knife. You can use as a spatula, you can slice, it's sharp. It's easy to sharpen. It doesn't take up too much space.
For more information on the Parker Palm Springs and its restaurants, visit parkerpalmsprings.com.