PHOTOGRAPHS BY FREDRIK BRODÉN
---
Dodi Henry
Owner, The Nest
When Dodi and Kevin Henry, owners of 
the popular restaurant, The Nest in Indian Wells, were raising their three sons, Dodi would find herself preparing multicourse feasts. "It wasn't just one meal, like spaghetti and meatballs. I'd make a pasta and a fish and a chicken and a salad," she recalls. "Like I was cooking for an army. 
That's the way I cook. I'm in the restaurant business. I can't help it."
These days, with their sons all in their 20s and out of the house, the Henrys keep things simple. They occasionally prepare dinner at home on Tuesday evenings, the one night a week they've given themselves off since buying the restaurant seven years ago.
Dodi's dishes often have Mediterranean flavors that reflect her home country of Bosnia, from where she emigrated as a teenager in the 1970s. When her family settled in the Coachella Valley, she worked part-time at The Adriatic, an Eastern European–style restaurant her uncle owned in Rancho Mirage. It was there she learned classic family recipes like stuffed cabbage rolls, homemade sausage, and eggplant-and-ground- beef moussaka, many of which have become popular and familiar items on the menu at The Nest ... but not necessarily at the Henry home.
"Those dishes are really labor-intensive and time-consuming. We really both love chicken, so we mostly do chicken dishes at home," says Dodi, who might prepare it as a lemony française or caper-heavy piccata, a goulash, or even as crispy wings. But it's Chicken Fantazija — a dish that originated at The Adriatic more than four decades ago — that remains her go-to at home. Dodi marinates boneless dark meat ("only dark meat," she insists) in olive oil, garlic, salt, pepper, and fragrant herbes de Provence for an hour, then bakes it. But it's the sauce — a concoction of water, sour cream, tons of dill, and some flour that gets jar-shaken and added to boiling chicken broth until it thickens — that transforms the plain chicken into a recipe worthy of a restaurateur. "I add some spinach to the sauce and the chicken and put it over pasta, usually penne. That's it. It is so good, and it's Kevin's favorite."
It's also the meal that seems to pair best with their rare night at home's main event: binge-watching Netflix. "We love Grace and Frankie. We just finished the first season of Ozark," says Dodi. "Oh my God, we can't stop. One night we watched it for four hours just to catch up."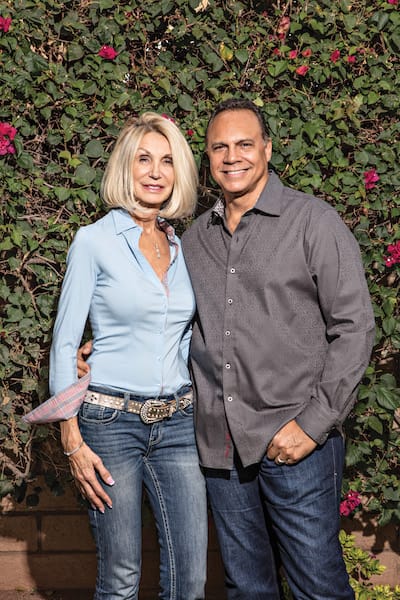 Dodi and Kevin Henry's restaurant, The Nest, is an institution in Indian Wells.
Chicken Fantazija
Serves six
2 pounds skinless chicken thighs
4 cans chicken broth
½ bag fresh spinach
½ box spaghetti
¾ cup sour cream
3 tablespoons flour
1 teaspoon herbes de Provence
3 teaspoons chopped dill
2 teaspoons chopped garlic
¼ cup olive oil
salt and pepper to taste
Marinate chicken in olive oil, salt and pepper, garlic, and herbes de Provence. Refrigerate overnight.
Preheat oven to 375 degrees.
Place chicken in baking dish and bake 35–40 minutes, until chicken reaches 165 degrees. Let cool, then cut into bite-sized pieces.
Meanwhile, cook pasta, drain, and set aside. In a jar, shake flour with ½ cup water to make a roux.
Dodi Henry, a restaurateur who is used to feeding crowds, isn't shy when it comes to cooking in quantity for her husband and three sons.
In a large pot, boil chicken broth, then slowly whisk in roux, dill, and sour cream until mixed. At the very end, add the spinach.
Turn off heat and add chicken pieces and pasta to pot. Mix and season to taste. Serve topped with dill.
Michael Beckman
Owner/Chef
Workshop Kitchen + Bar and Truss & Twine
At his Palm Springs restaurants Workshop Kitchen + Bar and Truss & Twine, Michael Beckman is known for crisping french fries in duck fat, elevating deviled eggs with sea urchin and Spanish ham, and grilling hulking 18-ounce rib-eyes over a wood-fire flame before topping them with bone-marrow butter. Lucky for wife Grit and 3-year-old daughter Ella, that trademark boldness translates to his home kitchen as well.
This past fall, he hauled home 150 pounds of various squashes from a pumpkin festival — turning the veggies into roasts, purées, mashes, and soups. More often, Beckman might grill a whole fish or butterfly a Murrieta-raised Pasturebird chicken to serve with a minty tabbouleh salad. "What I make at home is a little less elaborate, but it's definitely similar to what I make at the restaurant," he says.
Come winter, Beckman is all about doing beefy braises in his beloved Le Creuset Dutch oven. His current cooler-weather pick is uber-rich oxtail.
PHOTOGRAPH BY AUDREY MA
Chef Michael Beckman often cooks simpler but no less savory versions of the dishes he serves up at Workshop Kitchen + Bar and Truss & Twine.
"It's hearty; it's got a lot of collagen and a lot of gelatin, which renders the most delicious ragoût. It's similar to braised short ribs, but you're not dealing with the sinew that you have in a short rib," he explains. He browns the oxtail in the oven before throwing in a mirepoix of carrots, shallots, and celery along with water, truffle juice, and Madeira and port wines, letting the whole sublime-smelling shebang simmer for a few hours.
While Beckman often pairs proteins with brown rice or legumes like lentils, for the oxtail he's partial to a simple salad ("something bright and fresh to contrast it") and fresh egg noodles, like a nice, fat pappardelle. "Honestly, at home, I would just buy them. There's already a three-hour braise happening — let's not throw making my own pasta in," he laughs.
Plus, what's planned for those three hours sounds a lot more relaxing. "We love olives — that's a snack we have out [with] cheese, champagne, or some wine. My wife's German, so she loves her beer," he shares. "It's usually more of a social family effort, cooking in the kitchen, and Ella's hanging out."
And, for the parents out there perennially engaged in the losing battle of getting their kids to try something other than chicken fingers and string cheese, cue the envy: Beckman's 3-year-old will even eat oxtail. Well, usually. "She typically eats what we eat; she's pretty adventurous."
Braised Oxtail
Serves six
10 pounds oxtail
1 cup shallots, diced
½ cup carrots, diced
½ cup celery, diced
3 cloves garlic, crushed
3 sprigs thyme
1 bay leaf
1 can tomato paste
1 cup canned black truffle juice
½ cup dry white wine
1 cup each port and Madeira wine
water or stock
butter, grapeseed oil, and olive oil
truffle salt (optional)
Preheat oven to 380 degrees.
Season oxtail with salt and pepper and place in Dutch oven with some butter and grapeseed oil. Roast in oven until golden brown. Meanwhile, combine carrots, shallots, and celery for mirepoix.
When the meat is evenly browned, place Dutch oven on stove and add 2 tablespoons tomato paste and stir. Deglaze with dry white wine and reduce sauce.Add the mirepoix and stir. Add port, Madeira, and truffle juice. Cook down for about 10 minutes. Add water or stock. (The liquid should reach about two-thirds the height of the oxtail and vegetables.) Add garlic, bay leaf, and thyme.
Cover and simmer on low heat (or in the oven at 350 degrees) for a couple of hours, until the meat is falling off the bone. Skim off excess fat. Allow to cool, then pull meat off and remove the bones. Adjust the seasoning, and add a nub of butter or splash of olive oil before serving. Finish with truffle salt if desired.
Serve with polenta or egg pappardelle tossed with olive oil and butter.
Chef Gonzalez Cruz and his wife, Julieta, can't imagine a meal without fresh tortillas. He scores masa at a local tortilla shop, then makes his own at home on the stove.
Julian Gonzalez Cruz
Executive Chef
Wilma & Frieda
Julian Gonzalez Cruz's cooking style has been shaped by a dizzying array of international influences throughout his career. He's run kitchens at mega-resorts in Playa del Carmen, studied French culinary arts, worked at a hot-sauce factory, served as a sous-chef in South Florida's tony Coconut Grove, and apprenticed with Michelin-star winning chef Joël Robuchon in Las Vegas. Today, he's charged with creating whimsical brunch-centric comfort food at Wilma & Frieda in Palm Desert (with a location in Palm Springs in the works). However, when it comes to making a meal at home, there's no hesitation. He will cook the dishes he grew up with in the colonial Mexican city of Puebla.
And it always starts with tortillas.
"I'll make them from scratch. It's actually very easy," says Gonzalez Cruz, who hits up a tortilla shop minutes from his Bermuda Dunes home just before they start making a batch so he can grab the just-prepared dough. "When you get fresh masa from a tortilleria, they are just perfect. When I'm making them, I'll just put a little butter and salt on them, roll them into a taco, and snack on them."
On a quiet day at the house, he'll prepare a big midday meal to be ready when his wife, Julieta Landero Estripeaut, a biologist who works at the Living Desert Zoo & Gardens, is done with her workday. "Having lunch at 3 or 3:15 is very common for us back home," says Gonzalez Cruz. "Here, people think of it as a late lunch or an early dinner. We still haven't adapted to the meal times of the U.S."
The dish of the day might be the couple's shared favorite, entomatadas — fried tortillas soaked in a tomato-based sauce and stuffed with meat or cheese. "My wife likes to keep it healthier, so we do shredded roast chicken without the skin," he says. The sauce's base is ripe Roma tomatoes slow-cooked along with garlic, onion, and serrano peppers that simmer in their own juices before being blended smooth. "It's a really versatile sauce," says Gonzalez Cruz. "You can use it the next morning in chilaquiles or add some raw habanero and put it on top of tacos. It's not just for one dish — that's the beauty of it."
It's just one specialty that the future chef would watch his grandmother create in her ranch kitchen years ago, when she'd spend days handcrafting tamales, tortillas, and Mexican pastries. Gonzalez Cruz soaked it all in. "I grew up spending most of my time in the kitchen as a kid, not because I wanted to be a chef, but just because all the food was there," he laughs. "Now, for me, making dishes like this, that we miss, is really remembering and honoring what my grandmother used to do."
"I grew up spending most of my time in the kitchen as a kid, not because I wanted to be a chef, but just because all the food was thereJulian Gonzalez Cruz
ENTOMATADAS
Serves six
1½ Roma tomatoes
2 serrano peppers
5 garlic cloves 
4 tablespoons vegetable oil
¾  cup white onion, chopped
12 corn tortillas
3 tablespoons vegetable oil
queso fresco or cotija cheese, crumbled
pulled roast chicken
salt to taste
Place tomatoes, serrano pepper, garlic, and half the onion in a saucepan. Cook over medium heat for 15–20 minutes, until soft. Place mixture in a blender and process until you have a very smooth sauce.
Heat 3 tablespoons vegetable oil in a skillet over medium-high heat. Add the rest of the onion and cook until transparent and slightly browned, about 5 minutes. Add the tomato sauce and cook for about 2 minutes, season with salt, then turn heat to low and simmer for 6–8 minutes.
In a separate skillet, heat the rest of the oil over medium heat and briefly fry the tortillas one by one, then place on a plate with paper towels to absorb any excess oil. ("My mom doesn't fry the tortillas; she just warms them up in a skillet," Gonzalez Cruz says.)
Dip the tortillas one by one into the warm tomato sauce. Make sure to flip them to cover both sides with sauce.
Place a tortilla on a plate and spoon on some chicken and cheese mix. Fold the tortilla and repeat with the rest. Once you have all your entomatadas assembled and laid out, spoon some of the leftover sauce over them and top with more cheese.
Serve with refried beans for breakfast, or with Mexican rice for lunch.