---
Your day in the desert is not complete until you've taken part in a time-honored tradition: cocktail hour. Cap off your visit to Palm Desert Food & Wine by creating one (or more) of these spirited, locally inspired concoctions at home.
The Desert Daiquiri
Desert Distilling offers their take 
on a tropical standby.
1½ oz. Desert Distilling
 white rum
1 oz. fresh lime juice
¼ teaspoon agave nectar
1 sprig rosemary
To a cocktail shaker filled with ice, add the rum, lime juice, and agave. Shake for 20–30 seconds or until the shaker is frosty. Strain cocktail into a martini glass. Garnish with rosemary.
Whiskey Proper
At Chi Chi at the Avalon Hotel in Palm Springs, a whiskey-based cocktail takes on the colors of the desert sunrise.
2 oz. bourbon
½ oz. pineapple juice
½ oz. orange juice
Fever Tree ginger beer
½ oz. Angostura bitters
Fresh mint
Build the cocktail in a Collins glass. Fill the glass with ice, add the bourbon, OJ, and pineapple juice. Fill the glass with ginger beer, float the bitters on top, and garnish with mint leaves.
Over the Lowball
This creation from Window Bar at The Kimpton Rowan Palm Springs Hotel uses advanced mixology equipment to subtly capture the flavors of the desert.
1 ¾ oz. vodka
1 teaspoon pisco
5oz. juniper branch and 
 sprig for garnish
4 Meyer lemons
Water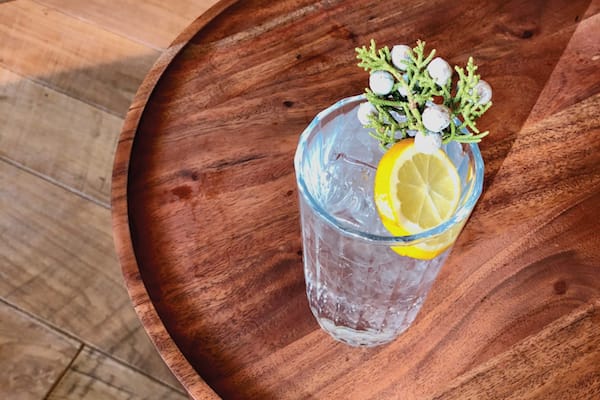 In a Yama Cold Brew Drip Tower, infuse water with juniper and peel of the Meyer lemons. Use a carbonation device to create juniper-lemon soda water.
Build the cocktail in a highball glass. Fill the glass with ice, add vodka, pisco, and soda water. Stir. Garnish with juniper sprig and a thin slice of Meyer lemon.
G&T Palm Desert Style
The minds behind Malfy Con Limone gin from Italy developed this twist on a warm-weather classic. Peppercorns — best taken through a straw — add bite.
1 ½ oz. Malfy Con Limone gin
East Imperial grapefruit tonic
10 mixed pink and 
 black peppercorns
1 sprig rosemary
Fill a 12- to 14-ounce glass with ice, add gin, and fill with tonic. Add rosemary and sprinkle in peppercorns. Stir. Serve with 
a straw.