PHOTOGRAPHS BY LANCE GERBER
---
Head west on Racquet Club Road to Chino Canyon, adjacent to the scenic route of the Palm Springs Aerial Tramway, and you'll come to what's being described by developers as the city's "last hillside community."
The beauty of the region, with its boulder-strewn terrain abutting the dramatic rise of the rusty-red San Jacinto Mountains, is undeniable. With Desert Palisades, a planned community of 110 custom homes on 112 acres, the vision is to complement that spectacular scenery with architecture that will both blend into the landscape and push the boundaries of contemporary residential desert design.
Two homes have been completed so far, one designed by the late midcentury architect Al Beadle, the other by notable local Lance O'Donnell. To access these and the other planned residences, you must pass through a structure that sets the stage for what's to come. The 915-square-foot Desert Palisades guardhouse — designed by Sean Lockyer of Studio AR&D Architects, a design and construction firm with offices in Palm Springs and Los Angeles — serves as a combination security entrance and neighborhood gathering spot while embodying the inventive architectural vision of the planned development.
We spoke to Lockyer about his design at the threshold of what just may become Palm Springs' next great envelope-pushing 
architectural movement.
How did you get the commission for the guardhouse?
We've worked on a couple of projects that are very similar to this terrain. [Desert Palisades developer] Ed Freeman had seen the boulder work we did, with exporting mass quantities of boulders and retaining boulders we have that we can work with on-site in a really natural and beautiful way. And I think he felt that we had done that well in our other projects.
What was your initial vision?
I really wanted to work with the boulders that were here and kind of use that as the architecture. We brought these boulders down from other places on the site where we were over-excavating. All of these boulders are right underneath the landscape, even where you see just regular grassy terrain. In order to run utilities, pipes, and roadways, you have to over-excavate and fill back in with clean-fill earthwork.
You end up with this mass quantity of boulders that you had to pull out and couldn't put back. [I was interested in] the heavy use of these boulders and retaining them to become part of the architecture and landscape. We wanted this project to really work with the sloping terrain, the existing natural environment. And then creating this building that felt like it was maybe growing out of the earth.
The structure, 
whose functions include centralizing the neighborhood's mailboxes, has custom residential details.
Tell me about the selection of materials.
This is a really harsh environment similar to the ocean environment, which is also harsh but for different reasons. The desert just eats things up out here and destroys finishes and materials. So we wanted something that was going to be low-maintenance and very durable. So steel and concrete were a natural selection. The wood, too. That's an African mahogany, and we've used some exotic hardwoods that will survive out here in the desert. And depending on the orientation and the location, wood ceilings are great and low maintenance.
How did you achieve the color of the corten steel used on the façade?
We chemically treat that to accelerate the patina. I don't want to give you my full recipe, but it's basically peroxide in a certain combination with salt and vinegar. We looked like total crackheads going to Walmart and buying shopping carts full of peroxide. The boulders in our vicinity have a heavy iron content, so they turn a dark brown over time that's like rusting steel. So that's kind of the look we were trying to pick up. And we don't have to maintain it — those things can rust for 
100 years; they're going to look just the way they do today.
"You don't know 
where the landscape ends and the 
structure begins."
"I really wanted to work with the boulders that were here and kind of use that as the architecture."Sean Lockyer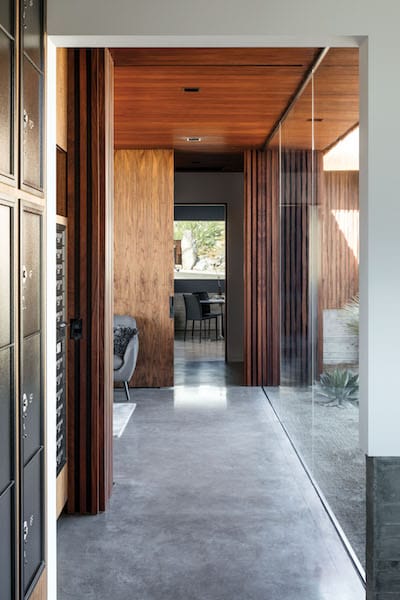 Notched concrete allows the plate glass windows to extend fully to the floor for seamless indoor-outdoor flow.

The void between the cantilevered roof 
and the giant boulder beneath creates a 
marvelous tension. What was your intention with that feature?
It's the natural and the built environment and the fact that they're very close and look like maybe they should be supporting one another, but when you get up close and see that they're really not, I think there's a nice energy there, a communication between the two structures. And the fact that the boulder is so large it looks like it really should be structural.
What impression will this guardhouse make on visitors?
I think it sets a nice tone for what this development should be. This long, linear path and progression up to the gate set by these 
boulders, and the way it's lit at night with the landscape and the tiers and the boulder wall just nestling you in. I think it feels like you've really arrived, and there's a sense of coziness. But this is a very private, exclusive community, not for everybody. I think the guardhouse itself has a good strong appearance to it, so it feels like it's blending in nicely to the landscape, but it feels very intentional and lets people know that if you're not supposed to be here, then you shouldn't be here.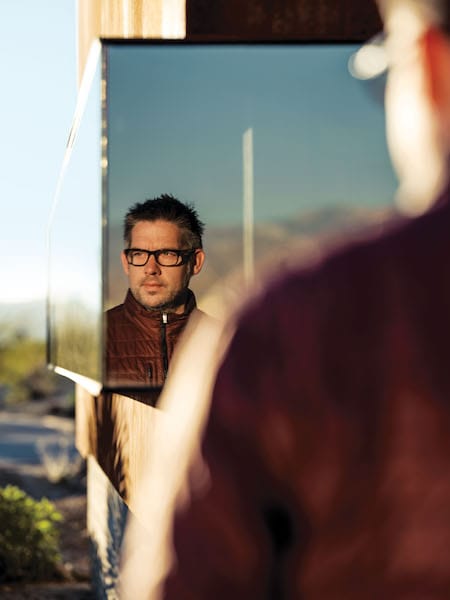 Sean Lockyer of 
Studio AR&D 
Architects outside the guardhouse's bunker-style 
protruding window.