PHOTOGRAPHS BY DAVID BLANK
"Our happiest memories are entertaining our family and occupying all seven rooms, laughing, cooking together, and enjoying cocktails while watching our children 'living the life.' So very Californian."Debra Hovel
The Desert Star
Debra & Richard Hovel
Architect: Howard Lapham
—
"We love nothing more than being together, launching crazy projects, and making our dreams come true," says Debra Hovel, one half of the highly creative power couple that lives in and manages this Class 1 Historic property completed by a local designer and developer in 1956. Howard Lapham built the Desert Star as a vacation rental, and the six poolside units adjacent to the Hovels' home still function as such.
Before relocating full time in 2010 to Palm Springs from Minnesota, the Hovels built a successful retail and trend-research design company. These self-described soulmates are makers (Debra handcrafts shoes, and Richard is a multimedia artist), collaborators (they present together as part of the "think and drink" Mod With a Twist events during Modernism Week), and the ultimate dinner–party hosts.
"We entertain friends and 'chosen family' weekly, as we strive to invite as many people into our home as possible," Debra says. "We feel it is a privilege to live in this very special place, and it makes us happy to share it."
Guests often ask them what it's like to "live in a fishbowl" surrounded by glass walls. "We laugh and tell them we love the whole concept of outside-inside living," Debra says. The Hovels also appreciate the modular design of the home's spaces. They regularly move art around, eliminate excess to reduce stress, and live by phrases that include: form follows function, less is more, and simple is good.
"There are no extra, unused rooms. No waste," Debra notes. "The home seems human-scaled and completely appropriate. It is a good and true reflection of our lives."
"We love the home's unique story, Frey's design, and the pool overlooking the court — along with the privacy offered by the property having been constructed below grade." Brian Headman
The Hidden Frey
Greta & Brian Headman
Architect: Albert Frey
—
An active lifestyle takes on new meaning when your vacation home has a tennis court. Yet Greta and Brian had plenty of interests before purchasing their sporty pad this summer. Greta is an avid yogi and trained yoga instructor; sailor Brian keeps a racing sloop in Marina Del Rey. These foodies are also spoiled by Greta's cooking, care of ingredients from their Topanga Canyon home garden. "We both work full time, but we travel as much as possible to keep a balance," Brian says. "We recently returned from a whirlwind week in Edinburgh, Scotland, for the Fringe Festival and saw more than 35 theater, dance, and comedy performances in eight days."
Now, to hit the court. "Greta grew up playing, and I have played for years, though she is admittedly the better player — for now," Brian smiles. "A bit of friendly household competition is healthy."
An excuse to dust off their rackets wasn't the only attraction to the home constructed in 1966 for W.I. Hollingsworth, a prominent L.A. developer. Referred to in architectural texts as the Hollingsworth Tennis Estate, it was restored by Thomboy Properties and unveiled during Modernism Week 2018.
"As the story is told, Hollingsworth was an avid tennis player but hated waiting for court time at the Palm Springs Racquet Club, so he bought an adjoining lot to build his own private tennis estate," Brian explains. "Charlie Farrell, the club's owner, caught wind of the plan and objected to City Hall, claiming the tennis court and its chain-link fence would be unsightly next to his club. Ever resolute, Hollingsworth excavated the entire lot and hired architect Albert Frey to design the house, pool, and tennis court below street level, entirely hidden from view. Frey was also designing the Schiff Residence at the Racquet Club, so there was a bit of one-upmanship at play."
Brian says they like to imagine all the glamorous people who may have played tennis and enjoyed poolside cocktails here during the Racquet Club's heyday. Believing their home is meant to be shared, the couple has made it available to rent when they are off sailing or seeing the world.
"The house is our sanctuary in the desert. When we aren't there, other family members are enjoying what we all call our 'country estate.' "Sean Rogers
Villa Sierra
Blake & Sean Rogers
Architect: Unknown
—
When Blake and Sean Rogers aren't powering down in Palm Springs, they're running on full batteries in L.A. The two are passionately involved in the music industry by way of the famous EastWest recording studio in Hollywood and also own a software company.
By the time they escape to the desert, they've earned every bit of pool, privacy, views, and lifestyle — their reasons for choosing the home. "This house offers relaxation that is really hard to find anywhere else in Southern California," Sean says. "You can shut off the outside world and just enjoy a private escape. And if you want it, you are close enough to the restaurants, nightlife, and shopping."
When the temps are reasonable, the pair spend most of their time outside, whether taking an early morning swim, lounging in the cabana with their favorite drinks from Koffi, sitting by the fire at night sipping a bold red wine, or watching a movie in the outdoor theater. They even tied the knot on-site.
"We always knew we wanted to get married in Palm Springs. But after an exhaustive search for a wedding venue, we couldn't find a place we liked more than our very own house!" Sean laughs. "It's large enough to have our whole family visit at the same time without ever feeling crowded. While some are having drinks and playing pool at the indoor bar, others can be cooking a big meal together in the chef's kitchen."
Though the gentlemen don't know who built it, the home has virally become one of the most well-known examples of midcentury chic in town.
"Our front door is big and pink and became a social media star on Instagram a few years ago, which is a bit crazy," Sean says. The house is also a vacation rental for those who need an up-close experience. "We love
that people love it, but we do ask that they respect our privacy and the privacy of our guests and neighbors."
"The quality of the architecture is the most satisfying feature of the home. Because we were able to build from the ground up, everything was crafted to suit our needs."Mark Leonard
Leonard-Hamma Residence
Mark Leonard & Ken Hamma
Architect: Lance O'Donnell
—
Buying land and building your retirement home on it has distinct advantages. Mark Leonard and Ken Hamma signed off on everything they love about their place, right down to the angled edge of the pool. "In the summer months, the pool and spa are in frequent use, either as a quick way to cool off or as a good place to nap," Leonard notes.
He and Hamma moved to Palm Springs full time in 2017 after retiring from careers in the museum world of Los Angeles. Leonard was the head of the Paintings Conservation Department at the Getty Museum, and Hamma, who trained originally as a classical archaeologist, retired from the Getty Trust as executive director of digital policy and initiatives, then spent 10 years in independent consulting.
After Leonard was invited to consult on a conservation project at the Palm Springs Art Museum in 2014, he and Hamma returned home as landowners. The couple was happy to let local architect Lance O'Donnell lead the design and build, with construction completed in late 2017.
"Lance not only created a house that resonates with the environment and exploits the location and spectacular views, but a home that provides constant visual stimulation and comfort," Leonard says. "The thoughtful overall design and architectural details throughout the home echo Palm Springs' rich architectural history." O'Donnell even factored into his design a light-filled artist studio where Leonard paints daily.
"The house turns its concrete-block back to the street and shelters the interior courtyard and pool, where all rooms have walls of glass," Leonard says. "This allows us to move, both physically and visually, between the indoor and outdoor areas throughout the day and night."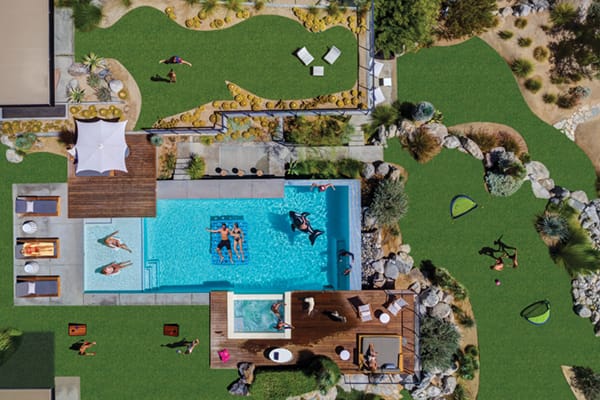 "The home is very personal. Whenever we walk around it, we remember the design process and all the decisions. We know the house so intimately that it gives us an incredible sense of comfort and peace whenever we are there enjoying it."Kort Schnabel
Schnabel Family Retreat
Kathryn & Kort Schnabel
Architect: Sean Lockyer
—
Growing up at his grandparents' vacation house in Cape Cod, Kort Schnabel envisioned one day having a place where his own family could make long-lasting memories. "Multiple generations of family always gathered there. There was a wealth of different activities to engage in together, and life lessons were shared among all," Kort recalls. Those East Coast summers inspired the Schnabels' Little Tuscany compound where Kort, wife Kathryn, and kids Erin (13), Michael (11), and Daniel (7) spend weekends and holidays, with their yellow Labrador, Gus, in tow.
"He absolutely loves the pool and would live in Palm Springs full time if he could," Kort shares. "We invite our guests to bring their dogs as well." Family and friends are part of the home's fabric. It was designed for entertaining, now and for generations to come. Rare is the afternoon when the six Schnabels have the place to themselves.
"The kids really use all of the property," Kort notes. "They typically end up off in the boulders, playing all sorts of creative games and finding various hiding spots, while the adults sit by the pool or relax in the living room."
It's no surprise the active family, who plays sports, loves being outdoors, and travels often, chose this site to build their home away from Los Angeles, where Kort works at a private equity firm.
"From the moment we stumbled on these two adjacent lots, we couldn't stop talking about them," Kort says. "The vision began taking shape, and it was impossible to turn it off." Neighbor J.R. Roberts referred the couple to architect Sean Lockyer, and the match was immediate.
Lockyer also served as general and landscape designer of the project that integrates with nature, offering 360-degree views. Kort and Kathryn were highly involved in decision making and idea generation, although the form and aesthetic beauty were fully created and executed by Lockyer. Since the home's completion in October 2015, the family has kept busy making those Cape Cod–style memories.