Comedian Howie Mandel & Jon Lovitz Perform at Agua Caliente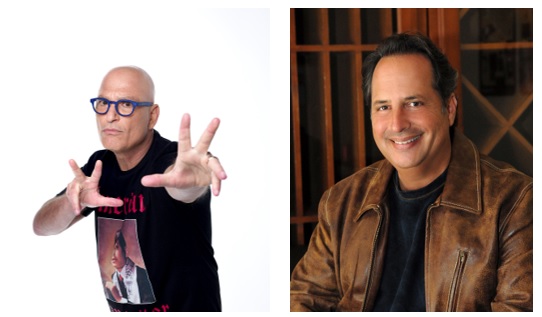 Comedy legend and TV superstar Howie Mandel with Special Guest Jon Lovitz come to The Show at Agua Caliente Resort Casino Spa on Saturday, March 19, at 8:00 p.m. Tickets go on sale to the general public this Friday, January 7, at 10:00 a.m.
Mandel has remained a constant force in show business for more than 30 years. He can currently be seen on NBC's flagship series ​America's Got Talent where he has served as a judge for eleven seasons. He recently finished production on his new documentary ​Howie Mandel: But Enough About Me. Other recent projects include judging NBC's ​America's Got Talent: The Champions, CNBC's ​Deal or No Deal where he served as executive producer, and host and Nat Geo Wild's ​Animals Doing Things where he co-hosted with his son Alex. He also executive produced the Quibi series, ​Kirby Jenner. In 2019, he released his first solo special in 20 years ​Howie Mandel Presents Howie Mandel at the Howie Mandel Comedy Club.
In 2020 Mandel teamed up with ePlay Digital Inc. and launched the charity, Breakout the Masks, and mobile game campaign to give back to those involved in the fight against COVID-19. Via Howies' Games, the first challenge is Outbreak where players' points translate to donations of N95 face masks, portable ventilators, gloves, and other Personal Protective Equipment to doctors, nurses, and more front-line workers. The second game SwishAR has users looking for America's Got Talent's, Howie Mandel, to join in a backyard basketball game to shoot hoops. Both games are available on the Apple App Store and Google Play.
His additional projects, as a Host, actor, and/or executive producer include Take It All and Howie Do It for NBC, Deal With It for TBS, and Mobbed for FOX. Previously, Mandel received an Emmy Award nomination for Outstanding Host for a Reality or Reality-Competition Program for ​Deal or No Deal and a Daytime Emmy nomination for Outstanding Game Show Host for the syndicated version of the show. Mandel's versatile career has encompassed virtually all aspects of the entertainment spectrum, including television, film, and stage. From his work on the Emmy Award-winning ​St. Elsewhere to the international animated children's series ​Bobby's World, Mandel has become a mainstay of the American comedy scene. In 2009, Mandel added author to his resume when he released his frank, funny, and no-holds-barred memoir, "Here's the Deal: Don't Touch Me." The memoir revealed his ongoing struggle with OCD and ADHD, and how it has shaped his life and career. It made The New York Times bestseller list on its first week and remained on the list for several consecutive weeks. Mandel has done countless comedy specials both on cable and network television. He has also hosted his own syndicated talk show, ​The Howie Mandel Show, and continues to be a mainstay on the talk show circuit. He also continues to perform as many as 200 stand-up comedy shows each year throughout the U.S. and Canada.
Lovitz has been one of the best-known comedians for the last thirty-five years. He began taking classes with the famous improv comedy group, "The Groundlings" in 1982, and in September of 1984, he was accepted into the main company at "The Groundlings". On March 28, 1985, "The Groundlings" appeared on "The Tonight Show with Johnny Carson" where Jon premiered his character "Tommy Flanagan of Pathological Liars Anonymous." Following the introduction of this persona, Lovitz got an agent, booked a movie, a series, a voice over for a cartoon, and "Saturday Night Live." For the last ten years, Lovitz has pursued a career as a stand-up comedian. He is one of the few performers to start as an actor and then become a stand-up comedian who successfully headlines nightclubs, theatres, and casinos across the country.
Howie Mandel with Special Guest Jon Lovitz Show Information:
Date: Saturday, March 19 at 8:00 p.m.
Location: The Show at Agua Caliente Resort Casino Spa, 32-250 Bob Hope Drive in Rancho Mirage.
Purchase tickets:
Prices: $40-$75, based on seat location.
www.AguaCalienteCasinos.com; (800) 514-3849