Free Online Screening of Lou Harrison: A World of Music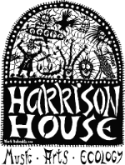 In honor of Lou Harrison's birthday month, Harrison House Music, Arts & Ecology has released a free stream of the documentary about the composer's life, available through May 31, 2020 at www.louharrisonhouse.org.
LOU HARRISON: A World of Music, a film by Eva Soltes, is an intimate portrait of one of America's most original musical minds who became known around the world for creating his own musical revolution by combining Western and Eastern sounds and inventing custom-made instruments.
Shot over a period of 25 years, the feature-length documentary covers Lou Harrison's life (1917-2003) from his childhood and early San Francisco days, through a tumultuous decade in New York and return to California, where he spent the last 50 years of his life in Aptos and finally realized his dream of building a straw bale retreat in Joshua Tree. Engaging anecdotes by Lou's contemporaries, friends and colleagues, among them conductors Dennis Russell Davies and Michael Tilson Thomas, and dance icon Merce Cunningham, help weave Harrison's compelling story.