PHOTOGRAPHS BY GARY BINDMAN
"People always ask me, 'Are you excited?' and I'm normally never excited until the show's over," Michael Costello told Palm Springs Life before presenting his latest collection at Fashion Week El Paseo. "So now I think is the first time I'm really excited to see everyone's reaction to me playing not only with different shapes and sizes but with lots of color on the runway. I'm so used to designing everything in black or metallic or white, everything being very monochromatic, so I want to see people's reactions to the purples and blushes and pinks."
The playful mood was on full display as Costello kicked off his presentation with what may be the world's naughtiest wedding. Women wore messy buns and tiaras for a Courtney Love look that complemented saucy white frocks ranging from flowing gowns with ultra-high slits to structured, long-sleeved mini options to an exaggerated mermaid silhouette. Meghan Markle, if you really want to piss off the Queen, take note.
There were men, too, in suit jackets so tight that at times they couldn't be contained — some of the models ripped them off, along with the shirts underneath, in a bachelorette-party strip-tease move.
Costello's foray into color came in the form of an array of frothy dresses in beautiful pastels — one standout in the palest lavender had a single pink sleeve — as well as burgundy and red. Halter necklines and open backs felt youthful and fresh, and even the more formal structured numbers displayed ease and movement on the runway.
Costello's show was the finale of an evening that featured his hand-selected colleagues from the various seasons of Project Runway.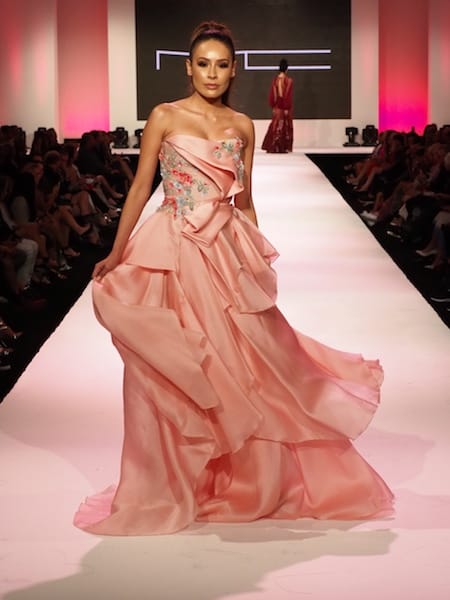 Michael Costello's foray into color came in the form of an array of frothy dresses in beautiful pastels.
The playful mood was on full display as Michael Costello kicked off his presentation with what may be the world's naughtiest wedding.
The show kicked off with the work of Candice Cuoco, a designer who takes a darker view of the world. Earlier in the day, she described her vision. "I think there's something very special and beautiful about a women who's been through it, who's been torn down and can build herself back up. That part of us is not always celebrated because it's not the happy version, but I find that beauty, and I celebrate women through that," she said.
Her collection was dominated by black and dusty red, often in the form of vertical stripes that, along with several corset tops, seemed to reference a saloon-girl style straight out of Westworld. The Western vibe morphed into a range of gowns worn with enormous black, veil-covered hats; the headwear lent a distinctive Victorian funereal feel to the bustled, tulle gowns and long, black leather gloves.
Candice Cuoco's collection was dominated by black and dusty red.
Laura Kathleen Baker is easily the most commercial designer of the group. Her collection of sexy black mini dresses and leggings worn with black velvet tanks, many decorated with golden grommets, seem destined for a night at the club. A pair of fluid gold lamé trousers with an attached wrap skirt lent a note of elegance.
Pre-show, Viktor Luna stated that he had been designing menswear that "doesn't follow the rules." He opened with a gentleman in an all-white suit, the jacket fairly standard from neck to elbow, everything below that an explosion of layered tulle.
Paired with straightforward white trousers and brown brogues, the jacket displayed an exuberance that would, in fact, appeal to many women. A range of men's looks based on skin-tight leggings and bodysuits followed, many paired with coats that displayed deft tailoring skills. There were also flowing floor-length capes; one black number with a vertical panel of black sequins on the back gave the impression of Darth Vader floating down the runway. Individual pieces had merit, but it is hard to imagine the man who would feel comfortable in transparent chiffon bell-bottoms.
Justin LeBlanc showed a gorgeous collection of cocktail dresses (and a couple of men's looks) in gold and black. His collection brought new dimension to the use of sequins, which were shaped into triangular patterns and enhanced with fringe or cone-shaped ornamentation for intriguing textural impact. The loose-fitting frocks of varying lengths, many with dolman sleeves, had an effortless, gamine appeal.
Mah-Jing Wong is known for his experimental work with denim, and his collection was at its best when that fabric was the focus. Here, it was treated in a way that created a sophisticated tie-dye or spilled-bleach effect and shaped into mini-skirts and jackets with frayed edges. These were worn as complete ensembles or paired with a range of sporty pieces in navy, white, and bright-orange lycra — essentially, the biker-short and fanny-pack look we've been seeing on Kim Kardashian of late (not necessarily a good thing).
Kentaro Kameyama's collection was that of a singular burgeoning talent.
Kentaro Kameyama was the winner of the latest season of Project Runway, and indeed his collection was that of a singular burgeoning talent. His first models were ethereal ballerinas, in exaggerated tutus worn with leg warmers and simple sweaters or T-shirts in luxurious whites and creams. One ensemble brought to mind a dancer at rehearsal in the studio, in a flesh-colored leotard paired with a black wrap skirt. There was also a range of black skinny pants and tops followed by floor-length silk dresses in solid black, olive, and a beautiful bright fuschia, all paired with black leg warmers for a youthful look. Kameyama is a composer, and his composition for piano with operatic accompaniment played during the show.
Margarita Álvarez showed a range of urban tropical outfits perfect for the Manhattan girl at Carnivale. Bright colors dominated — reds, cobalts, yellows, teals — on skirts, dresses, and caftans decorated with feathers and sequins. A bright-red strapless cha-cha dress was a flirty standout. Many items displayed an abstracted macaw motif that was whimsical and spirited and reminiscent of a more sophisticated Gucci gown worn memorably last year by Nicole Kidman.
An addition to the show that was not announced beforehand or included in the program was a menswear collection by Jesse Castell, who appears to have business ties to Costello. The two took a bow together after the presentation of Castell's line of male rompers in blush colors.
For more information and tickets to Fashion Week El Paseo, visit fashionweekelpaseo.com.
VIDEO: View the entire show of Michael Costello Presents His Friends from Project Runway.