PHOTOGRAPHY BY LANCE GERBER
---
Homemaker kitchens of the 1940s and '50s kindly gave the lady of the house a picture window above the sink — so she could dream of walking through the garden while she was standing there doing dishes. It's a design technique we've since seen repeated every decade in homes from modest to grand. 
With no disrespect to said window, the architectural and interior design by Gordon Stein of Stein Design has turned that longstanding concept around a full 360 degrees for this spec home at The Vintage Club. 
In the midst of an open space with seamless flow, the kitchen sink is set into a waterfall-style island of manmade quartz. It takes its views from the adjoining living, dining, and morning rooms and outdoor spaces. Stein's inspired design, "based on classic modernism ideals," reserves the kitchen window for the home chef.
"I have utilized this design element on many projects where the kitchen location was adjacent to an outside space," he says. "I always endeavor to visually connect a home's interior spaces to outside spaces. This not only creates a good connection to nature but also allows the interior to appear more spacious by virtue of the continuing line of vision."
In the home built by Jody Jones Construction earlier this year, the window demonstrates restraint. Rather than fill the wall, it slides across the bottom section, creating a long, low-slung sliver of garden view above the cooktop. This modernist trick packs more mystery than a picture window and works to frame the landscape as art. A substantial set of upper cabinets positioned above the horizontal glass seems to float over the counter.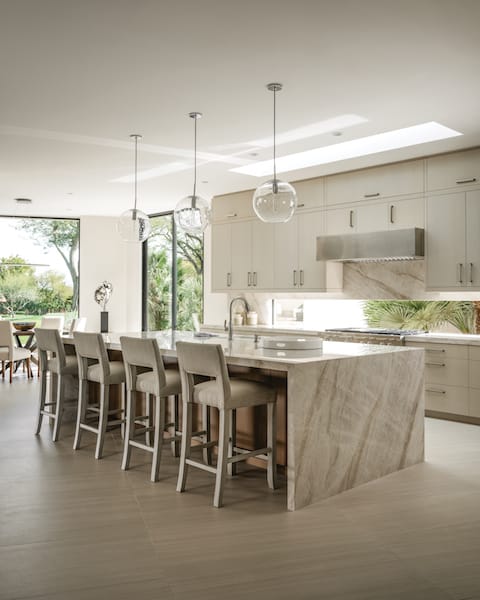 Stein provided input to the landscape designer in planting what would be seen through the kitchen's looking glass. A skylight above the chef's station echoes the shape of the window and further illuminates the space. With dishwashers to do the dirty work and a view for the chef, no one in this kitchen will need to dream of being somewhere else.