PHOTOGRAPHS BY TIFFANY CARTER
---
I have a dirty little secret. Well, actually, it's more of a "clean eating" secret. As a food writer for Palm Springs Life's website, I taste the most incredible dishes the desert has to offer, but with that comes lots of indulgences like gooey chocolate cake, juicy prime rib, and mile-high pastrami sandwiches (not complaining!).
To balance out the delicious gluttony with healthier options, I eat completely vegan at home. No meat or dairy products and as organic as possible. There are some amazing eateries in the desert that cater to the healthier lifestyle and do it with creativity and panache. Here's where I dine when I'm not playing carnivore.
VIDEO: Mid Mod Cafe owner Greg Schmitz talks about his restaurant's approach to creating tasty healthy food. (Video by Tiffany Carter).
Mid Mod Café
This Palm Springs café is part juice bar, part healthy eating cafe, and part "I'm too busy, can I just grab 'n' go a healthy sandwich?" place. Owners Gregory Schmitz and Jeffrey Huyett are the foodie buddhas behind this zen-like café. The diverse menu features vegan, vegetarian, and clean protein dishes like grass-fed beef burger with peppercorn aioli, housemade mushroom melt, and turkey cobb salad. I love starting my mornings healthy by dipping my straw into one of Mid Mod's organic juices and juice cocktails made with soothing-to-the-soul essential oils. My favorites on the breakfast front are The Pitaya Bowl and the Root Veggie Hash.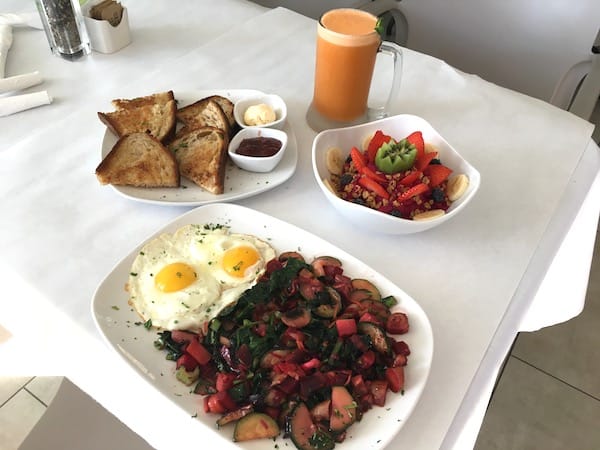 A Fresh Immune Support Wellness cocktail joins Root Veggie Hash, and a Pitaya Bowl.
The Pitaya Bowl is made with antioxidant-rich dragonfruit, blended with pure mango juice and topped with granola and fresh fruit. The Root Veggie Hash comes with roasted potatoes, carrots, beets, onions, sautéed greens, onions, and two sunny side up eggs. If I'm in a rush, Mid Mod has pre-made sandwiches and salads at the counter at very affordable prices. "The idea was that you walk in and grab a very healthy half wrap or half sandwich with a great side and a fresh brewed iced tea for $10, including tax. You can get it fast, eat it in the beautiful courtyard if you want, and be on your way in 15 minutes," says Schmitz.
Luscious Lorraine's Organic Juice & Eatery
One look at the menu and your body will feel like it has found a healthy, happy home and never wants to leave. Luscious Lorraine's is a "Farm"acy where you can consume a variety of organic juices, elixirs, and smoothies that do their part to keep you healthy — "juices and smoothies with a purpose" as owner Chef Lorraine refers to them. Juices like the Ginger Hopper, which helps aid digestion, or the Heart Beet, which helps to detox the liver and promotes heart health, are just a couple of the tasty concoctions.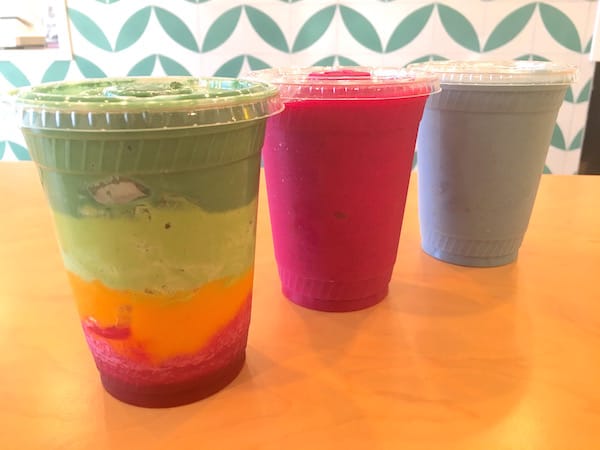 I love the healing smoothies created with organic ingredients. The Blue Majik is made with organic almond milk, brazil nuts, raw dates, coconut butter, pink sea salt, a frozen banana, and E3 Live blue spirulina.
The menu is so popular that Lorraine hasn't changed it in nearly 20 years. "Years ago there was nothing healthy here. My whole thing was to offer fresh, whole food on a day-to-day basis at an affordable price. I love serving food with integrity," says Chef Lorraine. Her breakfast and lunch menu is inspired by the classics, but with a healthy twist, like egg salad sandwich made with free range eggs, fresh basil, veganaise, mixed greens, mustard, and tuna salad made with albacore tuna, roasted almonds, artichoke hearts, and kalamata olives on a bed of mixed greens with balsamic dressing. I love the organic hot bowls like the Bomb Mi Rice Bowl and the Little Green Curry Bowl.
Step into Chef Tanya's kitchen for a healthy and delicious vegan lunch made from scratch. I love the Modern Hippie Sandwich which features colorful layers of fresh veggies representing the 7 Chakras and that addicting "crack" cheese made from cashews. One of the best veggies sandwiches I've ever had! 
Chef Tanya's Kitchen
Those who are new to the vegan cuisine must try Chef Tanya's tasty "meaty" sandwiches like the El Cubano, Chupacabra Chicken, and the Pastrami Mami — all made vegan and so delicious you'll forget you're eating a plant-based dish. Chef Tanya has been making her "meat" seitan from scratch for 20 years. There are two dishes I absolutely love: the Modern Veggie Hippie sandwich and the Moroccan Roasted Cauliflower salad. The sandwich is made with Chef Tanya's specialty "crack" cheese made from cashews, avocado, tomato, jicama, shredded carrot, cucumber, purple picked cabbage, lettuce, roasted sesame salt, and country levain bread. "This came about trying to think of a good veggie sandwich, one that is really good and really different and that people will really like. You get the crunch of the jicama, the tang of the pickled cabbage, and the creaminess of the crack cheese," she says. The salad is filled with roasted sweet potatoes, chickpeas, parsley, red onion, preserved lemon, currants, almonds, housemade Moroccan dressing, and local dates on a bed of greens. Love this salad among chef's other leafy dishes like CTK Caesar, Oh-My-Gato-Taco salad, and Coachella Forever salad. Other things I love: Wednesday dinners where you can take out a specialty dish that Chef Tanya prepares for that day like spinach, crack cheese and mushroom enchiladas. Chef Tanya also hosts cooking classes in her kitchen so you can learn to make those tasty seitan sammies yourself.
The Palm Greens Café
Owned by the team behind Mid Mod Cafe, this location offers a taste of healthy dishes inspired from around the world. The restaurant serves breakfast, lunch, and dinner and features clean, organic dishes for both vegans and non-vegan diners. Three of the most heavenly dishes that make me salivate are the Tempeh Reuben sandwich, the Macrobiotic Bowl, and the Avocado Roll in a bowl. The Avocado Roll in a Bowl is a deconstructed avocado roll made with brown rice, carrots, cucumber, avocado, seaweed salad, pickled ginger, and wasabi shoyu dressing.
I love the diverse menu which has some of my favorite dishes inspired by different parts of the world. The Avocado Roll in a Bowl dish is exceptional made with brown rice, carrots, cucumber, avocado, seaweed salad, pickled ginger, and a dreamy Wasabi Shoyu dressing.

The Tempeh Reuben sandwich tastes just like the popular deli favorite except it's made with a vegan tempeh patty on rustic rye bread with sauerkraut, Russian dressing, and swiss or chao cheese (tasty vegan cheese!). The restaurant has a lovely side patio, a beer and wine menu (bloody marys and mimosas too!), and drinks to soothe the soul, like kombucha and lavender lemonade.
Nature's Health Food & Café
Shop and sip at this neighborhood grocer and café where every ingredient is organic and healthy. The café is inside the store, complete with indoor and outdoor tables. You'll find breakfast and lunch entrées such as gourmet sandwiches, stir-fry, salads, and vegetarian burgers like the Falafel Burger and Peruvian Lentil Burger. I love the juices here, especially the organic shots. Wheatgrass shots, turmeric shots, ginger shots, and E3 Live shots are all juicy superheroes when it comes cleansing the body, reinvigorating the organs and cells, and giving you plant-based bionic energy to carry you through those long Mondays.
There are many wellness shots at Nature's Health Food & Café to choose from, but I usually load up and get a flight like turmeric, ginger, E3Live, and wheatgrass.
(Be aware that some of the shots may make you squint a bit on the way down the hatch.) I also love the fact that they have an organic espresso bar with macchiatos and americanos ready to perk you up before you head into the office.
Wildest Greens
This little gem in Palm Desert is the newest addition to the healthier side of restaurants in the Coachella Valley. The menu is primarily raw and always fresh and organic, and features housemade nut and seed mylks, dairy-free and no-sugar-added juices and smoothies, gluten-free, vegan, and vegetarian food options. Wildest Greens serves up healthy dishes for all meals of the day and has a great assortment of organic wines. For breakfast, I love the Green Eggs & Yam, an egg white omelet with sautéed spinach, chopped basil, green onion, mushroom, tomato, and a side of sliced baked yams. I recommend the roasted cauliflower for lunch, made fresh with coconut mylk, ginger, turmeric, curry powder, and veganaise.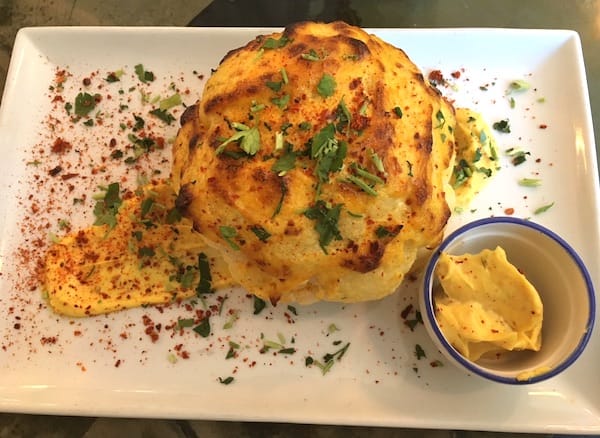 Roasted Cauliflower from Wildest Greens is healthy comfort food with flavors of ginger, turmeric, and curry. Full of antioxidants and anti-inflammatory properties.
Try it with a side of dirty mashed. In keeping with loving the planet, they also have a recycle program where you can return the restaurant's glass bottles for money back. Organic coffee bar and grab 'n' go drinks and food to refuel you after yoga class round out the reasons why this is one of my favorite healthy places in the desert.