PHOTOS COURTESY HEATHER JAMES FINE ART
In a large gallery filled with rare and heroic paintings spanning more than half a century of art history, a relatively small, circular work attracts the eye like a neodymium magnet. Its iridescent green surface appears to float in front of, and then pierce, the wall on which it hangs, giving the illusion of an infinite void. The sculpture by Anish Kapoor seems to pulsate as it draws you closer; your movement activates the optical trickery, which triggers what can be described only as a metaphysical experience. That's what Sublime Abstraction, the season-long exhibition at Heather James Fine Art in Palm Desert, hopes to achieve. With works from postwar (Helen Frankenthaler, Hans Hofmann, and Ad Reinhardt) to contemporary (Kapoor and Mary Corse) artists, this show connects emotionally and then transcends.
"The works in the exhibition range from surrealist dreamscapes to massive contemporary sculptures," says gallery associate Hayden Hunt, who helped organize the visually arresting show. "This art has the power to move, inspire, and transform viewers through the simple act of looking."
Kapoor's 35.5-inch-diameter sculpture, Untitled (2013), creates a wonderfully unsettling sensation. The London-based artist known for his monumental installations around the world, including Cloud Gate in Chicago's Millennium Park, explores space, structure, and perception. His work typically manifests in simple, curved forms, richly colored to draw in the viewer. The concavity of the green sculpture harnesses light and shadow, giving the appearance of either a brushed metal or a polished finish.
The show takes a large measure of inspiration from Barnett Newman's landmark 1948 essay, "The Sublime Is Now," Hunt says. The influential color-field painter (who is not represented in this exhibition) upended abstract expressionism with his minimalist canvases, the scale and effect of which have the power to overwhelm. Newman, who died in 1970, drew a distinction between beauty and the sublime, asserting the former prevents the artist from realizing "man's desire for the exalted."
morris louis
Using abstraction to cope with and transcend war, the artist created a series of 
black paintings, including Charred Journal: Firewritten III (1951), referencing Nazi book burnings.
He said figuration and form impeded the possibilities of perception and sensation, and encouraged artists of his time to unburden themselves of "memory, association, nostalgia, legend, [and] myth," and to work with their own feelings rather than objects. In the anxiety-ridden years following World War II, he eschewed traditional subjects and styles, asserting beauty was irrelevant and the sublime could recalibrate humanity.
We emerge from a truly sublime experience profoundly altered by it," Hunt says, adding that in such a moment, boundaries quite often blur between order and disorder, and time and space become uncertain. "The artists in our exhibition engage the concept of the sublime in several ways. For example, the paintings of abstract expressionist artists use color, line, and form to evoke emotions through a nonrepresentational visual vocabulary. Contemporary artists, such as Anish Kapoor, distort reality through the manipulation of light and space."
Reinhardt, who believed his art could effect social change, has an important place in the exhibition. His Untitled (Blue-Purple Painting), completed in 1952, two years before he started his famous Black Paintings, is an excellent example of his monochrome geometric abstractions, stripping away any representation of the external world. His simple compositions and subtly changing hues, like this 36-by-24-inch example, made him a pioneer of conceptual and minimal art. Another geometric painting, Corse's Untitled (White, Black, Blue Light), shimmers with a prismatic effect when light hits the glass microspheres mixed into the acrylic paint.
MARY CORSE
The light and space artist mixes glass microspheres into her acrylic paint to create a shimmering effect when hit with light. In Untitled (White, Black, Blue Light), her technique punctuates the light and dark fields.
A pioneer of Southern California's light and space movement, Corse first used this process in 1968 to "bring the viewer into the light," she told The New York Times T Magazine in 2012. Like much of her work, this 44-by-44-inch painting created in 2000 contrasts light and dark: Its blue and black fields appear as doors to infinite darkness beyond the white fields that seem to float in the foreground.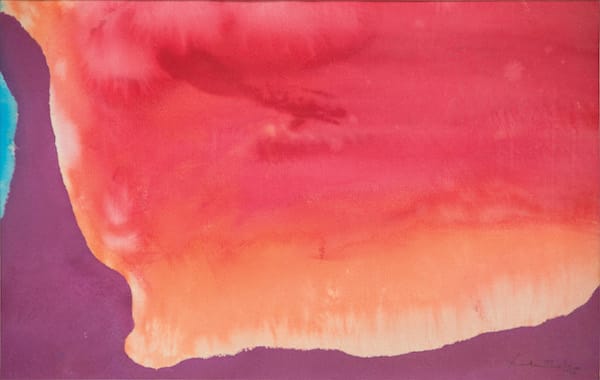 HELEN FRANKENTHALER
The pioneer of color-field painting evokes a landscape in New China #1 (1972). Her simplified forms and bands of ethereal color encourage one's mind to wander.
By contrast Hofmann's Nocturne offers a busier, gestural encounter with its frenzied AbEx brushwork and moody colors. He completed this work in 1950, around the time he gave up representational painting for pure abstraction. Like many of his paintings from this period, the title references music. Hofmann often talked and wrote about similarities between music and painting, suggesting the equivalence of turning up the color like volume. In Nocturne, blue and yellow swirls activate a darkened field, as red and green gestures lead the eye and wind the mind. A similar gesture activates an earlier Hofmann work in the exhibition, a 13.5-by-12-inch work called The Chair (1940).
Frankenthaler's New China #1, a small 1972 color-field painting (a term coined to describe the artist's use of a single color on a painting), has the artist's distinctive band of paint across the bottom and field with a fluid gradation of warmer colors in the upper portion. Frankenthaler was more interested in the natural landscape than achieving the sublime. The dark band of New China #1 could be earth and mountain in silhouette against a fiery sunset, but her pared-down forms and application of color allow the viewer's mind to wander toward places unthinkable in a traditional landscape painting. The exhibition also includes Frankenthaler's 1960 Orange Balloon.
A much larger canvas, Whirlwind (1957) by William Baziotes, is also grounded in nature but even looser with its content, which appears like protean forms under a microscope. Baziotes was interested in scientific inquiry to reveal truths of life. The translucent, surrealist forms in Whirlwind relate to the artist's signature biomorphic shapes that have permeated his work since the late 1940s.
Four paintings by Morris Louis include Charred Journal: Firewritten III (1951), one of seven haunting black paintings from a series evoking the memory of Nazi book burning. Its acrylic resin surface with wayward white markings punctuates the idea that abstraction was the most transcendent way to consider the horrors of war.
Sublime Abstraction, which continues through May 31, also includes a second Kapoor sculpture, the steel-framed acrylic disc Blood Cinema (2000), as well as works by Mary Abbott, Peter Bradley, Sam Francis, Wojciech Fangor, Paul Jenkins, and Ed Moses.
AD REINHARDT
An example of the artist's monochrome geometric abstractions, the 1952 Untitled (Blue-Purple Painting) strips away all representation of the external world.
The works have a different effect on every viewer, but you'll likely connect with at least one of them. The sublime experience and the emotions it stirs could provide unexpected clarity or even inspiration.