---
Jazz in the Pines, a festival supporting Idyllwild Arts scholarships, celebrates 25 years in its tranquil mountain setting on Aug. 10-12. Its mission has remained the same: to keep jazz alive and teach young people the true American art form.
"Just the fact that we've survived 25 years speaks for itself," says Marshall Hawkins, bassist, co-founder and music director of Jazz in the Pines. He says the festival has been successful since its 1994 inception. The inaugural event, staged for only one day, attracted about 1,500 people.
"They were able to attract high-caliber musicians like Richie Cole, Harry Pickens, and Poncho Sanchez," says guitarist and Idyllwild Arts instructor Bob Boss, "because Marshall had the connections, and personally asked them. Boss has been part of Jazz in the Pines almost every year since the beginning.
Boss remembers that the inaugural event was a bit overwhelming from a logistics standpoint. "There was no fencing and only one sheriff on horseback," he says. "A lot of people who came just wandered in from the grotto."
But they made money, and Hawkins says they've never lost a dime over the years. However, the focus has not been on making money, but teaching young people and keeping jazz, the true American art form, alive.
"There are no books that can teach this kind of music," Hawkins emphasizes. "You have to learn by example. And every musician has something to offer."
Casey Abrams, Graham Dechter, and Evan Christopher are only a few of the Idyllwild Arts graduates that have gone on to bigger things on the world's music stage. Boss remembers Dechter and Christopher as 15-year-olds with potential. "I knew they were going to get it," he says. "And now they're hiring us."
Dechter, a jazz guitarist, is active in the Los Angeles jazz scene, but Boss remembers him as a standout guitarist who started out as a classical violinist. "Graham always had great ears and a perfect pitch," Boss says.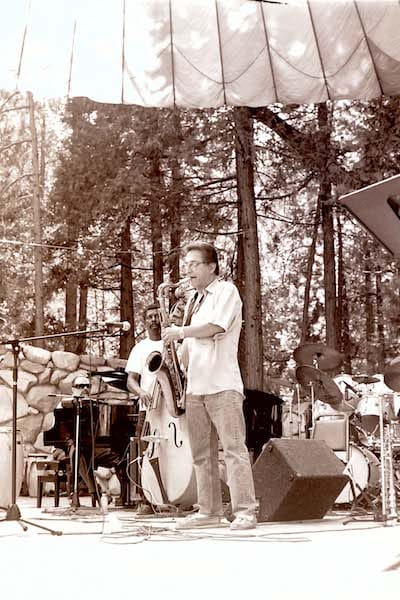 PHOTOGRAPH COURTESY IDYLLWILD TOWN CRIER
Saxophonist Pat Rizzo accompanies Marshall Hawkins in the 1994 opener.
He recalls teaching a master class at Idyllwild Arts where there were five or six guitar students who rehearsed a song they would have to perform later that night. After one rehearsal, the students all told Boss, "No problem we've got it."
"Are you crazy?" Graham chimed in. "We've all hit some wrong notes and we've got a lot to work on before we can perform this," Boss recalls. "Graham was a natural born leader."
PHOTOGRAPH COURTESY IDYLLWILD TOWN CRIER
A poster signifies the first annual Idyllwild Jazz in the Pines.
Abrams, a finalist on the 10th season of American Idol, is better known for his association with Postmodern Jukebox, a touring group that plays modern songs with a vintage twist. Abrams credits his success on American Idol to his Idyllwild Arts roots.
"On Idol, it was a bit overwhelming because there were millions of people watching and I was learning as I went along," Abrams recalls.
Abrams returns this month to play at Jazz in the Pines. He missed last year because of a scheduling conflict with Postmodern Jukebox. "I hope I can play this gig forever," Abrams says.
When asked about any special plans for the 25th anniversary show, Abrams was a bit mysterious. "I'm not sure what I'm going to do, but it will involve different bands and types of music," says Abrams, who collects instruments from all over the world.
Abrams credits Hawkins as being a great teacher whom he has stayed in contact with over the years. "When I'm in Idyllwild, Marshall has me jam with his students," Abrams says. "He taught me some cool cords that are our secret treasures."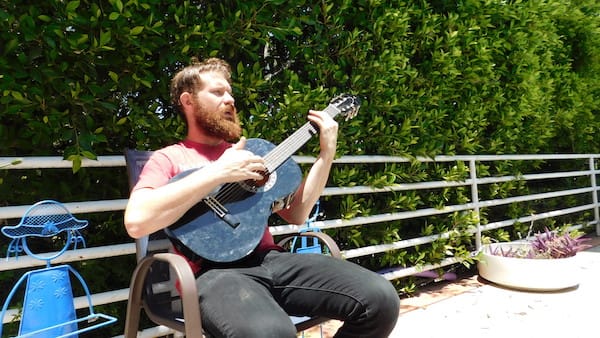 PHOTOGRAPH BY MARICA GAWECKI
Casey Abrams sings a song from his new album on the patio of his Los Angeles home.
Boss says he had known Hawkins for a year and a half before he found out he had played with Roberta Flack and Miles Davis. Marshall hadn't mentioned the icon connections before because that's what everyone wanted to talk to him about. Boss says Hawkins always had big ideas like starting a jazz festival in Idyllwild.
"He was traveling alot in those days, and not really connected to any musicians in LA," Boss recalls.
He met Hawkins through Jim and Jeannie Cheatham, who had a Sunday music jam in a hotel in San Diego. They started playing together every week, sometimes until midnight, then Hawkins would stay over at the Boss' house in Oceanside.
"What makes Jazz in the Pines unique is that in a beautiful setting under the pine trees and not in an urban area. There's a big supportive family aspect to the festival," Boss says. "There are no pop star headliners or anyone who is at the top of the charts right now."
PHOTOGRAPH COURTESY IDYLLWILD TOWN CRIER
From 2000, the pine forest provides the perfect acoustics.
He added Hawkins likes to keep things loose, not have his musicians over prepared, and sometimes things change on the fly. Boss recalls one time when he had to fill in with Hawkins because another musician was late getting into LAX.
"Let's play something we've never played before," Marshall says to Boss as they head towards the stage. "With jazz, there is some improvisation, some memorization, but few rules and guidelines," says Boss. "Marshall likes to break it up and let it go. 'Let's do something different,' he always says."
Jazz in the Pines, Aug, 10-12, jazzinthepines.com