PHOTOGRAPHS BY CHRIS MILLER/ IMAGINE IMAGERY
---
Business as usual is not the norm in La Quinta. City officials are reaching out to business owners and developers to get their feedback on what they want to see in La Quinta and embracing more experience-based "retail-tainment" and mixed-use opportunities.
"We want people to know we are a business-friendly city," said Gilbert Villalpando, assistant to the city manager. "We are open to thinking outside the box." Gabriel Perez, La Quinta planning manager, added, "We are willing to entertain development that is non-traditional and encourage developers to be creative. We're interested in creating centers that will invite people to socialize and linger."
---
MAYOR:
Linda Evans
MAYOR Pro Tem:
Kathleen Fitzpatrick
COUNCIL MEMBERS:
John Peña
Robert Radi
Steve Sanchez
YEAR INCORPORATED:
1982
WEBSITE:
laquintaca.gov
"We are willing to entertain development that is non-traditional and encourage developers to be creative."
• See related story: What You Need to Know About Palm Desert.
With the recent sale of the Sam's Club structure that sat vacant since 2008, the newly revamped former Legacy Furniture building now occupied by Mor Furniture in the One Eleven La Quinta Center and the never-opened  "Fresh and Easy" building on Jefferson Street now slated for renovation, the retail vacancies are filling up and will create lively new shopping and hospitality attractions. These three properties amass significant square footage and will reduce the overall vacancy rate to less than half that of the national average of 15 percent.
Mid-century modern architecture came to La Quinta this past spring with the opening of Contour Dermatology & Cosmetic Surgery Center's iconic new building on Jefferson Street – the third Coachella Valley location for the practice. "I wanted to be in La Quinta to have locations in all the main areas to make it convenient for patients. La Quinta is where the majority of the growth has been and we wanted to have a presence here," said Timothy Jochen, M.D., medical director and founder of Contour Dermatology. "We joined the chamber, we host lunch and learn events at our office and are very excited to be part of the community."
Contour Dermatology & Cosmetic Surgery Center opened a third Valley location this past March at 46080 Jefferson Street.
The opening "Day of Beauty" celebration for the 5,000-square-foot dermatology practice benefitted Old Town Artisan, which recently found its permanent home on Calle Barcelona in a delightful park-like environment to inspire kids and adults to explore their creative sides. Another art venue opened in 2017 is Art Bar 92253, which invites patrons to experience the fun "paint night" concept.
Super charging the already vibrant art community in La Quinta will be the California Desert Art Museum. Local artist and art collector Christian Title has been waiting for the right time and place to showcase his abundant collection of impressionist art. Plans are to build an 18,456-square-foot facility on Caleo Bay with multiple art galleries and a studio with instructional programs for the community. Completion is estimated in 2019.
• See related story: What You Need to Know About Palm Springs.
For dining, there are some exciting new choices including Chula Artisan Eatery, El Pollo Loco, Fortun's Kitchen & Bar, which unveiled a $3 million renovation in the former Desert Sage building, Pokehana featuring Hawaiian-Japanese style seafood, and Enzo's Bistro & Bar which renovated the Crab Pot building making it a fun and elegant setting in which to enjoy Italian cuisine along with a touch of whimsy with a back patio bocce court.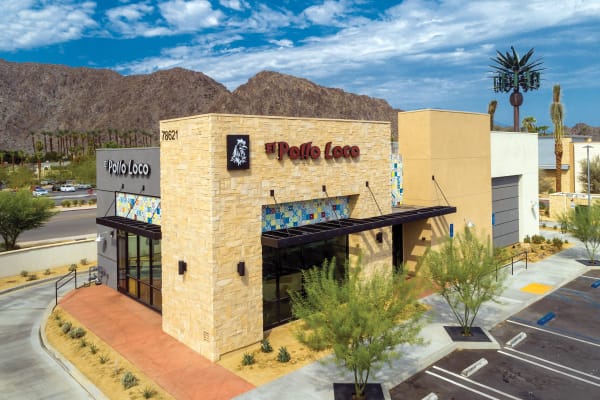 Opened this past May, El Pollo Loco is a popular dining addition.
At SilverRock, construction is underway for the long-awaited luxury hotels — Montage and Pendry, a golf clubhouse, 29 single-family homes and 66 condominiums as well as a 14-acre community park. Featuring soothing water features and kitchen facilities to accommodate catered events, the park will provide a scenic venue for concerts, movies, festivals, hotel events, and just hanging out. This will be the 17th park in the city. "We're moving quickly on the park," said Perez. "Our goal is to have it ready by March 2020. Should the La Quinta Arts Festival want to hold their event there, we want to have it ready."
Other new hotels will include a 108-room, four-story Residence Inn just east of Costco on Highway 111, slated for construction in January 2019, and a proposed boutique hotel called Jefferson Square Hotel, which will transform the Fresh and Easy building into a 160-room hotel along with enclosed retail shops and an indoor farmer's market. This project by Thailand-based CCD Hotel & Resorts is their first development in the United States.
In France, there are 30,000 roundabouts – one per every 45 intersections. In the United States that number is only one per every 1,118 intersections. Americans don't typically love roundabouts, but they are wonderful for slowing things down and getting people to enjoy the journey, especially as many incorporate public art into the installation. But most importantly, they save lives. According to the American Insurance Institute for Highway Safety, roundabouts reduce injury crashes by 75 percent over a traffic signal.
This past November, the city staged Village Make — an interactive "pop-up" event to give residents a visual of coming improvements — and received an award from the American Planning Association for this event. Funded by a $7.4 million grant from California's Active Transportation Program, an additional five roundabouts will make the Village friendlier for pedestrians and cyclists and give La Quinta the distinct honor of having the most roundabouts in the desert with 11 of them. Completion is slated for 2020.
• See related story: What You Need to Know About Coachella.
Another aspect of The Village improvements includes public art — enhancing the back alley between Casa Mendoza, Enzo's and Fortun's restaurants and installing several murals. The faded paint from the November 2017 event still remains visible on the alley, but a permanent artistic painting will soon be applied. Casa Mendoza Owner Ramiro Mendoza is excited to develop a Spanish mural along a new exterior wall of his restaurant's expansion. Hoping to have it completed by November 2018, Mendoza is more than doubling his restaurant's space to include an expanded bar, an enclosed back patio and beyond that, an open-air patio.
Mor Furniture renovated this building in One Eleven La Quinta Center and opened in September.
A few highlights in residential development include Desert Club Apartments slated for construction in late 2018 with 16, two-story units on Desert Club Drive next to Arnold Palmer's Restaurant and Centre at La Quinta, which will feature 133 condominiums on 22 acres on La Quinta Centre Drive just east of Adams. Receiving approval this summer, the construction date of the contemporary Spanish community is to be determined. This development also includes a 2.7-acre future hotel site.
A special subsidized housing project the city recently completed is the renovation of Washington Street Apartments for seniors and adults with disabilities. Disabled veterans are among the current residents. The complex reopens this October with 72 rehabilitated units and 68 new units for which applications are being accepted. To accomplish the renovation, residents were housed at Homewood Suites for four months.
On the luxury residential scene, Andalusia at Coral Mountain is offering buyers the opportunity to select their lot, floor plan and elevation in a new "build-to-suit" option and also obtained approval for 71 smaller homes at The Village at Andalusia. Griffin Ranch also is continuing to build with four new models.
Two big box retailers — T.J. Maxx and Ulta Beauty — opened shop in La Quinta this past year and are doing well. Another retail development currently under review is the 125,000-square-foot Pavilion Palm Shopping Center by Lundin Development at Avenue 50 and Jefferson Street. Anchored by Vons Pavilions, the 7.7-acre center will have 12 commercial pads, but other tenants have not yet been confirmed.
This fall, look for the new, blue streets signs and check out the updated monument entry signs which received a refresh as part of a rebranding effort. "The rebrand isn't just a different logo, colors or font," said Marcie Graham, city marketing manager. "It's everything. It's all about first impressions — landscaping, art, street signs and clean streets to the level of customer service we provide our residents." The logo also now includes "California" to designate La Quinta as its own unique destination.
• See related story: What You Need to Know About Rancho Mirage.
POPULATION
Total Population:
40,856
Median Age:
48
INCOME
Average
Household:
$124,441
EDUCATION
High School Diploma
18%
Bachelor's Degree
24%
Graduate, Professional Degree
13%
EMPLOYMENT
Retail Trade
13%
Accommodation, Food Services
12.5%
Source: Esri
HealthCare,
Social Assistance
10%
Construction
8%
Professional, Scientific, Tech Services
7%
Educational Services
7%
Arts/Entertainment, Recreation
7%
Admin/Support, Waste Management Services
6%
Real Estate, Rental, Leasing
5%
Finance, Insurance
3%
Agriculture, Forestry, Fishing, Hunting
3%