PHOTOGRAPHS BY NIKKO DETRANQUILLI AND TIENLYN JACOBSON
---
A cool escape from the heat holds extra appeal during the summer. So pack up your tote bag for a day trip. Whether you crave a mountain adventure or a spa day, these destinations are within 90 minutes of town.
Lake Arrowhead
The Lake Arrowhead experience begins with the drive, with sweeping vistas and plenty of stately A-frames to view along the way. Start with a hearty brunch and a cup of Intelligentsia coffee at Belgian Waffle Works and snag a few souvenirs to go (such as the signature waffle mix and jams). Walk it off by perusing the shops at Lake Arrowhead Village, which range from Coach to purveyors of candy apples and everything in between. Hop aboard the Lake Arrowhead Queen Boat Tour for a scenic excursion on the water, or test your grit on water skis or a wakeboard. The McKenzie Water Ski School, founded in 1946, offers lessons for all ages. Distract the kids with carnival rides and mini golf at Lollipop Park or enjoy a free outdoor concert at Center Stage every weekend from May through September. 
Be sure to pack plenty of sunscreen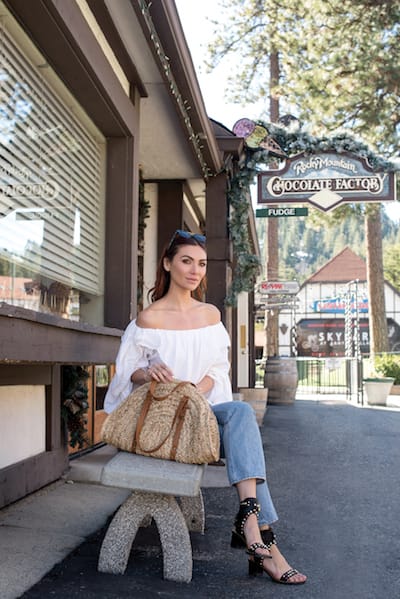 Writer Tienlyn Jacobson chills at Lake Arrowhead Village.
View of Lake Arrowhead Village.
Jam selection at Belgian Waffle Works.
Idyllwild

Entering Idyllwild feels a little like stumbling upon the mystical village of Brigadoon. There's a fairy-tale feel to this rustically scenic mountain town, supported by quirky little shops such as El Buen Cacao, where you can sip on exotic specialties such as chocolate tea or treat yourself to rich and delectable organic creations (which also make great gifts).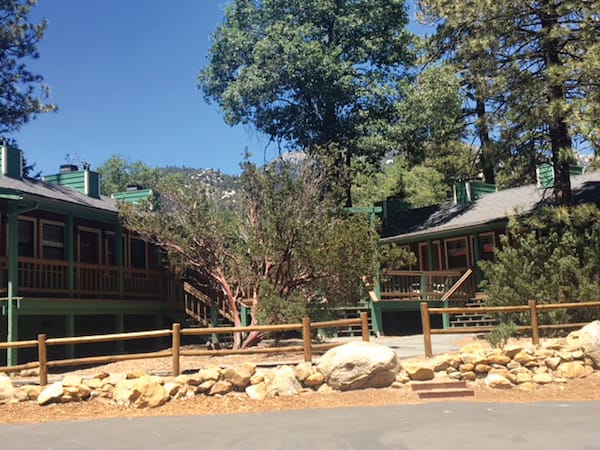 PHOTOGRAPH BY LISA MARIE HART
Idyllwild lodgings.
While there are copious hikes to keep the outdoor enthusiast occupied, there is also plenty to experience without ever leaving the quaint downtown area. Cozy up on a couch by the fire, dine creekside, or simply enjoy live weekend music at the charmingly eclectic Idyology. Step back in time at the Rustic Theatre, which was built in the 1940s and has been putting on first-run films, theater productions, and shows ever since. At The Red Kettle, expect good eats and good conversation, too, as it's a regular joint for locals and solo hikers.
Corona
You could make the trip to Corona purely for the joy of lounging all day in the 17 healing pools, mud baths, and saunas of Glen Ivy, a hot springs oasis that takes self-care to an entirely new level. However, make sure to carve out an hour or so to meander through Tom's Farms, a nearby farmers market turned food and entertainment destination.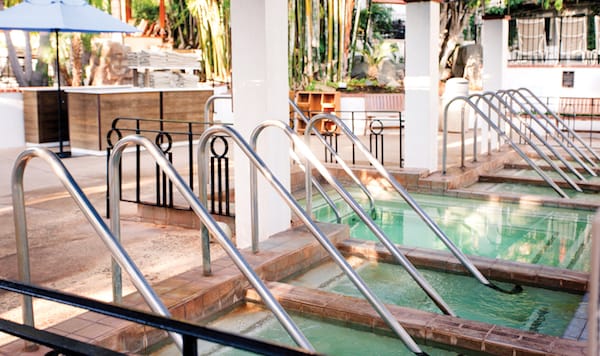 PHOTOGRAPH COURTESY GLEN IVY HOT SPRINGS
Glen Ivy Hot Springs takes self-care to a new level.
There are plenty of rides and activities for the kids, while adults can indulge in wine tasting, live music on the weekends, and the original farmers market, still a cornerstone of the park. A 10-minute drive from Tom's, the contemporary bamboo-covered pedestrian walkway overlooking the lakes, waterfalls, and lush scenery surrounding the Shops at Dos Lagos mall begs to be strolled. The shopping won't leave you lacking, either, and the movie theater and dining selections are the cherries on top.