PHOTOGRAPHS BY MATT CRUMP
---
FRIDAY: INDIAN CANYONS
Citrus Heights
After you've toured the modern homes of Indian Canyons — like this one, built in 1966 — make like Sinatra and reserve a table at Michael Holmes' Purple Room, the nearby supper club where Ol' Blue Eyes was known to carouse. These days, the valley fixture's dinner shows range from Broadway to drag.
---
saturday:
Sierra way
That Pink Door
Would you believe this Instagram-
famous door used to be brown? The home on Sierra Way, designed in 1974, received its rosy makeover in the mid-2000s. Before you take your selfie, grab a dark-roast latte at at Koffi on South Camino Real; beans are roasted locally in Rancho Mirage.
The Party Lions
A couple doors down at this 1971 gem, two stylish lion statues sport new inflatables each week. Inspired? Shop the colorful design showroom at H3K Home on South Palm Canyon Drive.
SUNDAY:
KINGS POINT
Tangerine Dream
Built in 1968, this creamsicle-colored doorway is tucked away in the William Krisel–designed community of Kings Point. Consisting of 44 homes, it's considered one of the Coachella Valley's most architecturally significant areas. To properly soak it in, rent a bike at the Saguaro or Ace.
Mellow Yellow
After touring Krisel's 'hood (the home above is circa 1969), head to Elmer's on East Palm Canyon Drive for a retro brunch. Once you've filled up on the classic diner's famous German pancakes, work it all off on the Garstin Trail. Not far from Kings Point, at Barona Road, the moderate switchback meanders 4 miles round-trip.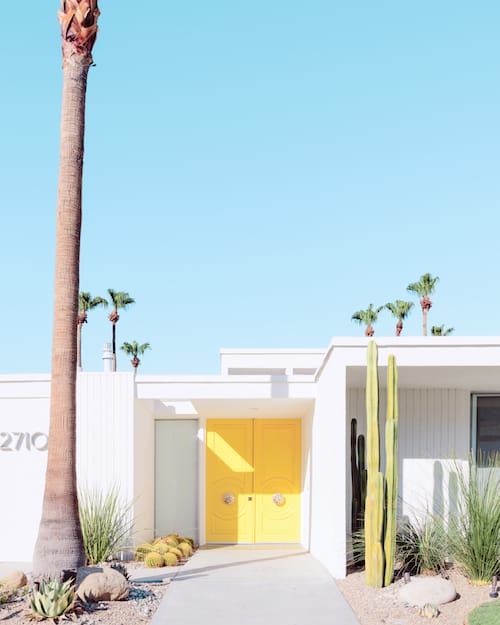 Matt Crump is a photographer and 
self-proclaimed color chaser. Follow 
him on Instagram at @mattcrump 
and shop his prints at mattcrump.com.