PHOTOGRAPHS BY TIFFANY CLARK
---
Sometimes known as the "Mexican scotch," Mezcal is the smoky spirit that hits you with a one-two punch and then a soft kiss on the lips. It's sexy, smoky, yet smooth and leaves you tipsy after a couple of sips. It's like a Tinder date, but with a better personality.
Although tequila still reigns supreme on cocktail menus, Mezcal is slowly becoming a trendy spirit to order for drinkers in the know. Mezcal is a close cousin to tequila, also born from an agave plant, but with a unique distilling process that is more handcrafted instead of industrial.
Tequila uses only one type of agave plant (the blue agave) by law, while Mezcal can use up to 30 different types of agave plants. Tequila and Mezcal are produced in different states in Mexico. Tequila, booze experts find, is a gateway spirit to Mezcal, which is why bored margarita lovers are turning to this smoky spirit for a kick.
The first time I tasted Mezcal, it was love at first sip. I feel like I'm #adulting everytime I order a Mezcal cocktail, leaving tequila drinkers behind in my "that's so basic" dust. I've discovered my favorite Mezcal concoctions and anxious to share my list.
Bootlegger Tiki
Desperados Downfall: Mezcal Joven, Ancho Chile Liquor, Reposado Tequila, lime, passion fruit, pineapple, orgeat, cinnamon, salt.
It's Polynesia meets Mexico in this tiki-inspired cocktail featuring both Mezcal and tequila. Why be stressed choosing between two of your favorite children?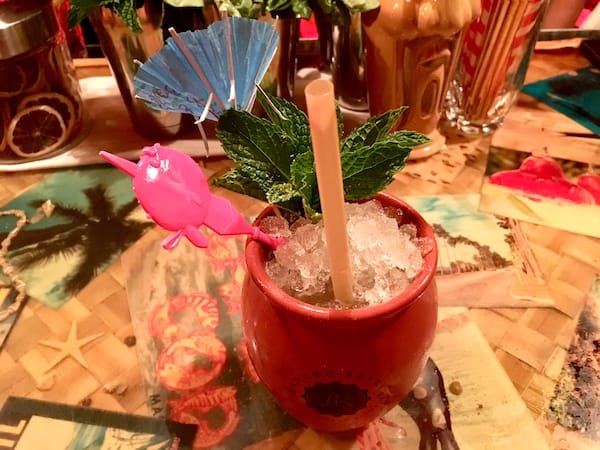 Bootlegger Tiki also conducts Tiki Cocktail classes.
A fruity concoction of all your favorite juices, this cocktail can challenge even the "I can totally drink you under the table" braggers. "I will always prefer Mezcal; I can't do tequila. Mezcal is a beautiful spirit. The process how it's made is amazing," says bar manager, Carlos Marés.
Alebrije Bistro Mexico
Oaxaca Old Fashioned: Xicaru Mezcal, Angelisco Tequila, sugar syrup, bitters, rocks, bucket glass, grapefruit.
This cocktail is a magic potion of trickery replacing whisky with Mezcal. It has all the flavors of the classic cocktail down to the orange peel, but is given the south of the border touch by replacing the headlining spirit. Owner Alex Bazan customized the specialty Mezcal menu inspired by the handcrafted cocktails in Mexico City. "Tequila can be found anywhere in the United States at this time," says Bazan "I believe it is time to introduce one of the oldest and most significant liquors in Mexico that has not been given the recognition it deserves."
Alebrije Bistro Mexico gives Mezcal its just due.
El Jefe at The Saguaro
Tipsy Cactus: Jalapeno-infused Blanco Tequila, Mezcal, Lime juice, Watermelon, Modelo Especial, Celery salt.
The Tipsy Cactus is the summer cocktail best enjoyed poolside or accompanying fish tacos and your favorite drinking buddy. What I love about this cocktail is the ingredients are a perfect balance against the strong, smoky flavor of Mezcal.
Fresh fruit and citrus complements the Mezcal.
The fresh fruit and citrus flavors give it a light, airy taste that evens out the kick of the Mezcal at the end of the sip. "El Jefe is a tequila bar so we do feature Mezcal in our Mezcal Mule and our Tipsy Cactus," says Saguaro Food and Beverage Director Sang Aparadh. "My preference is Mezcal because it has that smoky undertone. It's definitely something I drink when I go out."
The M-80 is a popular pick at Workshop Kitchen + Bar in Palm Springs.
Workshop Kitchen & Bar
M-80: Tequila Reposado, Vida Mezcal, fresh lime juice, fresh ginger juice, simple, grapefruit oils.
My favorite type of cocktails are those that when I close my eyes, I can imagine I'm actually drinking for my health. Ginger has anti-inflammatory properties and grapefruit is a metabolism booster. "Silent but deadly" is what I like to call this drink — except death feels amazing, like you're floating on a pillowy cloud made from unicorn fuzz. "It's the most popular cocktail on the menu," says bar manager Michelle Bearden. "The drink is really refreshing and not too sweet."
DISCLAIMER: Please note that menu items in this story can change at these establishments. To check on the menu item's availability, visit the location's website or call them. Thank you.