PHOTOGRAPH COURTESY COLONY PALMS HOTEL
---
There's a certain je ne sais quoi that's synonymous with Greater Palm Springs. 
Equal parts whimsy and cool nonchalance, the atmosphere fosters a kaleidoscopic 
cast of artisans and purveyors who cater to offbeat tastes. It's an ideal place to frolic freely, tuck a few sprigs of bougainvillea behind your ear, and ponder the trajectory of life.
stay
El Morocco Inn & Spa
This hot-spring hideaway transports visitors to Marrakech — no surprise, as much of its décor was sourced there. Owner Bruce Abney transformed the place with a curated collection of artwork and architectural elements found on his treks: goatskin lamps, a pair of antique entry doors, a multicolored tent canopy constructed with fabrics handmade by roadside vendors. The interiors are so pretty you'll want to wear them, and a host of exotic spa treatments will melt your cares away — a soothing soak, scalp and body massage, followed by a poolside snooze and complimentary "Morocco-tini."
Korakia Pensione
Not far from the downtown bustle, in a quiet neighborhood, this posh Mediterranean-meets-Moroccan retreat nests amid midcentury modern dwellings. Its villas, built in 1918 and 1924, were once owned by silent movie star J. Carrol Naish and painter Gordon Coutts, respectively. Trickling fountains, a crackling outdoor fire pit, swimming pool, luxury spa, and traditional Moroccan afternoon teatime promote relaxing and recharging, while the charming of-the-moment boho design overrun with hot-pink flora stimulates the senses, evoking a dreamlike faraway locale.
PHOTOGRAPH BY LIZ MARTIN
Korakia Pensione in Palm Springs.
La Serena Villas
Find your inner calm at one of Palm Springs' recently renovated boutique hotels. Secluded, private villas designed in bright whites and blues offer a serene space to escape and indulge; you can even soak in your own outdoor claw-foot tub. The Spanish- and 
Mediterranean-inspired poolside restaurant, Azúcar, is decked in lavish wallpaper and Frida Kahlo prints, and the rooftop lounge, known as Sugar High, is a prime spot to sip craft cocktails in the evening.
PHOTOGRAPH BY KELLY SEGRE
La Serena Villas in Palm Springs.
taste
Evzin Mediterranean
This white-washed bistro filled with colorful artwork and bench seating draped in bohemian blankets is meant to feel like a kicky eatery you'd find in other sun-splashed destinations like Ibiza or Mykonos. Expect Greek cuisine with modern Middle Eastern, Spanish, and Moroccan influences; choices include black-garlic hummus, Spanish octopus, and Shwarma-spiced lamb. There's a second location at Caliente Tropics in Palm Springs.
PHOTOGRAPH BY BARBERSTOCK/GREATER PALM SPRINGS CVB
Evzin Mediterranean in Palm Desert.
Truss & Twine
Feeling a Gatsby, roaring '20s, gin-in-the-bathtub vibe? Well, Truss & Twine has a cocktail for that. The drink menu is a chronological history of cocktail periods: Prohibition, the Golden Age, the Dark Ages, and everyone's favorite, Tiki. Right on the main drag amid the action of downtown Palm Springs, the industrial-chic bar sits adjacent to sister restaurant Workshop Kitchen + Bar. Truss & Twine's master mixologists are shaking and stirring craft drinks that live up to the hype. But don't overlook the bites; that pulled short-rib grilled cheese is divine.
PHOTOGRAPH BY AUDREY MA
Truss & Twine in Palm Springs.
Purple Palm 
at Colony Palms Hotel
Beneath this indoor-outdoor, poolside hotel restaurant once was a brothel and speakeasy with a regular gang of mobster guests. The Purple Palm at Colony Palms Hotel now cultivates a bohemian-gypsy-fortune-telling-goddess atmosphere. Classic recipes receive imaginative twists. A dinner of duck is dressed in Brussels sprouts, sunchokes, ginger, sansho pepper, and maple. Goat cheese is crusted in pecans with persimmon, duck terrine, arugula, and herbs. Even the classic Caesar salad is renewed with marinated tomatoes, Parmesan lavash, and boquerones. Your fortune says "Yum!"
Moorten Botanical Garden
Take a self-guided tour of this quaint desert maze, through thickets of deciduous trees, succulents, and funny-looking plants with names like "Sticks on Fire." The garden is the labor of love of owner Clark Moorten, who lives on the property so he can keep his eye on the masterpiece planted by his parents in the 1930s. Don't leave without visiting the Cactarium, a sheltered, joyful jumble of thorny and spindly plants. Purchase one of your own in the nursery. They'll even pot it for you.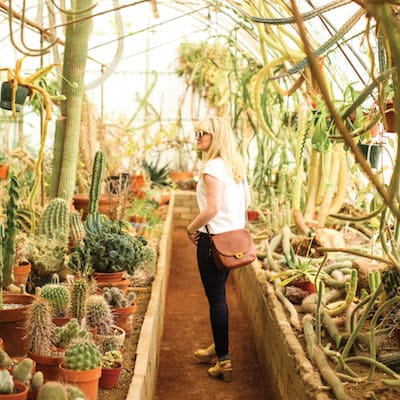 PHOTOGRAPH BY ANDREA AMENT
Moorten Botanical Garden in Palm Springs.
Oasis Date Gardens
Established in 1912, the Oasis Date Gardens ranch occupies 175 acres in Thermal, a short drive southeast from Coachella. Meander the grounds, snap a few Instagram shots in the palm groves and cactus garden, sip a delicious date shake (there are 10 different kinds!), and stop in the gift shop for unique Southwestern trinkets.
shop
Thick as Thieves

It's the little things that make the difference, and this beautiful, cozy space is chock-full of desert-inspired treasures. Mindfully curated, it has everything from floral rompers and home textiles to decorative objects and jewelry, with tasteful, artisan gift options in abundance.
PHOTOGRAPH COURTESY THICK AS THIEVES
Thick as Thieves
Savory Spice Shop

Adjacent to the Apple store on El Paseo is a gastronome's dream — a small specialty grocery store stocked with more than 400 fresh spices, gourmet marinades and extracts, pantry staples, and exotic handcrafted seasonings for just about every dish you can imagine. Herbs and spices come in multiple sizes, so you can buy as little or as much as you need. Perhaps more important to know, the mantra here is: "Taste everything before you buy." Available only in store are local blends — such as the Baja Fish Taco seasoning with green chili, cumin, honey powder, lime, and secret spices.
Martyn Lawrence Bullard
TV personality and interior designer
Moroccan meets midcentury modern at PRG Hospitality Group's new Sands Hotel & Spa. Designed by L.A.-based Bullard, who owns a home in Palm Springs, the 1950s Indian Wells property received its makeover in early 2018.
What inspired the Sands Hotel & Spa's design?
The hotel didn't have a lot of "oomph," but it did have these wonderful undulating arches. It gave me the idea of creating a new Moroccan experience, but I also wanted to honor the local vicinity, the history, and the modern vibe that we're famous for. It's a very sexy experience.
Define the desert's vibe.
Greater Palm Springs, to me, is sanctuary. It's where I go to recharge my battery and totally chill out.
Describe your ultimate weekend in Greater 
Palm Springs.
We tend to go down Friday after dinner. Glass of wine, a movie, let the week wash away. Saturday morning, Cheeky's is our favorite spot for brunch. I love to go to the local antique stores and The Shops at 1345. We'll do cultural stuff on Sundays, museums, and an early dinner at Birba, then we head back to L.A.
PHOTOGRAPH COURTESY LU TAPP/RALUCA STATE
Martyn Bullard