PHOTOGRAPHS BY ERIC DOOLIN
---
My family has had a place in the Coachella Valley since the early 1950s, making the desert my second home. I've seen its evolution in the past few decades, and I love how the area retains a vintage aesthetic. I have a sweet spot in my heart for any place that has history, charm, and lets dogs dine with you, and Greater Palm Springs has all that and much more.
friday afternoon
L'Horizon Palm Springs
Though my family has a house here, I usually opt to stay at one of the boutique hotels in the heart of Palm Springs, such as L'Horizon. This historic property makes you feel like you've traveled back in time to lounge poolside with Marilyn Monroe. And after a full day of traveling, nothing beats a late afternoon soaking in some much-needed vitamin D.
friday night
SO•PA Restaurant, Palm Springs
L'Horizon has one of the most intimate restaurants in town, SO•PA. If you're on a gluten-free or vegetarian diet, put this at the top of your list. They're open brunch till dinner, with a menu that features everything from smoothies and crab Benedict to red kuri squash risotto, with mushrooms, mascarpone, and broccolini.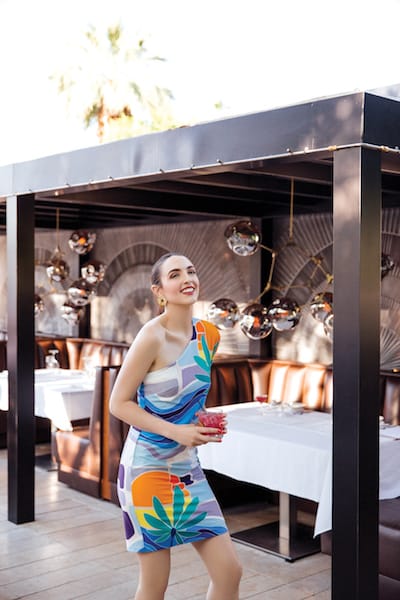 saturday morning
El Paseo Shopping District,
Palm Desert
Shopping is my weakness, and El Paseo is a beautiful outdoor strip with delicious restaurants and luxury designer stores. I frequently find myself perusing the racks at Johnny Was — you'll recognize the shop by its cheery façade, painted by brother and sister muralists Christopher and Christine Lord.
saturday afternoon
Robolights, Palm Springs
There are quirky art installations throughout the Coachella Valley, but my personal favorite is Robolights. Artist Kenny Irwin has transformed his home into the craziest tourist attraction in town, taking everyday objects, painting them in vibrant colors, and turning them into monolith robots and other bizzaro sci-fi creatures. You need to see it to believe it.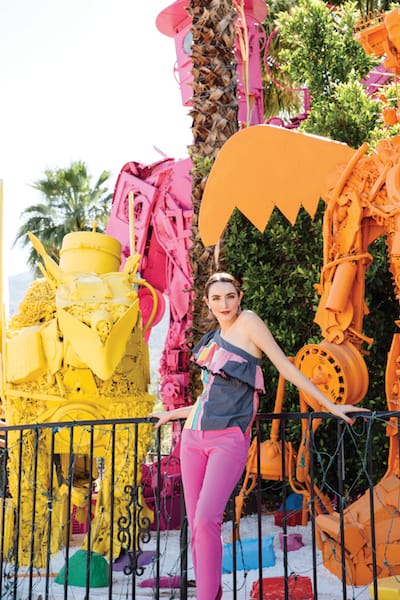 saturday evening
Copley's on Palm Canyon,
Palm Springs
Every time I'm in town I get a table at Copley's. Not only because it was once Cary Grant's guest estate but because of the romantic sunsets over the mountains and the exquisite flavors prepared by chef and owner Andrew Copley. Plus, as I said, I love a dog-friendly restaurant.
sunday morning
Norma's at Parker Palm Springs
Sunday mornings are for brunch, and the best place to go is Norma's at the Parker. The funky ambiance and colorful plates will put a smile on your face. (Arrive early to explore all the nooks in the Jonathan Adler–designed hotel lobby.) Try the Chocolate Decadence French Toast — trust me, your taste buds will thank you.
Paulina Perrucci is a fashion, travel, and wedding photographer based in the Bay Area. Follow her on Instagram at @paulinaperrucci and view her wedding work at andforevermorephoto.com.