PHOTOGRAPH BY NEIL HUSVAR
---
The coolest shopping experience in Palm Springs just got better.
Peepa's, a lifestyle shopping boutique owned Palm Springs resident Jeff Witthuhn, features a broad line of product categories such as home décor, luxury candles, art, books, greeting cards, apparel, personal care, seasonal items and more.
The store has vibrant, stylish interiors and opened at the end of August on Indian Canyon Drive, a couple of doors south of Thai Smile. With the City of Palm Springs planning to turn Indian Canyon into a two-way street in 2019, and the upcoming new Agua Caliente Cultural Center in 2020, this part of downtown will likely see the next revitalization.
Witthuhn, a Milwaukee, Wisconsin native, relocated to Palm Springs in January 2016 and was instantly inspired by the beauty and energy. He had a long-time dream of opening his own lifestyle boutique.
"After living in Palm Springs a couple of years, I felt the dynamic tourism growth in Palm Springs was the perfect environment to launching my own shop," says Witthuhn.
He explains that the name of the store was "my way to honor my grandfather; Peepa was his nickname. I feel I can keep his spirit close."
Witthuhn uses Instagram to curate the collection of products at Peepa's including unique home décor pieces, featuring lamps from LA designer Luke Hobbs, artwork by Michael Turchin (Lance Bass's husband), Frankie Payne (celebrity hairstylist).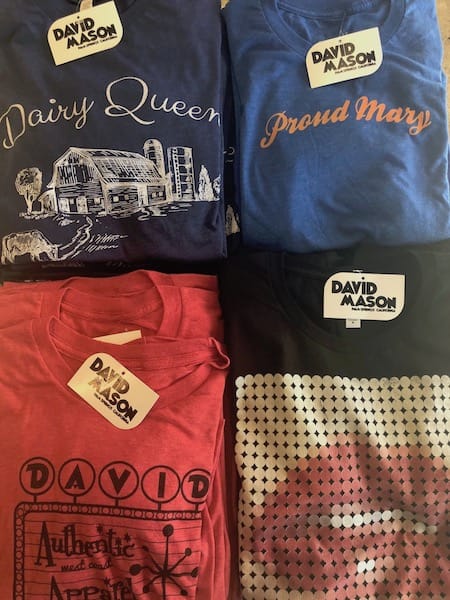 PHOTOGRAPH COURTESY JEFF WITTHUHN
Peepa's owner Jeff Witthuhn designs  David Mason T-shirts. 
In addition, Witthuhn is a designer himself of David Mason, a line of private label products exclusive to his store. In addition, Peepa's will be the exclusive brick and mortar location for the new brand Twin Palms Company, which designs men's & women's apparel.
Other notable brands at Peepa's include, Lafco New York luxury candle company, Coal & Canary candles, Jack Black, Beekman, Coola, Miguelina, Onia, Funboy and more.
Peepa's
108 S. Indian Canyon Drive
Palm Springs, CA 92262
760-318-3553
peepasps.com
Hours:
10 a.m. to 7 p.m. everyday
Thursday, 10 a.m. to 9 p.m.
PHOTOGRAPH BY NEIL HUSVAR