PHOTOGRAPHS BY JIM RICHE
---
March 2012 the Los Angeles Times ran a story about the public opening of Sunnylands Center and Gardens in Rancho Mirage. "If it's good enough for the Annenbergs, maybe it's good enough for me," I thought. My husband, Jim, and I had never considered Rancho Mirage while hunting for a midcentury house in the desert. An online check of the Desert Area MLS revealed two homes for sale at Tamarisk Ranchos— 16 homes around a pool, designed by William Krisel in 1958. We drove from L.A. two days later, made offers on both, and bought one. That started it all. We moved to the desert full time in fall 2013. Then we persuaded other homeowners at Tamarisk Ranchos to open their houses during Modernism Week in 2015 — the first Rancho Mirage neighborhood tour. It promptly sold out. Visitors commonly said they didn't know there was any midcentury architecture in Rancho Mirage.
The launch party for Mod Mirage is Oct. 20, during Modernism Week Fall Preview, at the 1957 White Shadows, one of the book's featured houses in Thunderbird Heights. Information: modernismweek.com
In 2016 I was still a public relations consultant and writing nominations for the Palm Springs Preservation Foundation. I researched Rancho Mirage in my spare time with the idea of a book about the city's midcentury social and architectural history. Tamarisk Ranchos has a deep celebrity history as well as fascinating architecture. Some of the greatest midcentury jewels in the Coachella Valley are within two blocks of our home. Why were these homes here, and who built them? Other than the woeful destruction of Richard Neutra's Maslon House at Tamarisk Country Club in 2002, midcentury architecture in the city has gone largely unnoticed.
The introduction to our newly released book, Mod Mirage, unfolded as I was researching and writing. It explains how one man's dream — Johnny Dawson's — created the city we know today. His vision of an 18-hole golf course created from barren desert with fairway lots for homes gave rise to an extraordinary oasis of influence. The rich and famous beat a path to Thunderbird and Tamarisk, and America virtually ran on the social interactions that resulted from titans of industry, celebrities, and politicians rubbing shoulders on the fairways and in the clubhouses.
Work on the book resulted in introductions to many of the new generation of homeowners in and around Thunderbird and Tamarisk; some are talented designers in their own right, some are architecture collectors, but all relish the expansive views and the tranquility. We were also fortunate to connect with families who have owned and loved their homes for two or three generations.
In addition to custom homes, Mod Mirage showcases the resort-style communities that sprang up around Thunderbird and Tamarisk country clubs during the 1950s and '60s. Many of them were designed by well-known architects like William Krisel and William F. Cody, or reliable names like Richard Leitch and John Lindsay (a former partner with Krisel & Palmer). They were developed as less-expensive alternatives to the luxury fairway homes and designed to be maintenance-free, often with on-site managers overseeing the grounds and pool. These miniresorts compounded the city's rapid growth.
Palm Springs Life presents a selection of homes and neighborhoods we showcase in Mod Mirage.
The Charney Residence
It is appropriate that this house appears on the cover of Mod Mirage because it represents preservation at its best: a thorough restoration by a well-known designer couple who understood the home's essence. Designed for a wealthy Milwaukee attorney, it was thought to be by architect William F. Cody, as drawings for a Charney Residence exist in the Cody archives. However, an article about the house in a 1958 issue of Palm Springs Life named Wexler & Harrison as architects, with interiors by Arthur Elrod and landscape by Eckbo, Royston & Williams. The new owners were in escrow when we gave them the article, thus solving the mystery of why the home they were buying looked nothing like the Cody drawings they had researched.
Subsequently they found the Wexler & Harrison drawings in the house, detailed landscape plans in the Eckbo archives, and the George Szanik photos published in that early copy of Palm Springs Life at the UCLA Special Collections Library. Architectural Digest Top 100 architect Steven Harris and his husband, interior designer Lucien Rees-Roberts, took the house from borderline teardown to desirable midcentury gem during 18 months of back-to-the-studs restoration, including removal of an ugly and unnecessary addition. Decisions were informed by the wealth of historic material and by their desire to return the property to the glorious desert modernist home it had once been. Last year their care and attention to detail earned them a coveted Preservation Award from PS ModCom.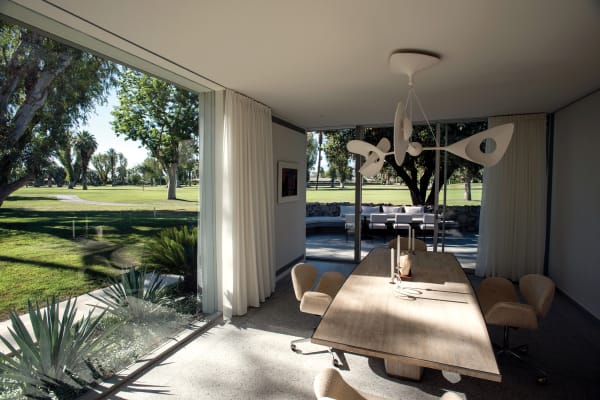 The dining area of the Charney Residence looks out to the fairways and opens to a terrace. Walls of glass create a feel of space and light.
The JORGENSEN / MAVIS Residence
By 1954, William F. Cody had designed several homes at Thunderbird Country Club as well as the clubhouse and rental cottages on the grounds. Jorgensen Steel founder Earle Jorgensen and his wife, philanthropists who owned a sleek, Burton Schutt–designed modernist home in Bel Air, commissioned Cody to design them a house in a commanding position at Thunderbird, with panoramic views of fairways and mountains. Facing south and west, it had the potential for significant solar gain from midday onward. Cody introduced a deep overhang across the southwest-facing elevation that not only protected the living room but also provided the perfect shaded outdoor living space. The architecture is a wonderful early example of Cody's skills, marking his transition from ranch-style to modernism. His use of traditional materials such as rough-cut stone and pecky wood marries with Cody's favored modernist design details, "hush and flush," where materials like glass and stone seamlessly interface, and interior sun courts introduce light in surprising places, bringing the outside in. When completed, Mrs. Jorgensen claimed not to like the home. It was soon sold to the Mavis family. They have since treasured it, keeping it in entirely original and perfect condition, even replacing custom upholstery to replicate the original design.
The Jorgensen/Mavis Residence at Thunderbird Country Club.
The MaRANZ Residence
In 1960 Leo Maranz, the inventor and founder of Tastee-Freez soft-serve ice cream, asked his son-in-law, Robert Marx (son of Gummo Marx), to build him the most dramatic home at Tamarisk Country Club. Marx had already worked on Tamarisk homes with architect Val Powelson, including his father's famous "Sputnik" house (1957) around the corner. Powelson chose an even more dramatic roofline for Maranz, using his structural engineering skills honed at UCLA to create the spectacular hyperbolic parabaloid roof that is nicknamed "gullwing."
"If I'm going to have
a house I want it to be
the most unusual onE
on the Tamarisk fairways,"
Leo Maranz told
Palm Springs Life
in 1960.
Albert Frey later used the same concept for the gas station (now the Palm Springs Visitor Center).The style became popular in the late 1950s because it allowed for open-plan interiors. It was more commonly used for commercial buildings like gas stations and churches. The Maranz Residence is still one of the most eye-catching and recognizable houses in the Coachella Valley.
Val Powelson chose an even more dramatic roofline for Maranz, using his structural
engineering skills honed at UCLA to create the spectacular hyperbolic parabaloid
roof that is nicknamed "gullwing."
Tamarisk Ranchos
Tamarisk Ranchos was a nearby haven for Tamarisk Country Club members, with 16 similar but stylishly different homes around a central pool and gardens. Planned by architect William Krisel for Lou Halper, the founder of Tamarisk and a well-known Los Angeles developer, the community opened in 1958. Three different rooflines and a variety of finishes and detailing gave homes individuality, but key to its success was the fact that homes were "maintenance free" for the Hollywood set. Groucho Marx, who with his brothers and Halper started Tamarisk Country Club, had his home here, as did his TV producer John Guedel and film producer Lawrence Weingarten. With Sinatra installed at his nearby Tamarisk compound, he encouraged his buddies Dr. Leon Krohn and banker Al Hart (founder of City National Bank) to take their places at Tamarisk Ranchos. Sinatra eventually bought Groucho's home for Barbara Marx before the couple was married. The community will open to the public during Modernism Week in February 2019.
A home interior at Tamarisk Ranchos shows the rock fireplace, clerestory windows,
>and post-and-beam construction.
DaVAAL Estates
Val Powelson, who designed the Maranz Residence, also created one of the quirkiest of all the resort communities: DaVaal Estates. Gummo Marx owned the land and encouraged his son Robert to develop a community of 20 cooperative apartments around a central pool, adjacent to the Wonder Palms Guest Ranch and Tamarisk Country Club entrance. Powelson and Marx came up with the X design, with four apartments making up each X. Each one had the same floor plan that placed a bedroom suite at each end, separated by a 32-foot-long living area that included the bar-kitchen and featured 14-foot-high ceilings. Powelson's aversion to right angles is on display, although the results are remarkable, with the 1,400 square feet seeming much bigger thanks to its clever design. Floor-to-ceiling windows on both sides of the living room added to the overall sense of space. Featured in Palm Springs Life in 1960, the show apartment was furnished by Arthur Elrod, complete with a row of Arthur Umanoff barstools at the kitchen bar.
Val Powelson and Robert Marx designed the DaVaal Estates apartment cooperative.
THUNDERBIRD North
With houses by William F. Cody and Wexler & Harrison, Thunderbird North was a hot ticket when the hidden community opened for tours for the first time (and sold out in one day) during Modernism Week in February. One of the first purpose-built, resort-style communities in the area, it was created by A. Pollard Simons, a Dallas developer and one-time business partner of Ben Hogan. Cody master-planned the site and designed three of the homes there for fellow Texan Monty Moncrief; Thunderbird Country Club's first pro, Jimmy Hines; and himself. Golf great Eddie Lowery was also an early owner, and by 1956 several homes were completed. Unlike subsequent communities, homes were custom-designed for each of the 10 golf-mad friends who bought into Simons' concept. The lush, 7-acre site was planned to accommodate 10 homes on large lots, with a central pool, putting green, and sand trap, giving homeowners the perfect place to practice across the road from the main entrance to Thunderbird Country Club.
Unlike other communities, each house
in Thunderbird North was custom built, with
owners choosing their own styles and architects.
The 1958 Simons Residence features deep overhangs and floor-to-ceiling glass.