PHOTOGRAPHS COURTESY CONCIERGE AUCTIONS
---
Get ready to raise your virtual bidding paddles. After a number of years on and off the market, former Three's Company star Suzanne Somers and her husband, Alan Hamel, have decided to part with their 70-plus-acre Palm Springs compound via Concierge Auctions' online marketplace.
Previously listed for $14.5 million, the property will sell to the highest bidder, without reserve, in cooperation with Scott Lyle of Douglas Elliman Real Estate.
A "no reserve" auction is one in which the item for sale will be sold regardless of price. While this approach may attract numerous bidders, it can be risky in terms of achieving an appropriate sale price. Concierge project sales manager Cindy Jones notes that, in this case, the company "is bringing qualified bidders to the property in a predetermined timeframe, making it likely that market value will be achieved."
The formal dining room can seat up to 32 people.
The online auction allows buyers to participate in real time from anywhere in the world. "Bidders are able to watch bids live, and/or in conjunction with a phone or proxy representative when they are logged in," says Jones.
The bidder registration process includes submitting a letter of reference from a bank or financial institution and wiring a deposit (typically $100,000), which is credited toward the purchase for the winning bidder or returned the following business day to everyone else.
The estate will be sold furnished, with the exception of artwork, personal effects, and some furniture. "That said, much of what has been carefully selected for the home will stay," notes Lyle.
Located in the Mesa neighborhood, the estate is carved into the mountain landscape and sits within a hidden valley. It includes five French Country–style villas that are accessible by private roads, funicular, and stone pathways.
Aside from private roads, the property can be accessed via funicular.
Overall, the compound contains approximately 7,300 square feet, with a total of eight bedrooms and 11 bathrooms. The main house, built in 1925, has a two-room kitchen, a 5,000-bottle wine cellar, and a formal dining room that seats up to 32.
Somers and Hamel purchased the property in 1977, the year they were married, and in the late 1980s began renovations that were completed in the mid 1990s.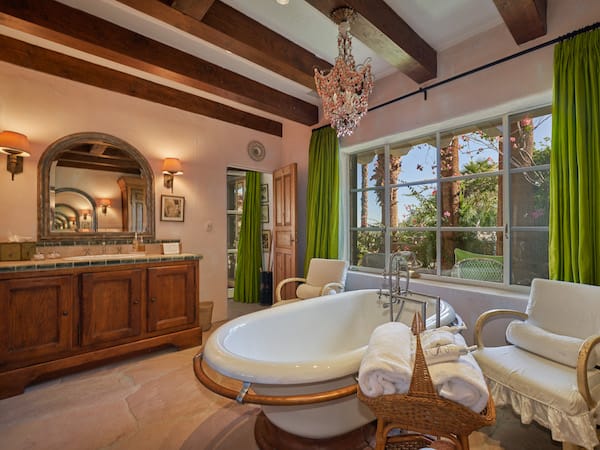 One of several soaking tubs throughout the estate.
"Alan and Suzanne lived in the home for 10 years before they began renovating as they wanted to ensure they were making the right decisions," says Lyle. "Today, you cannot tell the difference between the original structures and those built in the early 1990s.
"Each suite and gathering room was designed and decorated by Suzanne," he adds. "She created a juxtaposition of new and old, which makes it all very interesting. Space is generous, with bathrooms that feel more like lounging rooms, multiple fireplaces, and glass that captures panoramic views of the dramatic mountainside. Other notable details include flagstone floors and block and stone walls."
The Fountain Suite is one of the larger guest suites. It enjoys great views and easy access to the outdoors.
One of the property's unique features is an Albert Frey-designed rock house that was built in 1951. In the early 1990s, Somers and Hamill commissioned Frey to expand the space; it currently includes a large two-room suite, a fireplace, Balinese garden doors, a claw-foot bathtub, rock shower, and meditation garden.

For more information on the property, contact Scott Lyle at 760-327-4312 or scott.lyle@elliman.com. For information about the auction, contact Cindy Jones of Concierge Auctions at 949-244-1300 or cindy.jones@conciergeauctions.com.
Interested buyers can register to bid on the Concierge Auctions property page by clicking the "Register to Bid" button, or calling 212-202-2940.
The main residence's living room, as well as each suite and gathering room, was decorated by Somers.
Architect Albert Frey designed the estate's Rock House in 1951 and oversaw an expansion in the early 1990s.