PHOTOGRAHS BY TIM STREET-PORTER
---
British-born photographer Tim Street-Porter's first book of architectural images, Freestyle: The New Architecture and Interior Design From Los Angeles was celebrated at a Gehry-designed restaurant in Venice Beach called Rebecca's. It was 1985, and the seaside town was still hip and cheap and just a little bit funky around the edges. At the publication party was the usual Venice crowd of that era: artists and architects, surfers and gangsters, a smattering of Hollywood glitterati. Street-Porter was overjoyed when designer Ray Eames showed up but was mystified when told aquatic actress Esther Williams was also in attendance.
"It finally struck me," he recalled recently, "that she must have thought a book called Freestyle was about swimming."
As both an author and a photographer, Street-Porter has since completed 20 more books on architecture and design. In one of his most well-known photo studies of his adopted city, L.A. Modern, he also includes images from Palm Springs such as the Kaufmann House. "We [his partner is writer Annie Kelly] have been coming to Palm Springs since the early '80s," Street-Porter says. "We loved the architecture and staying in some of the old hotels. It was only the last few years that we realized it evolved into this extremely cool place."
After photographing interior designer Martyn Lawrence Bullard's redo of the Colony Palms Hotel, Street-Porter was inspired to focus his lens on 17 select properties in the valley for his new Rizzoli book, Palm Springs: A Modernist Paradise. A number of the homes, such as Frey House II, Sunnylands, and the Ship of the Desert, will be familiar to those passionate about desert modernism. Others, such as the Hearst residence, the Cody Glass House, and the Leff-Florsheim House, may be new to even seasoned aficionados. Whether previously documented or not, Street-Porter's unique photographic perspective makes every page a visual thrill.
Though the photographer spent five years on this project, last year was his favor-ite because of the vibrant colors revealed in both landscape and structures by the record rains. For months afterward, he tried to think of the appropriate metaphor to describe the crystalline air and snow-capped San Jacinto Mountains that greeted him every day. "I finally decided," he says, "that it was like lying in a giant margarita glass rimmed with salt."
Property: Davis
Thomas B. Davis' Moroccan-style house was designed in 1957 by Henry Eggers and Walter Wilkman. The walnut screened doors in this internal courtyard are by T.H. Robsjohn-Gibbings, who collaborated with the architects on details throughout the home.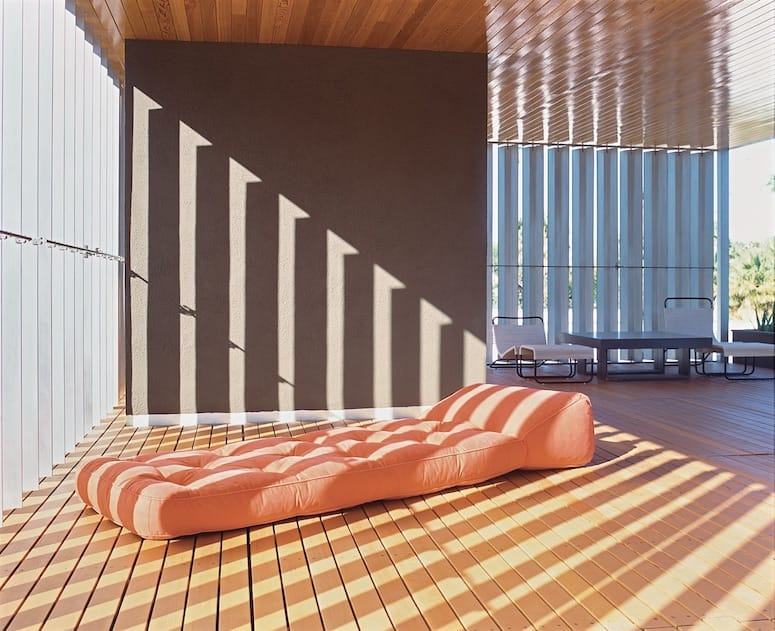 property: KAUFMANN
Richard Neutra's masterpiece, the Kaufmann House, features what the architect referred to as a "gloriette," an indoor-outdoor upstairs room that can be closed off from wind by louvered screens.
property: FORD
President Gerald Ford and wife Betty commissioned Welton Becket, designer of the 
Capitol Records building in L.A., to create their home at Thunderbird Country Club in Rancho Mirage. The entry features a custom mirror by Darren Brown and a portrait of the former first lady that once hung in the White House.
property: FIRESTONE
William Pereira designed the Firestone House in 1957 for tire magnate Leonard K. Firestone. Colored 1970s ceramic structures liven the rear terrace.
property: SUNNYLANDS
Sunnylands was designed in 1963 by architect A. Quincy Jones and interior designer William Haines for publisher and philanthropist Walter Annenberg and his wife, Leonore. The 32,000-square-foot residence has been visited by numerous heads of state, including U.S. presidents and Queen Elizabeth. The master bedroom features elegant furniture designed by Haines.
property: VILLA GRIGIO
The living room of Villa Grigio, designed in 1964 by James McNaughton, 
centers around a sunken conversation pit that anchors the home's axial plan. Bow-front 
windows push the envelope of the living space outdoors.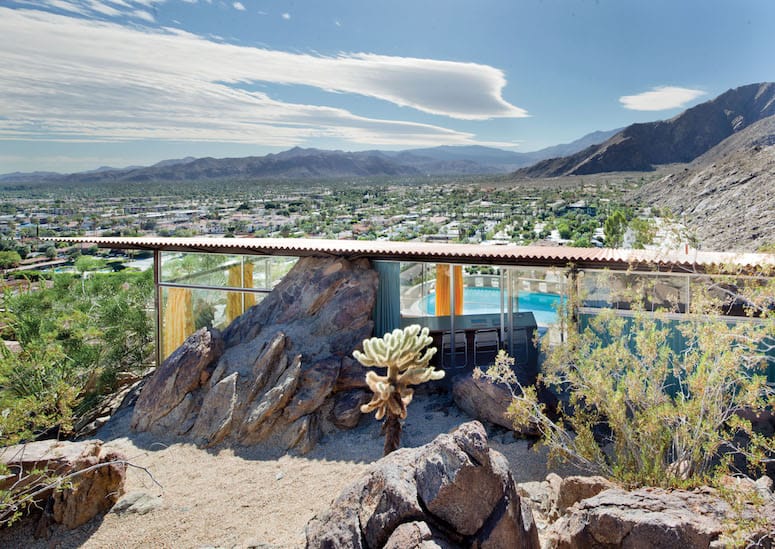 property: FREY HOUSE 2
Albert Frey's second Palm Springs home, completed in 1964, is literally built into the rocks. The walls, ceiling, and roof are corrugated aluminum finished in factory-baked 
enamel and still look as good as new. Frey chose the color of the curtains to echo the seasonal Encelia farinosa (brittlebush) flowers that grow around the house.