---
The Palm Springs International ShortFest is not about finding your comfort zone.
With more than 300 films screening over six days, June 19-24, there is plenty of opportunity to explore film genres you have never ventured into before, like Brief Encounters, which showcases six films that deal with chance meetings and temporary companionships. Or how about Outsiders and Underdogs, which focus on those who march to the beat of their own drums.
• See related story on Palm Springs ShortFest: Not Selling Herself Short
"I would recommend they try something different, something they might not like," says Liliana Rodriguez, who directs ShortFest. "There might be something that's really cool in there. The energy's great, but the movies - they're very good movies. Every year, we have one or two that make it all the way to Oscar nominations. And it's also just fun."
In the hope of helping you use your time wisely, Rodriguez has put together her top 10 list of ShortFest films you should try and see. And don't forget ShortFest slates its Best of the Fest on June 25, which includes the fan faves and award winners.
The top 10 include:
Tungrus
This documentary out of India by director Rishi Chandna spotlights a middle class Mumbai family's home life that turns odd when Dad brings home a new pet: a chick that grows into an aggressive rooster. Rodriguez says the film is both hilarious and bittersweet.
Screens at 10:30 a.m. June 20
This film also screened at Cannes Film Festival and at SXSW.
Caroline
Under Live Action Over 15 Minutes, this American film directed by Logan George and Celine Held tackles a 6-year-old girl who is faced with a big responsibility on a hot Texas day when her plans fall through. Rodriguez likes these two directors, and in this film she says they "give us a moment in these characters' lives that paints a complete picture without needing to relay everything out loud, commenting on socio-economics, struggling single mothers, and love."
Screens at 3:15 p.m. June 23
This 18-minute film makes its North American premiere at ShortFest.
My Best Friend's Shoes
One is a better footballer, bit the other is richer.the friendship hits a crisis when money decides the merit. "A deeply moving story about two friends who have very different lives," Rodriguez says. "It's a familiar story told through a wonderful lens and a great cast of children." Directed by Ajitpal Singh Dhaliwal from India.
Screens at 11 a.m. June 23
The film has already captured several Best Animated Short Film awards at other festivals.
The Driver is Red
Set in Argentina in 1960, secret agent Zvi Aharoni hunts down one of the highest-ranking Natzi war criminals on the run. The animated film is directed by Randall Christopher . "The animation and structure are amazing," Rodriguez says. "It's intense and powerful, and is a treat to see — even for this who might know how it all turns out."
Screens at 1:30 p.m. June 20
The 17-minute film is in Swedish with English subtitles.
JUCK (Thrust)
Inspired by the all female dance group that went viral in 2013, the #metoo movement has its theme song and dance. The film is a mix of documentary, music, and performance directed by Olivia Kastebring, Julie Gumpert, and Ulrika Bandeira. "It's powerful in its message of self-expression and its questioning of what it means to be 'feminine.' The film, like the group itself, is a powerful political statement and thrilling to view," Rodriguez says.
Screens at 1:30 p.m. June 20
This film is the longest of the Top 10 at 20 minutes.
Babygirl
Jess, a former country music child-star turned single mother, decides to make a comeback after a 15-year hiatus. "A delicate and beautifully acted portrait of a woman attempting to jump back in to the music career she gave up for her family," says Rodriguez of the film directed by Australian Lara Gissing. "It's sensitive, mature, and has great country music from Australia."
Screens at 3:30 p.m. June 20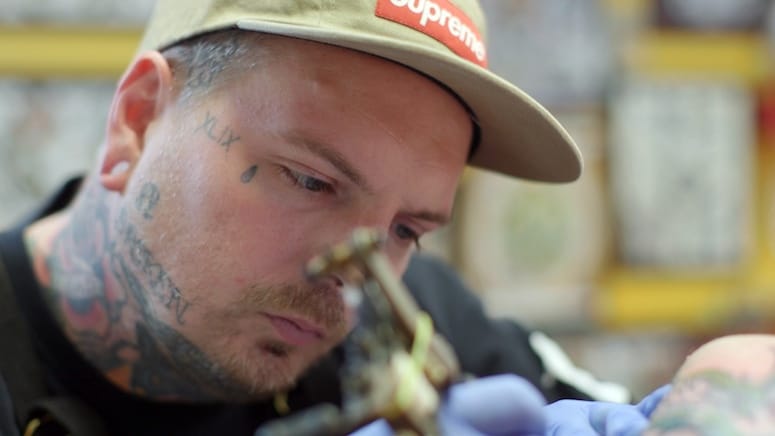 This is director Cy Dodson's third film in the last five years.
Beneath the Ink
In a time when society's belief systems are seemingly changing (or even reverting back in time), Ohio artist Billy Joe White is challenging his Appalachian region by saying: "Bring me your mistakes." Rodriguez says the film directed by Cy Dodson follows an Ohio tattoo artist and his team who do cover-up tattoos on people who want to remove hate symbols from their bodies. "It's a look at our country from a side you don't often see. Timely and profound."
Screens at 10:30 a.m. June 23
Let Me Dance is part of the Gay!La: Program 2.
Let Me Dance
When her co-workers decide to surprise Mylène with a birthday celebration, a reminder of a past she would prefer to forget makes its way into the night in a file directed by Valérie Leroy. "Myléne is surprised by her co-workers with a birthday celebration," Rodriguez says. "Everything seems fine but one of the co-workers has found something out about Myléne and plays a cruel game with her," Rodriguez says. "It's a psychological mystery about identity, our need to feel accepted, and the sad realities that there are people out there who want to hurt others. But it's also about having the power t say, 'the hell with those people.'"
Screens at 6:45 p.m. June 21
Prince's Tale makes its international premiere.
Prince's Tale
Directed by Canadian Jamie Miller, this film is a portrait of the life of Prince Amponsah, a young actor who survived a near-fatal fire in 2012, and the journey of mental recovery that brought him back on stage. "A deeply inspiring documentary that follows Prince Amponsah, who survived an accident that dramatically changed his body. It's an extraordinary tale of transformation and recovery," Rodriguez says.
Screens at 1:30 p.m. June 20
The 15-minute film is part of the Wild At Heart program.
Evaporated
A teenage boy with overflowing hormones can't help but start fantasizing about his best friend's mother after inadvertently catching her in a compromising position. The coming-of-age story directed by Jimena Muhlia of Mexico has touches of Y Tu Mama Tambien. "This film is about the formative, confusing, and fiery growing pains of adolescence. A teen develops the hots for his friend's mom. It can't end well," Rodriguez says.
Screens at 7 p.m. June 23
•    •    •
The 24th annual ShortFest, June 19–25, includes film screenings at the the Palm Springs Cultural Center, 2300 E. Baristo Road, Palm Springs. Panel discussions open to the public will be held at the Riviera Palm Springs, 1600 N. Indian Canyon Drive, Palm Springs. Tickets and passes can be purchased at psfilmfest.org.