PHOTOGRAPH BY MARCIA GAWECKI
---
Tysen Knight's big break came when he decided to obtain his barber's license instead of pursuing college like his other two siblings.
"I was always good with my hands," say Knight, a Palm Springs street artist turned documentary filmmaker. "I got pretty good grades but college wasn't for me."
Knight was an upstart artist from an early age growing up in New Jersey, drawing cartoons and airbrush Mickey Mouse images on jeans for $25 each. He also created business card logos, but freelance artwork didn't pay the bills. His hair styling skills took him to Los Angeles, before losing steam and bringing him back to his artwork.
The documentary, The Art of Hustle, picks up Knight's life when he came to the desert and traces his roots as a street artist to becoming a regular gallery contributor at the Desert Art Center in Palm Springs. The film will be one of more than 170 to screen during the seventh annual American Documentary Film Festival, April 6-14, at the Camelot Theaters in Palm Springs. In January, the film was recognized with an award in the documentary feature category by Impact Docs Awards.
Knight spent five years in Los Angeles where he cut hair and took some acting classes, landing minor roles in films and R&B music videos. Eventually his journey brought him to the Coachella Valley in 2012 where he had a hard time finding the right fit with barber shops in the desert, and struggled for a couple years. "It was a Ramen Noodle living," Knight says of those days, but his girlfriend had a good job. Knight showed his art at Gallery 446 in Palm Springs that was geared toward street artists. "I was trying to get myself out there," he says.
Tysen Knightdoesn't use paint brushes to create his artwork, but paint markers.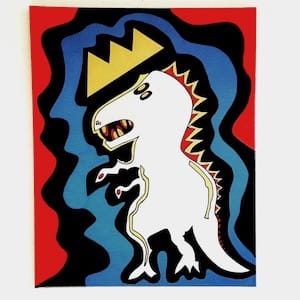 PHOTOGRAPHS COURTESY TYSEN KNIGHT
He thought of returning to LA to show his artwork that reveals full colors, hardlines, and cartoon characters from his youth. However, a gallery owner told him to stay in Palm Springs and make a name for himself here. In 2015 after breaking up with his girlfriend, Knight saw the Oscar-winning documentary, Exit Through the Gift Shop, that featured the lives of street artists like Sheppard Fairy and Banksy.
"Once I saw that movie, I thought I could do the same thing about street artists in Palm Springs," says Knight. "Everyone thought I was insane."
He simplified his lifestyle, trading his apartment for a one-room rental. He started working 10 to 12 hours a day at the barber shop cutting hair to make enough money to fund the project. On his days off, he worked on the documentary. Since he couldn't afford to buy or rent professional film equipment, Knight equipped his Nikon digital camera with a red lens, which was enough to shoot most scenes.
Knight told everyone at the barber shop about his project, and he posted an ad on Craig's List asking street artists if they wanted to participate.From there, he made connections with a monthly actor's group for a cameraman and an interviewer.
"He understood that part of what we were doing was illegal like tagging a billboard," Knight recalls. "He was worried about getting caught, but I told him that I would take the rap." The compromise was when cars would drive by, they would turn the camera light off. "It was safer that way, but it was cramping my creativity," Knight says.
PHOTOGRAPH BY MARCIA GAWECKI
Tysen Knight works on a new creation.
The documentary also features the work of his buddy, Blanco, who is a tattoo artist and featured on the film's cover; Victoria Black from Long Beach, and Skratch, a homeless man from Palm Springs. Skratch once worked for Disney, but then after a divorce, he fell into drugs and alcohol, and became homeless in Palm Springs. Yet he continues to do his art in spite of living on just $15 a day. "He's always happy and pleasant and doing his artwork. He takes it very seriously," says Knight.
They developed a friendship, and Knight looked after his welfare, including a trip to Eisenhower for a swollen foot from a spider bite that turned out to be broken. "I was homeless at one point in my life, sleeping on other people's couches and in my car," recalls Knight.
But filming a homeless street artist without a phone had its challenges. "Basically, when Skratch would call, we drop everything and go where he was because we never knew when he call again," Knight says.
After filming for a year, Knight wasn't sure how to end his film. "I just had a hunch I was going to make it!" Knight says.
American Documentary Film Festival, April 6—14, at Camelot Theaters, 2300 E. Baristo Road, Palm Springs.
The Art of Hustle, 7:30 p.m. April 10 at Camelot Theaters. Visit americandocumentaryfilmfestival.com for information and tickets,