PHOTOGRAPHS COURTESY OF NEVADA MUESUM OF ART
What do the Trans-Alaska Pipeline, Wyoming, Trinity Test Site, Joshua Tree, Mexican volcanoes, and the forests of Chile have in common? Unsettled, an expansive, season-long exhibition of modern and contemporary art at Palm Springs Art Museum, suggests these places all belong to "the Greater West," a super region encompassing the western expanses of the American continents and unified by tectonics and history.
The massive exhibition, which includes 200 works of art, is organized around four themes that explore everything from the geological to the colonial to the aesthetic: Shifting Ground, Colliding Cultures, Colonizing Resources, the Sublime Open, and Experimental Diversity. It showcases 80 artists, both emerging and from the canon, including John Baldessari, Emily Carr, Bruce Conner, Sonia Falcone, Ana Teresa Fernández, Paul Kos, Georgia O'Keeffe, Ana Mendieta, Trevor Paglen, Wendy Red Star, Ed Ruscha, and many others.
Palm Springs marks the third stop for Unsettled, which the Nevada Museum of Art in Reno organized and debuted prior to its stretch at the Anchorage Museum. It is fitting for the Coachella Valley to host the exhibition's final iteration. The geology and atmosphere have long attracted artists, architects, and writers to the area, where the histories of colonialism, industry, and the military are always present.
Nicholas Galanin's 2012 photograph Things are Looking Native, Native's Looking White.
"The vibration of this light, the spaciousness of these skies enthralled me. I knew there was a spirit in nature as in everything else, but here in the desert it was an especially bright spirit." Agnes Pelton
The Nevada museum initially approached Palm Springs Art Museum about the exhibition in order to borrow Los Angeles artist Mark Bradford's large painting Rat Catcher of Hamelin IV (2011). But Palm Springs Art Museum immediately saw the relevance to the region, and not only because it includes prominent local artists like Andrea Zittel and Phillip K. Smith III. Executive Director Elizabeth Armstrong says that the cultural collisions that serve as the foundation of the show are very apparent in the region. "This is an area that's been colonized over and over again," she says.
But for many artists, like modernist painter Agnes Pelton, the exploration of the Greater West begins with aesthetics rather than history. Pelton began her career working in a realist style, but like so many American modernists, her work was deeply influenced by a visit to New Mexico. Following this 1919 visit, and even more so following her permanent relocation to Cathedral City, in 1932, Pelton's work began moving away from her representational origins in favor of more abstract depictions of desert landscapes. The desert light that so many painters speak about became the central subject of Pelton's work. Of the atmosphere of her adopted home, she once said, according to the exhibition catalogue, "The vibration of this light, the spaciousness of these skies enthralled me. I knew there was a spirit in nature as in everything else, but here in the desert it was an especially bright spirit."
MARK BRADFORD PHOTOGRAPH COURTESY PALM SPRINGS ART MUSEUM
Mark Bradford's 2011 painting Rat Catcher of Hamelin IV.
In her 1952 painting Idyll, Pelton depicts the San Bernardino Mountains in a realist manner reminiscent of her earlier work, except for the fact that two radiant arcs of light, one green and the other orange, accompany the brown mountains. The arcs don't necessarily represent an actual atmospheric phenomenon; rather, they create an impression of how one might experience a brilliant desert day.
This painting pairs well with works by artists from across the continent, including Georgia O'Keeffe, one of the most prominent desert painters; Southern California luminary and part-time Joshua Tree resident Ed Ruscha; and Mexican modernist Rufino Tamayo. Lucid Stead (2013) by Phillip K. Smith III is a 70-year-old Joshua Tree homesteader cabin the artist outfitted with mirrors and colored LED lighting. This piece, "elements" of which appear in Unsettled, demonstrates that responding to the desert atmosphere isn't just for painters. By day, the piece reflects that open sky; and by night, the LED lights complement the celestial bodies with a vivid display.
Drawn by the paradox of an enormous body of water in the middle of the desert, photographer Joan Myers first visited the Salton Sea in 1986. Bewitched by what she found in the communities around the sea, Myers began returning every year. In Salt Dreams: Land and Water in Low-Down California, a 1999 book she collaborated on with historian William deBuys, Myers describes a landscape that sounds like a microcosm for the Greater West — a place where "water issues, the border, agriculture, flimflam development, environmental degradation, and native rights" collide.
Myers' 1987 photograph Salton City Golf Course (Palms), included in both Salt Dreams and the exhibition Unsettled, subtly telegraphs many of these issues. Hardly recognizable as a golf course, the long-abandoned landscape depicted is full of the bare trunks of palm trees and dry brush rather than lush greens. The version of the black-and-white photograph in the exhibit has been lightly painted with watercolor, providing a green, almost radioactive veneer to the scene.
The watercolored version of Salton Sea Mailbox (1987) also harbors an end-of-times feel. A palm tree with its fronds drooping down to the ground, as if melted by heat or radiation, offers some sign of life in a scene of leafless trees and a dark and ominous sky. A lone mailbox also suggests abandonment. Contrary to the reality of rich ecosystems and extant communities, popular culture often presents deserts as wastelands devoid of or antagonistic to life and human habitation. Of course, Salton Sea communities are not post-apocalyptic, but Myers' photographs illustrate the desert's hostility to certain types of development.
CHRIS BURDEN PHOTOGRAPH COURTESY NEVADA MUSEUM OF ART
Chris Burden's 1987 installation All  the Submarines of the United States of America.
A long history of military activity, and especially nuclear testing, in the western United States contributes to the popular perception of deserts. The open space, sparseness, and clear skies that draw artists to the desert are also suitable for weapons testing. Few, if any, sites are more iconic in this regard than Trinity Site in New Mexico, host of the first nuclear detonation.
Late photographer Patrick Nagatani addressed this history in his Nuclear Enchantment series of photographs, several of which appear in Unsettled. Blending collage, installation art, and set photography, Nagatani created fantastical, sometimes humorous, photographs indicting New Mexico's relationship with nuclear testing. One of these photographs is named after trinitite, a radioactive glass left behind from the Trinity explosion. The Trinity Site is now a popular tourist destination, and the photograph focuses on the lava rock obelisk and plaque that mark the site. A dark cloud hangs overhead, and pieces of green trinitite rain down on a tourist with an umbrella and protective mask, not to be deterred from visiting the famous site.
Ed Ruscha's  Lost Empire, Living Tribes.
Brian Jungen turns golf bags into towering totem poles at the Palm Springs Art Museum.
Western Shoshone/Washoe artist Jack Malotte shares this concern for the desecration of Western land in his visceral and portentous watercolor painting The End (1983) depicting the Nevada Test Site, location of 928 nuclear tests, on Western Shoshone land. Work like Malotte's, however, points to one of the exhibition's greatest challenges: making meaningful connections between such disparate artists and themes. How, for example, is desert light in conversation with nuclear weapons?
This is a challenge for the curators but also an opportunity. The strength of Unsettled is that "it allows itself not to be hemmed in by a strict kind of logic or conceptual guideline," Armstrong says . "I love a show that's willing to entertain this rambunctious group of artists."
And even considering all of the weighty subjects and concepts that underpin it, Unsettled is anything but overly didactic. A person who has spent time in the Greater West likely has an intuitive understanding that the beauty, ecology, industry, history, and politics of the region are inseparable. Unsettled begins to show us how.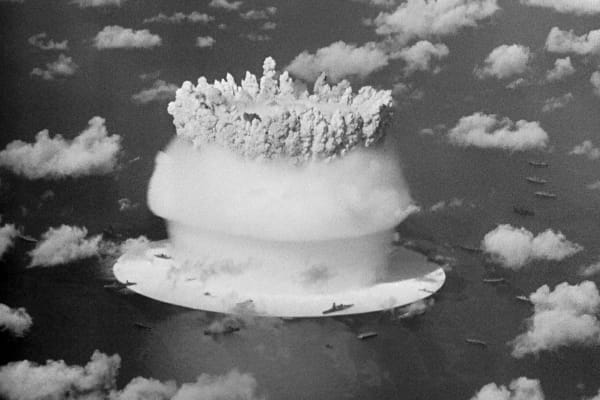 BRUCE CONNOR PHOTOGRAPH COURTESY NEVADA MUSEUM OF ART
Bruce Connor's 1976 image and sound piece CROSSROADS.