---
chiara & david
High Desert hideout at Joshua Tree National Park
Chiara envisioned a ceremony 
"in the middle of nowhere." 
Desert Pop Up coordinated 
a sweet and simple, wanderlust-inspired elopement in the heart of the desert.
Coordinator: The Walk Down the Aisle / Desert Pop Up
Bridal gown: Stone Cold Fox
Bouquet: David Rohr Studio
Officiant: Trish Jones, Desert Pop Up
Stylist and props: Desert Pop Up
sara & ryan
Tropical paradise at Avalon Hotel and Bungalows
Lush elements of the tropics hinted at a Maui honeymoon. Guests flew from the Midwest 
to celebrate with this Santa Barbara couple. "I spent vacations in Palm Springs growing up because my grandparents had a house there," Sara says. "I loved the weather and good vibes. It always felt like the best place to have a wedding."
PHOTOGRAPHS BY BRIGHT BIRD PHOTOGRAPHY
Planner: COJ Events
Floral design, rentals, and lighting: 
Arrangements Floral & Party Design
Dessert: Over the Rainbow 
Cupcakes & Desserts
Hair and makeup: J. Russell! 
The Salon
Entertainment: Chris Paul
Videographer: The Quail and 
the Dove
Teresa & Brad
Midcentury playground at The Lautner Compound
A four-room hotel designed in 1947 by John Lautner is the heart of The Lautner Compound. Sleek architecture and bright, modern details pair with geometric shapes, metallic accents, and an Airstream trailer in a High Desert setting.
Location scout/management: 
Locations 760
Planner: A Touch of Light 
Wedding & Events
Bridal gown: Lumière Couture Bridal
Suit: Malcolm Alexander
Floral design: Eventistry Designs
Airstream and photo booth: 
SocialLight Photo
Calligraphy: Yellow & Lace
Makeup: The Face of Beauty
Rentals: Planks and Patina
PHOTOGRAPHS BY BYC PHOTOGRAPHY
ashley & preston
Bougainvillea pink at 
La Quinta Resort & Club
Ashley's bouquet of hot pink roses and lavender anemones was a color-saturated complement to her bridesmaids' dresses, petal-strewn aisle, and cake decorated with desert bougainvillea.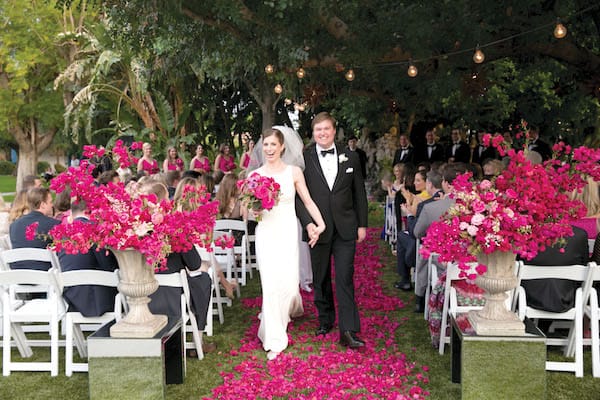 PHOTOGRAPHS BY MICHAEL SEGAL PHOTOGRAPHY
Coordinator: Michelle Stansfield,
Chic Productions
Catering: La Quinta Resort & Club
Cake: Exquisite Desserts
Bridal gown: Amsale
Floral design: Arrangements 
Floral & Party Design
Hair: Mandy Gomez
Makeup: Chelsea Nicole
allyson & logan
Homespun bohemian at 
Le Haute Desert Aerie
These San Francisco free spirits camped out in Joshua Tree with friends the day after their Pioneertown wedding. Allyson's mom made the macramé arch backdrop, knot by knot.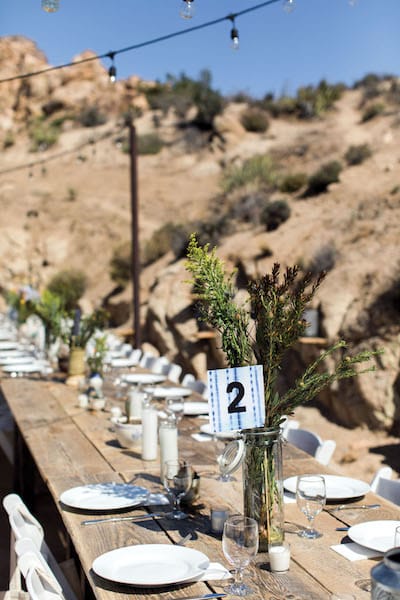 PHOTOGRAPHS BY KATHERINE ROSE, MAX & FRIENDS
Planner and designer: Trish Jones, 
The Walk Down the Aisle
Catering: Mojave Monaco
Dessert: Jelly Donut
Band: Mariachi Los Palmeros
Rentals: Signature Party Rentals Specialty rentals: Planks and Patina and Pow Wow
heidi & theresa
Poolside party at 
Ace Hotel & Swim Club
"We stayed at the Ace when we first started dating, and it immediately became our special place. From the amazing scenery to the friendly staff (who became friends, some of whom were guests at the wedding) to the chilled vibe, it was the obvious perfect location for our wedding."
PHOTOGRAPHS BY MICHAEL SEGAL PHOTOGRAPHY
Coordinator: Jacquelyn Mavrookas, EVJ Wedding Co.
Heidi's gown: Grace Loves Lace
Theresa's suit: Ted Baker
Floral design: Artisan Event 
Floral Décor
Hair: Kristina Tabb
Makeup: Tiffany Brigs
DJ: classyfun.com
Synchronized swimmers: Aqualillies
Videographer: Grimace Films
sarah & bryce
Tuscan romance 
at Colony 29
Few Palm Springs venues rival the fantasy of Colony 29, developed as an artist 
colony in the 1920s. Orange, rose gold, and a hint of chartreuse picked up colors in the architecture and landscape to paint a rustic palette designed to evoke the vineyards of Tuscany.
Planner and coordinator: Chad Gardner Presents
Catering: Dash and a Handful
Floral design: Vaso Bello Celebrations
Musician: Milton Merlos
Rentals: Signature Party Rentals and Casa De Perrin
PHOTOGRAPHS BY KATIE GEIBERGER PHOTOGRAPHY
nikki & vince
Vintage lace and black leather at La Chureya
This San Clemente couple got engaged in Palm Springs and wanted to bring loved ones 
back for a spring wedding. 
They tied the knot on the lawn of this private Spanish-style estate built in 1934.
Coordinator: Kelsey Linder
Bridal gown: Daughters of Simone
Floral design: Cargo Creative
Hair and makeup: Patty Luna
Rentals: Signature Party Rentals and Archive Rentals
PHOTOGRAPHY BY KATIE MCGIHON