PHOTOGRAPHS BY DANIELLE NAGEL AND PHILLIP BUTLER
---
The desert inspires me in many ways. I'm a sucker for midcentury modern and
gravitate toward the vintage aesthetic. From interiors to art, Palm Springs reflects the 
laid-back, cool California lifestyle that my apparel brand represents, and I visit 
often from L.A. Here's the low-down on my favorite spots for a weekend adventure.
Friday Afternoon
Arrive Palm Springs
We have Arrived! This hotel is modern and minimal yet still cozy, and with a coffee shop, two restaurants, an ice cream parlor, and a gift shop, essentially, you never need to leave. There are two floors of bungalow-style rooms with patios, all surrounding the pool. Also awesome: Arrive hosts pop-up events featuring local vendors, and the pool is open to the public.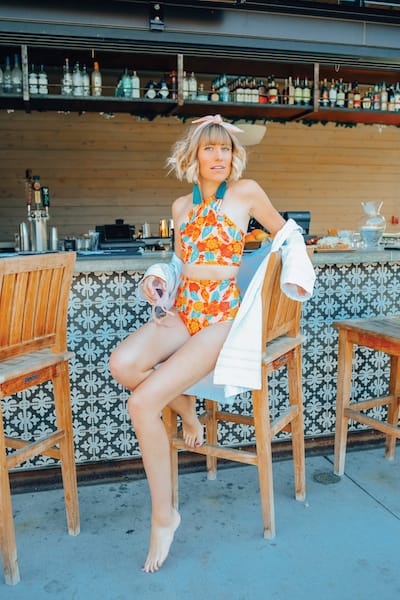 Saturday Morning
Farm Palm Springs
What better way to start the weekend than brunch? We needed a spot where we could bring the pup but also relax. Farm's hidden in a courtyard, and seating is mostly outdoors, stoking a "secret garden" vibe. It's the perfect escape from the bustle of Palm Canyon Drive … and there are watermelon mimosas.
Saturday Afternoon
Sunny Dunes Antique Mall
There is a gang of antique stores in this area, but Sunny Dunes is the best spot to start. In the desert, shops aren't picked-over as they are in L.A. I find a lot of inspiration for my designs when I wander stores like this, whether it's a vintage poster or old album artwork.
Saturday Evening
Ernest Coffee / Bootlegger Tiki
Coffee and cocktails? Count me in. Ernest is an adorable coffee shop by day, and by night, secret back doors open to reveal a speakeasy-
style tiki bar. Eclectic Palm Springs spots like this inspired my summer collection
Sunday morning
Joshua Tree National Park
With giant rocks and Dr. Seuss–style trees as far as the eye can see, the landscape looks like another planet. On your way in, explore town — you'll find crazy colorful art galleries, a crochet museum, and a number of vintage stores. For lunch, try Pie for the People or Joshua Tree Coffee Company.
Sunday afternoon
Pioneertown
Visiting Pioneertown is like stepping back in time. Built in the 1940s as a 
Wild West film set, it's ideal for spontaneous photo shoots. You'll find a ton of kitschy shops, but the crown jewel is Pappy & Harriet's Pioneertown Palace. If you have time, stick around for open-mic night to catch local talent.
Danielle Nagel is the owner of Dazey LA and co-founder of Biz Babez. Follow her 
on Instagram at @danidazey and @Dazey_LA and shop her line at dazeyla.com.