ILLUSTRATIONS BY NAT REED
---
Even if you were late in line to Modernism Week's guided bus tours, you don't have to miss out. Hit the road with our guide to check out — at your own leisure and pace — some of Palm Springs' most iconic midcentury structures.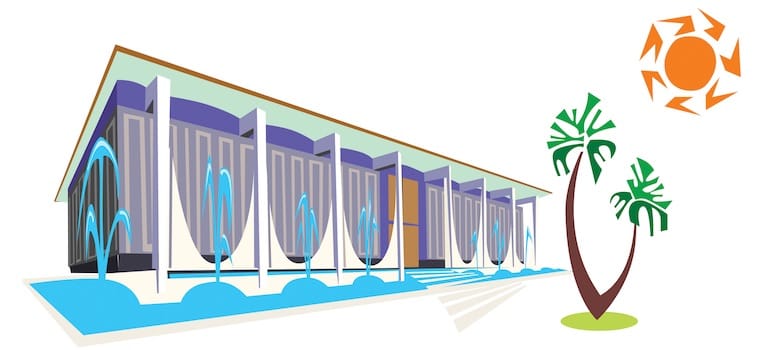 Originally the Coachella Valley Savings and Loan, E. Stewart Williams' 1960 landmark structure inspired confidence and optimism with its regal facade and dramatic inverted arches. Currently a Chase Bank, it is located on the corner of Ramon Road and South Palm Canyon Drive.
Charles Dubois' 1959 chalet-style Swiss Miss House — one of 15 built in the Vista Las Palmas neighborhood — features an exaggerated A-frame roof and tropical flavor of a Polynesian hut. Located on West Crescent Drive at North Rose Avenue.
"Butterfly" Alexander homes, named for their unmistakable rooflines, were built by the George Alexander Construction Co. and designed by the architectural firm Palmer & Krisel in the late '50s. These tract homes feature post and beam construction and can be seen in the Twin Palms, Vista Las Palmas, and Racquet Club Estates neighborhoods.
Designed by Donald Wexler and Richard Harrison in 1960, the Royal Hawaiian Estates condo community features a Tiki Modern facade, popular during that era. Located at the corner of South Palm Canyon and East Twin Palms drives.
Many homes in El Rancho Vista Estates, designed by Donald Wexler and Richard Harrison in the late 1950s, remain in their original form and are terrific examples of houses of this era. Located at the southwest corner of East Vista Chino and North Gene Autry Trail (Highway 111).
Donald Wexler and Richard Harrison's Steel Houses of the early 1960s were constructed mostly from steel and glass parts made for school classrooms, which they creatively applied to these middle-class homes. The project was sponsored by U.S. Steel. Located in Racquet Club Estates at North Sunny View Drive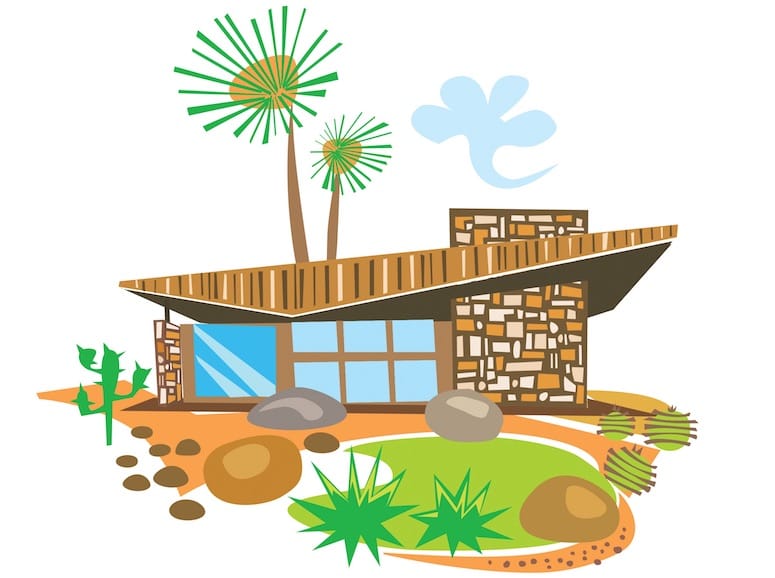 Tucked in Little Tuscany Estates, the stone-walled Edris House, designed by E. Stewart Williams in 1953 for Marjorie and William Edris, appears to rise organically from the rocky landscape. Located on West Cielo Drive, Palm Springs.
Sitting at Palm Springs' northernmost end, the Palm Springs Visitors Center was designed by Albert Frey in 1963 and was originally the Tramway gas station. Located at 2901 N. Palm Canyon Drive.
Nat Reed is an internationally recognized artist whose work has been featured at Palm Springs Modernism, Mod Miami, LA Modernism, and Mondo Lounge in Las Vegas. Visit The Art of Nat Reed Gallery at 333 N. Palm Canyon Drive, Ste. 108B, Palm Springs. 323-304-8822; natreed.com.