RENDERING, PHOTOGRAPHS COURTESY WALTER S. WHITE PAPERS, ART, DESIGN & ARCHITECTURE MUSEUM, UCSB
---
The City of Palm Desert just might have started a preservation trend for municipalities everywhere.
The long and winding tale of the Miles C. Bates House in Palm Desert, is at once precedent-setting, inspiring, and a heralded win for preservationists throughout the country.
In 2012, the State of California shut down its 400-plus local redevelopment agencies (RDAs), which for years were used by local governments to eliminate blight, provide affordable housing, and spur economic development, in an effort to address the state's ballooning deficits.
According to Cora Gaugush, management specialist for Palm Desert's Public Works Department, the state mandated that all RDAs be dissolved and properties "be disposed of for the highest and best use." Accordingly, Palm Desert started the arduous process of reviewing and divesting itself of its real estate holdings, which notably included Walter S. White's Miles C. Bates House.
"The city originally acquired the property in 2008 through the Redevelopment Agency originally not knowing it was a historic property," Gaugush says. "It bought it for the lot to build affordable senior housing because of its close proximity to the Joslyn Center." During the appraisal of the Miles C. Bates House, the city was informed that it was a historic property.
The Miles C. Bates house under construction with one wooden composite beam in place.
Designed by White, an architect and industrial designer, the house was built in 1955 for an artist named Miles C. Bates. The house is also known as the Wave House for its distinctive "wave" roof which White patented by creating wooden dowels with bi-concave intermediate elements. White incorporated other innovative features into the design such as underground heating and cooling systems.
White designed at least 48 homes in Palm Desert while living and working in the Coachella Valley for several years in the 1950s. He also designed the Franz Alexander house in Palm Springs, which is listed on the National Register through author/architectural historian Dr. Barbara Lamprecht's efforts.
The Palm Desert Historical Society was largely instrumental in convincing the city of the Bates House's historical and architectural significance despite its dilapidated state. The city was presented with a dilemma — demolish or preserve it.
The PDHS started a Go Fund Me campaign to hire Lamprecht to write a designation proposal for the National Register of Historic Places. The National Register listing was approved on March 26, 2018, preceded by the State of California Historic Designation. The Bates House is also Palm Desert Historic landmark.
Corner of roof on the Wave House, made from dowels and bioconcave wooden elements.
The wave-like shape of the roof mirrors the shape of the mountains in the background.
While the initial dilemma for the city was resolved, it still had to decide what to do with the house. "We met with Modernism Week and the idea was born about an auction," Gaugush explains. "Modernism Week promoted the auction through its website, which brought worldwide attention to the auction."
The auction took place Feb. 24 during Modernism Week and drew seven bidders, including five who actively bid during the live auction. The live bidding was done in less than five minutes starting at $50,000. The house had been appraised at $320,000 to $340,000 in 2017.
The last two bidders went back and forth and ultimately it sold for $360,000 to Stayner Architects – Gil and Christian Stayner, a father and son firm in Los Angeles
"The city has committed up to $50,000 toward the preservation restoration. The buyers will work closely with the city so that their vision is met with the City of Palm Desert," Gaugush notes.
Christian Stayner elaborated more about his family's purchase and preservation plans of the Miles C. Bates House.
Why did you and your father purchase the Miles Bates House?
Actually our family purchased it — or, technically, we are in the process of purchasing it. While Gil and I are leading the project with our architect colleague John Going, we're not the only people involved. This is a family effort — Teri Fox, Gil's wife and my mom, is a journalist and writer, formerly with the Los Angeles Times.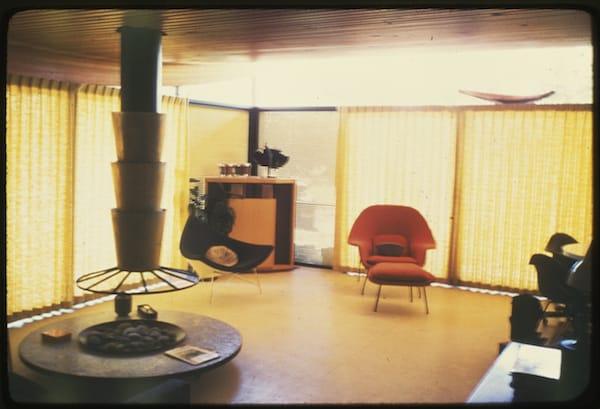 Interior shot of living room with circular fireplace.
My sister, McKenna, lives in Brooklyn and is an editor with the New Yorker. My partner, Jason Goldman, is a restauranteur who holds a doctorate in art history focusing on the 1950s and 1960s. Gil and I operate a small architecture and development office in Los Angeles, in the shadow of Dodger Stadium.
We bought the Bates House because we saw the potential of bringing the house back to its original condition, as close as possible to what it was like when the house was built in 1955. Back then, Miles C. Bates, who was an artist and playboy heir to a Midwest cement fortune, entertained various Hollywood types like James Dean at the Wave House as well as his previous residence, which was located down the street.
We're also committed to open the Miles Bates House to the community and visitors so they can experience an artifact of the Coachella Valley's midcentury history — not exactly a museum, but also not a private residence that can only be seen from the street. Bates built the house as a place for gatherings and events. He clearly saw the house as a place to bring friends and visitors to the desert, to socialize, and as a sort of salon for other artists, actors, and intellectuals in Palm Desert. We'd like to see how much of Bates' original intent — both in architecture and use — we can restore after many years of abandonment and disuse.
Were you familiar with Walter White's work?
We had vague knowledge of Walter White before beginning this project, but he really wasn't on our radar. Despite several years teaching architectural history to graduate students in Los Angeles and Michigan I, personally, knew relatively little about White and his work.
However, what we found was an architect whose interests were very similar to both Gil's and my architectural concerns as well as those of our office: White was born and raised in Southern California, very involved in the construction of his projects.
He made an inventive use of form, and deeply invested in passive environmental strategies — such as those he integrated (with varying success) into the Bates House. In these ways Walter, Gil, and I represent three successive generations working on very consistent architectural ideas and concerns.
In the past few months we have spent time with White's archives at UCSB (University of California, Santa Barbara) to self-educate about his work, particularly the series of unbuilt projects for Miles Bates that preceded this building. White is interesting for his interest in not just design, but also the construction process. The unusual, patented roof construction giving the "Wave House" its nickname appears to have been developed out of his desire to explore both an unusual form and a cost-effective construction method. Although the "Wave" is striking, it is the details in the construction of that roof that are really interesting and experimental — both in 1955, when it was constructed, as well as today.
What are your plans for the house?
We are working to restore the Bates House to its original condition or as near to it as we can. This means that we will remove additions made in the '70s and after, demolish a three-unit apartment building that had been constructed a few feet away from the house, and undertake a painstaking restoration of the original structure, both inside and out.
We will also be realizing Walter White's original desires for natural landscaping in the front and a more lush backyard behind the house. We are also realizing the large circular pool from White's original design — which was never built. And we are adding two small casitas, one-bedroom units hidden at the back of the lot that also contain some of the modern infrastructure (HVAC, electrical, laundry room) for which there is no space within the original house. While Walter White had designed some additional guest buildings for the property, only one partial sketch exists. The new construction uses White's sketch and is deferential to the original Bates House.
And, most importantly, we are working with the City of Palm Desert to open the property for educational tours, architectural conferences, overnight stays, and special events consistent with how other important historic residences throughout California have been made accessible to the public. This will be a first for the city and a major step in supporting their growing historic preservation program in Palm Desert.