PHOTOGRAPHS BY TIENLYN JACOBSON
---
It's hard to drive through Old Town Yucca Valley without taking note of Kime Buzzelli's colorful vintage clothing shop The End. In fact, if you know anything about Yucca Valley, The End is likely the first place you'll recommend to visitors. Known for its vast, eclectic selection and funky, wearable pieces, the store has developed something of a cult following — in the desert and beyond.
Buzzelli was working in L.A. as a costume designer for television when she and her husband decided to move to the High Desert. She renovated the shop over two years during breaks from her small-screen production schedule and opened in 2012. "I had a store in Echo Park, so I knew it was hard work," Buzzelli explains. "But I also knew that having a store connects you to the community and the people." With fellow artist Elena Stonaker, she painted the now-famous mural that ensconces the shop, and The End blossomed into the local hub it is today.
Buzzelli describes her personal style as "fired art teacher," an aesthetic that seems to harmonize with the desert. "There are people who visit in their desert costume, and then there are the locals," she notes. "There's a sense of freedom in how locals put things together. As a costume designer, I'm always excited when people just wear what they love and combine things that together tell a story."
The shop's wares reflect this, with styles ranging from '80s avant-garde to Southwestern ranch.
Buzzelli expanded earlier this year with a second location in Morongo Valley. "It just kind of happened," she says of the experimental new storefront, which marked its opening with an art show last month. "I always liked the idea of having a place where you could have workshops or art shows. I honestly still don't know where it's going to go."
Wherever it goes, it's all part of building a community. "I've met so many creative women, especially older women," she says. "It's inspiring to see strong, interesting women who aren't limiting themselves by age. There's an ageless quality here I haven't really seen elsewhere. My favorite thing about this place is that your limits fade away once you forget about them yourself."
The End has become more than just a place to unearth vintage gold. Laughter and chatter fill the rooms, making even first-time visitors feel instantly among friends. "Here, women hold each other up," Buzzelli says. "We're all willing to help. In cities, people don't help each other the way they do out here."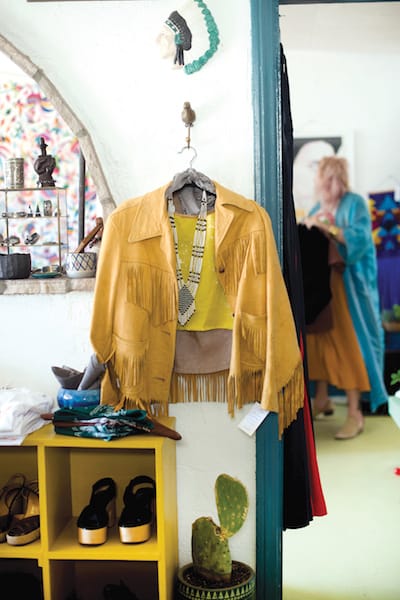 Antique Boutiques
The valley is awash in quality vintage clothing.
The Frippery
This sunny Palm Springs shop specializes in resort wear with a bohemian twist, as well as a nod to the mod. Everything is curated with the desert lifestyle in mind.
M Designer Vintage 
and More
Palm Springs' newest vintage store, located in La Plaza shopping center, features high-end designer apparel, handbags, and accessories in bright colors and prints.
The Fine Art of Design
In Palm Desert, this is the ultimate stop for elusive designer items dating up to the '90s. It leans toward the pricier side, but you'll get your money's worth or more.
Dakota Bob's
Ideal for Western and denim lovers who don't mind doing a little digging to find a great piece. Visit the Yucca Valley vendor to stock up on well-loved boots and belts, and don't overlook the jewelry.
Shop on the Mesa
Mainly a furniture store, this Yucca Valley spot possesses one of the most wearable racks of vintage in the High Desert. You'll find a hearty basket of old Levi's in the corner.