PHOTOGRAPHS BY MATT HOULEMARD
---
When desert native Sarah Scheideman returned home in 2008 after graduating from the University of California, Riverside, she launched a blog to give some exposure to the local art scene.
"It started as just a hobby. At that time, I felt like no business wanted anything to do with the millennial generation. But as I saw it, we are obviously the future. I thought, if no one's going to cultivate anything for us, I'm just going to do it myself," she recalls of the birth of her site, CV Arts Scene. "Only my family was reading it, or so I thought."
Her family and Goldenvoice, apparently. Six months into writing about emerging artists on the blog, Scheideman received an email from the festival producer asking if she'd like to help expand the artscape at Coachella.
"I had been attending the festival since I was in high school in 2002, so I was a big fan," Scheideman enthuses. "It was hard to believe. When I went in, we talked about how we could incorporate local artists and the local culture to be able to connect with people. We came up with doing arts and crafts, to share trades and skills with people from all around the world."
Scheideman's interactive crafting tent, known as Coachella Art Studios, is now in its 10th year. Located at the festival's on-site campgrounds, it's a creative sanctuary — complete with DJs — where people can kick back and make a free doodad or two to take home.
The craft space was one of the first activity stations in the camping area. Scheideman pitched her inaugural 100-square-foot tent in 2008. The venue is now 5,000 square feet, open 10 a.m. to 2 p.m. and 11 p.m. to 4 a.m., and this year features a lineup of women DJs, sensory-driven craft areas, digital projection screens, and opportunities to interact with fellow creative folk.
Despite hitting the decade mark, Coachella Art Studios remains somewhat off the radar.
"It's kind of like this hidden secret," Scheideman says. There is not much promotion outside its Facebook page and patron-generated #craftchella hashtag — which makes it the ultimate insider place to be. Anyone with a wristband can access the campgrounds and art studios during festival hours; also on-site are a farmers market, vintage market, phone charging stations, fleets of (generally) well-maintained portable toilets, and other pop-ups and dance parties.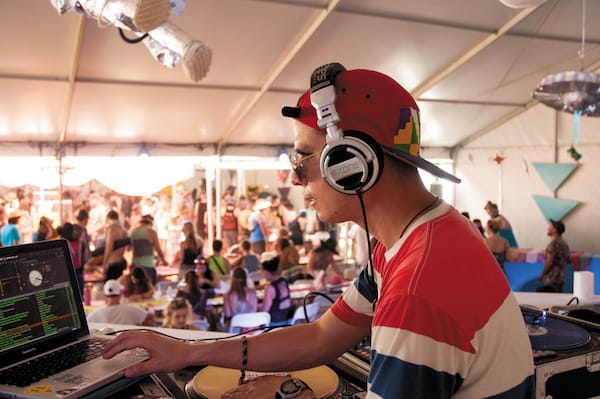 "It's therapeutic to be able to come in and just cut things or draw aimlessly if you want," she says. "We're the place you can experience chill for a moment … a fun art party. You can either come and be social, or you can be super antisocial and just go in a corner and work on your project, and no one would bother you. If you want to socialize, it's as easy as turning to the person next to you and asking, 'Can you pass the glue and the scissors?' "
Coachella Art Studios at Coachella Valley Music and Arts Festival, April 13-15, 20-22