PHOTOGRAPHS BY DAVID BLANK
---
Growing up in several Latin American countries, Jorge Mendez was exposed to an eclectic community of artists from which his greatest passion was born. As a boy, he found encouragement in his grandfather, a self-taught artist. In his 20s, he immersed himself in Miami's flourishing art scene. His first career blended his business acumen with his fluency in English, Spanish, and Portuguese. Since moving to Palm Springs, however, his interests in contemporary art and connecting international artists to collectors have aligned in the Jorge Mendez Gallery.
With soft taupe walls, his Andreas Hills home doesn't mimic a gallery, but, in some ways, it functions like one. Mendez invited us inside for a look.
How does the desert fit into your life story?
I graduated from the University of Maryland, where I majored in accounting and finance. For the next 
10 years, I lived in the Washington, D.C., area and honed my financial skills working for a couple of large nonprofit organizations. I met my partner, Ray Maas, while living there, and in 2008, we relocated to Seattle. Gray, dreary days quickly led us to Palm Springs as a weekend getaway — and in 2011 we bought our first home here.
Tell us about the Jorge Mendez Gallery.
After a health scare in 2012, I realized that my job wasn't fulfilling me. So I made the decision to quit corporate America and pursue a personal passion. I've always been drawn to vibrant and complicated art as well as to larger-scale works. Many happy coincidences led me to develop and work on the idea of opening a gallery.
The dining room (opposite) is home to Jane Burton's sculpture Clearing the Way, Sequoias sculptures by Tyler Burton, Vladimir Cora's painting Bodegon con Cabeza, and Opposing Forces by 
Holly Ballard Martz.
At the same time, Palm Springs was reawakening after the 2008 recession, and the Uptown Design District was beginning to redefine the north end of Palm Canyon Drive. I looked at spaces down valley but was only attracted to the potential of all the positive developments here in Palm Springs, and I wanted to be a part of the "new" Palm Springs.
For more than four years, the Jorge Mendez Gallery has been perfectly situated in a freestanding building designed by desert modernism architect Albert Frey. With more than 2,500 square feet of exhibition space, I'm able to curate multiple collections of modern art while giving my clients and collectors room to roam in a very relaxed and inviting space.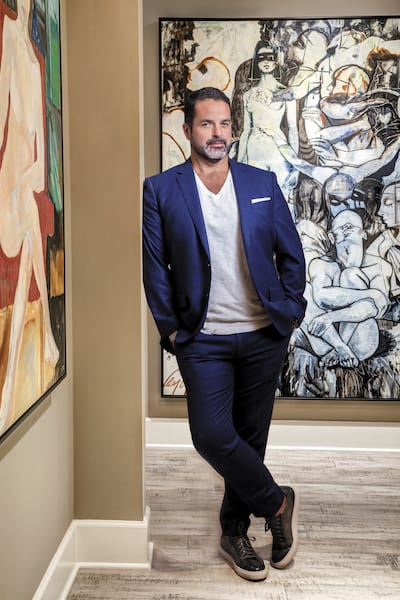 Jorge Mendez in front of Exodo by Alejandro Leyva, a favorite piece placed prominently to be seen from the entry. Next to him is The Red Chair by David Baca.
In the media room (center), Letters 
From the South by Ariel Vargassal pairs with Tapiz Urbano by Amador Montes.
What do you look for when choosing art for your home?
I hope the same thing my clients are looking for: pieces that speak to me, move me, and, at times, even transport me. My partner and I have been collecting art for years. With the advent of the gallery, our collecting has escalated, as we now have access to a wide range of artists connected to the gallery. For me to represent an artist, I need to feel a personal connection to their work. Then, it's all about the right piece for the right space. Art comes alive when it has a sense of place. Sometimes it can be complemented by other objects and certainly enhanced by the right lighting.
What drew you to this home?
When we were looking to build, like many folks, we had a long wish list. But a must-have was a home that showcased art. Our home was a collaboration between architect Anthony Poon and the builder, Alta Verde Group. The design was touted as a gallery home with extensive art lighting, and it lives up to its description beautifully — especially for large-scale pieces.
How does your home complement your collection?
Simple lines, high ceiling plenums, wide corridors, true-white lighting, and expansive wall spaces all work cohesively in setting the stage for great art.
The architect described his style as "mission modern." He wanted to respect history without pandering to the past. By successfully connecting interior and exterior spaces as well as deploying technology, modern materials, and luxury finishes, we had great bones to build from.
Color speaks volumes in the living room but is reserved for the art. Maria is Going to Mickey's by Ariel Vargassal hangs above the wine cooler. Faces crowd above the fireplace in Retablo V by Vladimir Cora.
"For me to represent 
an artist
. I need to feel a 
personal connection 
to their work." Jorge Mendez
What was your interior design approach?
My partner selected appropriately scaled furniture upholstered in leathers, hides, silks, and velvets with a consistently muted color palette that allows the art to take center stage. Fixtures and lamps are fabricated from hand-wrought and polished metals. Custom-size area rugs in wool, silk, and hide define spaces within larger spaces. We added just enough mirror and crystal prisms to give a reflective brightness. I selected all the art pieces to complement the modern design of the house and overall design aesthetic.
What makes your home a great place in which to live?
Expansive glass doors that offer breathtaking views to western exposures of the San Jacinto Mountains that are like framed art. The indoor-outdoor living is perfectly California. But if I had to choose, it would be the very generous-sized spaces and corridors that create a personal gallery. Nothing feels quite as luxurious as living with beautifully composed art, laden with acrylics or oils.
A favorite piece in your collection?
I have too many favorites, for different reasons, but one that speaks to me is a large-scale painting with minimal colors titled Exodo by Alejandro Leyva. The painting depicts separation, anguish, suffering — it's a challenging and provocative piece.
What should people consider when selecting art?
Above all else, buy what you love. Buy works that complement your aesthetic and, by their mere presence, bring a thought or a smile to you. Don't be afraid of color, and be sure to size the objects for your space. The most common mistakes I see are undersized art, noncomplementary frames, and inadequate lighting. Your art should be an expression of who you are and what you like — and less about décor, to match a hue in a rug or sofa. Let your art lead the dance and fill your heart with joy!
How do you help clients with that process?
Many of my clients are seasoned collectors. They know what they want when they see it; there is no indecisiveness. Nothing brings me greater joy than to know I was the bridge, connecting the artist and the patron. With others, I offer to bring several pieces to their home. We will discuss potential locations, install the work, and often I will suggest we leave the painting in place for a week or more if needed — just to be sure they love it. I also advise on framing and lighting. I want my clients to be happy with the art they choose for their home.
Should clients buy art for a specific place in their home?
Often clients will be looking for a painting for a specific space. Other times, they fall in love with a piece but are uncertain they have a place for it. Art is an emotional purchase, and I do not want to influence a client's decision-making process. I like to listen more than talk. If asked, I will suggest trying the work in a specific space. It's not unusual to move one or more of their paintings to another location to get it just right. I'm happy to guide, but ultimately the decision is theirs to make.
Anything else we should know about you?
Just how grateful I am to have the opportunity to share my love for art and the terrific artists I've cultivated with collectors, new clients, and now your readers. It is an exciting time to be living in such a special place as Palm Springs. I hope my gallery can be a springboard for those who love art. I invite everyone to stop by, browse the collections, and find their own inspiration in the work of others.