---
There's nothing better than landscaping that doesn't look landscaped. Europeans might feel differently — they'll point to the gardens at Versailles or Villa d'Este, with their symmetry and topiaries and manicured lawns. But here in the American West, we prefer things rustic, untamed.
The desert garden at the South Palm Springs home of Norman Lofthus and Arlene Moore is not so much a garden in the traditional sense as a habitat, one that appears to have sprung from the earth fully formed, like Athena from Zeus' head.
A California native who first moved to Palm Springs at the age of 7, Loftus spent 30 years in Berkeley before returning to the desert (and reuniting with Moore, his high-school sweetheart). His concept for the garden project was to recapture the Tahquitz Canyon of his youth, "on a slightly smaller budget," he laughs. The execution came courtesy of Mark Logan, a third-generation Coachella Valley landscaper who brought that vision to life, working with his son, Nick, and a dedicated crew of six.
Stand at the back of Lofthus' desert modern home, and the garden looks like it extends to the distant San Jacinto Mountains. It's an illusion that's the result of canny contouring by Logan, the earth undulating at various heights, just as in nature.
A two-tier waterfall splashes into the free-form pool.
All this is made more remarkable by the fact that the 1.25-acre "living desert," as Lofthus calls it, started out as a flat empty lot. A few months after he bought the house in 2002, he purchased the parcel behind it in order to prevent development. Ten years went by, and the raw lots remained untouched. Lofthus admits that he "didn't have a clue what to do with them."
Logan, who had landscaped the front of the house, suggested he take a look at the Eric Johnson Memorial 
Gardens in Palm Desert. Lofthus did so and became inspired. His primary wish for his own property was a network of pathways that would encourage wandering, that "beckon you to follow them. You can see the start, but you don't know where they go."
Logan delivered with trails and arroyos that capture water flow and delineate the topography. Stones were left where he found them (and many others were brought in and installed by crane or by Caterpillar loaders, including one boulder weighing 33,000 pounds). "We didn't take anything out," Logan explains. "We utilized everything that was on-site. We recycled whatever came out of the ground."
Washes are lined with rock and a blend of aggregate material, forming trails that encourage wandering.
Throughout the environment, pathways go up and down; they widen, then narrow, just like the natural hiking trails of Tahquitz Canyon. In a couple of spots are trios of
massive elongated boulders, two set
vertically and one across the top, Stonehenge-style. The tops serve as bridges along the pathways; walking beneath, one is forced to duck. "There's a sense of peril," Lofthus says, "which is wonderful because that's the way nature is."
The garden is awash in color following monsoons in spring and summer. At various points, one might encounter the perennial Wedelia, with its golden flowers; the bright-red tubular blooms of the Coral plant; or a Moon Lagoon eucalyptus tree, which has silvery-blue leaves as a young plant, white flowers, and branches that show shades of maroon in cooler months. There's also a strategic olfactory component by way of sweet white jasmine and the distinctive pine/camphor scent of creosote, particularly when wet. "Nothing does a happy dance like the desert after a rain," Lofthus notes.
Nestled at the base of the Santa Rosa range, the house has nearly 360-degree mountain views.
"Things are always in motion; nothing is static. 
You get a real sense of the earth changing and moving."Norman Lofthus
Even the obviously manmade elements are grounded in nature. There's an "armchair" of granite rocks built into the edge of the free-form swimming pool. Steel sculptures — bighorn sheep and cacti — have been allowed to rust. Fires emerge from random patches of loose stones in the ground, rather than from constructed pits. Along the edge of washes, horizontal stacks of granite slabs simulate natural geologic stratification. "Mark's landscaping is very dynamic," Lofthus says. "Things are always in motion; nothing is static. You get a real sense of the earth changing and moving."
There are boulders that look like they plummeted off the mountains and spontaneously landed in the garden. Indeed, Logan does much of his designing on the fly, saying he has a "gift" for visualization. There were no detailed plans delineating the placement of this stone here, that one there; instead, he brought them in and let them lay as they fell.
What was calculated were issues of long-term maintenance, planning for a future in which the garden wouldn't be overgrown, unmanageable, or block the nearly 360-degree mountain views. "It's really critical," Logan says. "You can do a really nice job, and then you've got to come back to tear stuff out because it's protruding onto the roof lines or stuff like that."
The garden's centerpiece is what its owners call "the oasis." This living room of sorts is a circular space with a trickling waterfall. At night, it's a magical spot, with subtle lighting bouncing off the perimeter and illuminating key components such as a prominent agave plant
Lofthus designed much of the garden's lighting himself and is constantly tweaking it. "Lighting is like taking a giant painting, blacking it out, and revealing selected parts of it," he says. He takes pride in camouflaging the light fixtures and in placing them in unusual locations, such as between two halves of a rock that had split upon installation.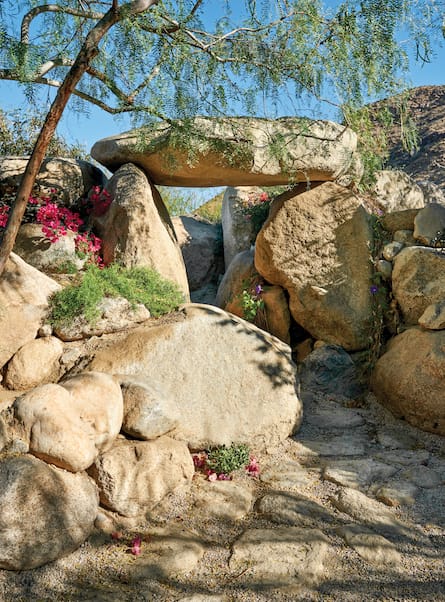 Boulders form bridges for climbing and create shade for resting underneath.
He says the garden feels so endemic to the space it inhabits that some visitors have experienced déjà vu, believing they'd come to the spot as children, decades before it was actually created. And that, perhaps, exemplifies its most remarkable qualities: a perfect marriage of the natural and the man-made, a joyful inevitability.
Granite slabs mimic rock stratifications found in the desert.