PHOTOGRAPH BY TIFFANY CARTER
---
Trendy foods are just as stylish as your Coachella wardrobe but perfect when washed down with champagne or beer. Beyoncé would approve of the vegan burger that bleeds just like real beef, and Eminem would surely lose himself in a crepe cone. Haim's name would fit perfectly on a personalized quesadilla, and Cardi B would find foie gras macarons to be as fab as she is.
Create your own festival with a three-day weekend binge-tasting and Instagram-ing these unique dishes.
Bubba's Bones & Brews, Cathedral City
Macaroni & Cheese Pulled Pork Egg Rolls
This was a win-win in my foodie book before I even tried it. Bubba's is the wildly creative barbecue joint that pushes the envelope when it comes to ribs (love their curry version) and brews (with a trendy craft beer menu perfect for aficionados).
The menu is as satisfying as it is imaginative. The Macaroni & Cheese Pulled Pork Egg Rolls are exactly what they sound like, and they are divine. #AnotherOrderPlease
PHOTOGRAPH BY TIFFANY CARTER
The fusion comfort food that combines your love of cheese and sweet and sour sauce.
Counter Reformation, Parker Palm Springs
Foie Gras Macarons
I met my daily quota of "fancy" just by sitting at the bar at Counter Reformation, the holy shrine to wine hidden just outside the Parker hotel lobby. But it gets even more decadent once you pair your Champagne with an order of the macarons, the little bundles of joy that dominate the Instagram feeds of foodies and fashionistas.
The ones here are a blend of sweet and savory, with a creamy foie gras center that's the perfect textural complement to the slight crunch and cloud-like center of the macaron. A bite of Maldon sea salt balances out the flavors.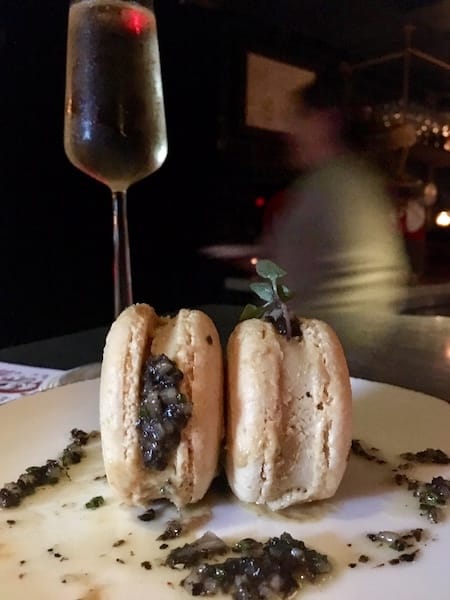 PHOTOGRAPH BY TIFFANY CARTER
Foie Gras Macarons with Maldon Sea Salt and a glass of champagne is a creative and savory take on the sweet French cookie.
UniQue Bite Eatery, Indio
Personalized Quesadilla
Remember when Carrie Bradshaw wore a "Carrie" necklace on Sex and the City, and OMG, everyone went bananas and starting putting their name on everything? That trend is back for this "me" generation.
That's why UniQue Bite Eatery is my jam. You can order a quesadilla off the kid's menu (no judgment from anyone here) and have your name (up to five letters) printed on the tortilla. I felt like I became honorary mayor of Indio for the day.
PHOTOGRAPH BY TIFFANY CARTER
There's no shame in your game when you order off the kids menu at UniQue Bite Eatery in Indio. Each quesadilla is stamped with your name.
Old Town Tavern, La Quinta
Giant Pretzel
on a Hook
This dazzling display of Oktoberfest madness has #challenge written all over it. A towering soft, salty pretzel, easily big enough to share, comes with a side of whole-seed mustard, chopped dill pickles, an addictive cheese sauce, and sausage slices. Choose one of Old Town's frothy beers on tap and you'll be dancing in your lederhosen.
PHOTOGRAPH BY TIFFANY CARTER

Old Town Tavern in La Quinta serves a giant pretzel big enough to share, but tasty enough to have all for yourself.
Lala's Waffles Crepes & Shakes, Cathedral City
Crepe Cone
Lala's is the place where unicorns come to reload on pistachio ice cream and Nutella shakes. Owner Karla Lara is #queen at making crepes with whipped cream, strawberries, mango, Nutella, and mochi. Other wonderments on the menu include the signature Frida dessert, made with an extra crispy waffle and topped with a dulce de leche spread, fresh fruit, whipped cream, and pistachio ice cream. Simple but delicious is the Crepe Cone: a crepe with one spread (chocolate, dulce de leche, or Nutella), rolled into a cone and topped with a scoop of ice cream. Tell that inner voice that shames you over calories to take a hike.
PHOTOGRAPH BY TIFFANY CARTER
The Crepe Cone: a crepe with one spread (chocolate, dulce de leche, or Nutella), rolled into a cone and topped with a scoop of ice cream.
The Craft, Rancho Mirage
Impossible Burger

I love seeing chefs who can master vegan or vegetarian cuisine as though they're competing in a Top Chef challenge sponsored by Moby. Erick Hernandez has crafted a tasty meal from a plant-based Impossible Burger patty. The juicy burger is topped with melted vegan cheese, caramelized onions, crispy lettuce, and tomato. Pair this with a martini, and your "trend" meter just hit the red.
PHOTOGRAPH COURTESY THE CRAFT
The Impossible Burger is a plant based, vegan burger that actually tastes and even bleeds like a real meat patty.