PHOTOGRAPHS BY DAN CHAVKIN
---
Life in Greater Palm Springs would pretty much stand still, or at least slow to a walking pace, if not for the automobiles that cruise its streets. But the car scene here differs from most in that the Coachella Valley has a particularly high concentration of well-preserved vintage automobiles.
The sight of cool old cars being driven, often on a daily basis, is woven into the fabric of this area along with the celebrity-owned homes, architectural masterpieces, luxury golf resorts, and breathtaking geological formations. But the famously fabulous automobiles are unique among the desert's signature attractions in that, being automobiles, they move. We don't go to them, as we would pay a visit to Frank Sinatra's house; they come to us under their own power. You can't bury your face in your phone for long, because like a shooting star, they're gone as quickly as they appear.
But where do they live? Who's driving them? Where do these cars spend the night? We can't account for them all, but we know one particular roof under which at least 100 of Palm Springs' coolest vintage cars reside. This seven-unit warehouse, situated somewhere within the Palm Springs city limits — which, for security purposes, is as specific as the tenants will allow us to be about its location — is as innocuous-looking on the outside as an industrial building gets, but over the span of a dozen years starting in 2005 and culminating in 2017, car collectors have occupied all seven of the warehouse's 2,000- to 8,000-square-foot units — one of whom jokingly calls the building "The Secret Palm Springs Car Museum."
This story might be your only chance to see what's inside.
Andy Linsky feels at home in his 1965 Rolls-Royce Silver Cloud III
Linsky's 1960 Ford Starliner.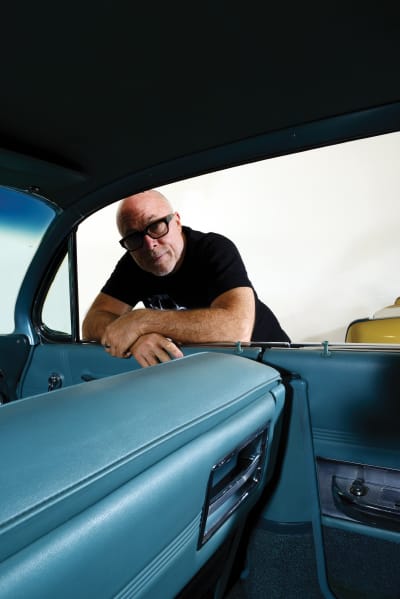 Chris Menrad leans in to his 1961 Cadillac Series 62
Menrad's 1964 Mercury Park Lane
"Probably the worst idea I've ever had"
When Sandy Edelstein first got together with Scott King 20 years ago in Los Angeles, they had one car between them: a tiny two-cylinder, air-cooled, hunter green 1965 Honda N600 that's been "in mothballs since 1985" (they still own it). But both men had loved cars since their youth, and when King and Edelstein attended their first Great Autos of Yesteryear car club event, the annual "Colors and Chrome" affair on the rooftop of L.A.'s Petersen Automotive Museum, "We were blown away. There were all these guys there, regular people," Edelstein says. "I had this thing in my head that only rich fancy people collected old cars. But we went there and it was just a bunch of regular guys, and they had all these cool cars.
"There were about five Ford Skyliners with the retractable hardtop. We left and I was like, 'I want one of those.' So that was the first car we bought together: a '59 Ford Skyliner. And after we got it, it was like potato chips — you can't eat just one," Edelstein says. "Then we got another car, and another car, and that's how we've ended up with 20-some-odd cars."
In 2004, Edelstein, a mortgage broker, and King, a former product planner for American Honda Motors and later an executive at Honda's advertising firm, bought a weekend home together in Palm Springs, and after three months, they fell so in love with the city that they sold the house in L.A. and moved to Palm Springs full time.
David Peck and Dennis Duca in their 1968 Chrysler 300 convertible
— one of only 2,164 made; the couple's rare 1975 American Motors Gremlin X Levi's Edition with denim seats.
They had "only" five or six cars when they moved here, filling their three-car garage, as well as a rental garage in King's hometown of Monterey, plus a spot at a friend's house. "Then there were a couple cars we wanted to buy, but we didn't have the space. We were going to have to sell a car. And why? Not because we don't like it, but because we don't have any space. Maybe we should fix the space problem.
"That was probably the worst idea I've ever had," Edelstein continues, laughing. And so began the hunt for warehouse space, which he notes was "ridiculously cheap" in 2005.
After looking at a few, they found one they particularly liked and met the real estate agent at the building along with the building owner.
"We go there, see the Realtor standing there, and we start to walk across the parking lot and this guy turns around and
I look at him and I go, 'Ben?'
" 'Sandy?'
" 'You're the building owner?'
" 'You're the tenant?'
"He had been a longtime client of mine in L.A., and lo and behold, he and his family own the building." Soon, there were five cars in their "beautiful, pristine space" in which they installed indoor-outdoor carpeting, as well as some furniture and a slew of old posters, ads, and signs that the couple had stashed in various places around their house.
"It looked fantastic. It was the first time we could see all our cars together," King says. "It is like laying out all your toys on the floor and playing with them. And we've seen that with all the guys who have moved in; they've been able to experience that same thing."
"It looked fantastic. It was THE FIRST TIME we could see all our cars together. It is like laying out ALL YOUR TOYS on the floor and playing with them. And we've seen that with ALL THE GUYS who have moved in; they've been able to experience that same thing."
Bill Stewart and Joe Gyori with their 1959 DeSoto Fireflite station wagon
Stewart's 1966 AMC Marlin.
When they rented the space, other tenants included a coffee distributor and a printer. When a vacancy arose, they encouraged other car collector friends to move in. "Then we thought, 'What would it be like if we got friends to take all the spaces?' " Edelstein says. "So, over the years, when businesses moved out, we'd get friends to take the space."
Finally, after several years, when the last remaining non-car business vacated, friends of Edelstein and King took the last spot. "It's been really neat," Edelstein beams. "Any time we go over there, we don't know who's going to be there, or who's taking delivery of something new.
"Our landlord is great," he continues. "We inspired him to get a '64 Ford Country Squire station wagon. And he's no fool. Every tenant we've turned him on to pays his rent on time every month. He doesn't have to worry."
Chris Menrad parks 12 classic cars in his "working garage," including his (from left) 1959 Oldsmobile Dynamic 88, 1967 Rolls-Royce Silver Shadow two-door saloon, 1977 Lincoln Continental, 1977 Chrysler New Yorker Brougham, and 1961 Lincoln Continental.
to each his own
While the warehouse is now full of cars, no two spaces are identical. Chris Menrad regards his 4,000-square-foot area as a working garage, visiting a couple times per week to swap one of the 12 cars he stores there for another. His collection includes a 1959 Citroën DS, a 1969 Chrysler 300 convertible, and a 1977 Chrysler New Yorker Brougham. He appreciates the building's convenient location, capacity, and that "all my car friends are located here … with vintage cars of all types. That makes it fun and interesting to visit."
Dennis Duca and David Peck are also members of Great Autos of Yesteryear and visit their 2,000-square-foot parking pad, equipped with five lifts, a couple times per week. Among the 18 cars they keep here are a '67 Chrysler Town & Country and a '75 AMC Gremlin with the Levi's interior.
Bill Stewart and Joe Gyori have filled their warehouse space with a collection of 18 automobiles, including a '78 International Harvester Scout, a '65 Rolls-Royce Silver Cloud, a '56 Nomad, a rare 2015 Miami Blue Porsche 911 Targa, and a Dove Gray 911 GT3. The 4,000-square-foot garage allows the couple to curate a diverse selection that also includes numerous station wagons and sports cars.
Sandy Edelstein in a 1963 Studebaker Avanti and Scott King in a 1966 Mustang convertible
Edelstein and King's 1963 Buick Electra 225 and 1988 Cadillac Brougham.
Andy Linsky was second to lease a space here, and his 12-car collection includes an Orchid Gray 1960 Ford Starliner that evokes the vibe of the 1960 Ford Sunliner convertible of the same color that his mom bought new, as well as one of only 28 1997 Bentley Brooklands Trophy Editions ever made. What's his favorite? "My '96 Rolls-Royce Silver Cloud III."
About two years ago, tenant Bob Reed moved 10 of his own cars and more than two-dozen others, which he stores for friends, into his 8,000-square-foot section of the warehouse. Reed, too, appreciates that all the other tenants collect cars. "We occasionally open our doors and kick tires and talk cars," he says. A daily visitor to the site, Reed has turned the former reception area into a "man cave" outfitted with a pool table and slot machine.
Bill Scheffler has about 3,500 square feet, which he fills with an undisclosed number of automobiles as well as posters from car shows, rallies, and other car events in which he has participated. His collection ranges in age and purpose, from a 1924 Buick to a Porsche Boxster, and highlights include a 1949 Delahaye 135M that graced the verdant lawn at a recent Pebble Beach Concours d'Elegance. This collection of collectors, he says, "creates an instant community of like-minded folks. It's magic." And he, too, swaps cars often.
"That's the point. If we're lucky enough to have this space to store cars, and we're lucky enough to have the cars to store, then we sure ought to drive the cars. Mine go on 1,000-mile rallies upward of a dozen times a year. There's nothing like driving a classic ol' sports car at speed in the Arizona or Colorado deserts, or the Texas West Country, or the hills and twisty roads of Northern California, or through the beauty of Montana, Idaho, and British Columbia.
"We're very lucky people."
Scheffler's 1959 Mercedes-Benz 220S.
"If we're LUCKY ENOUGH to have this space to store cars, and we're lucky enough to have the cars to store, then we sure OUGHT TO DRIVE the cars. Mine go on 1,000-mile rallies upward of a dozen times a year. There's nothing like driving A CLASSIC OL' SPORTS CAR at speed."
— Bill Scheffler
Sandy Edelstein's 1979 Buick Riviera.