PHOTOGRAPHS BY STEVEN SALISBURY
---
Summer at the Arrive Hotel is heating up, and what better way to cool off than dining at Reservoir where the flavors of the season are bursting through Chef Alex Resnick's lively menu.
You'll find California favorites on the menu with a side of humor like "Another Avocado Toast" and Citrus Roasted Beets with "fancy goat cheese." Chef Resnick sources local produce and focuses on clean, fresh, and sustainable California food. Palm Springs Life chatted with Resnick to ask him about his cooking tastes as well as a more pressing issue — his kitchen pet peeve: disheveled towels?
VIDEO: Watch Chef Alex Resnick prepare a Hamachi dish with writer Tiffany Carter.
How did you become a chef?
I started applying to cooking schools. I had no idea how to start, how to even get into a kitchen. I applied to the Culinary Institute of America in New York. I got accepted pretty quickly and moved to New York from LA. I had a list of restaurants I wanted to work for. I did that for a bit. I changed my mind and applied to Cornell for business school for hotel administration. After graduating, I moved to LA again. I was offered a chance to open a restaurant I heard about from my previous employers and ended up becoming the chef there.
Alex has worked in a chef capacity at several of LA's most prestigious restaurants, including the Bazaar by José Andrés and Red Medicine. In late 2015, Alex and three partners opened Picnic LA.
What is your favorite cuisine to cook and your favorite cuisine to eat?
I wish I had an easy answer for you — it would be nice to say Chinese food or something, but I like food that is honest, not trying to be something it is not. I don't have a favorite ethnic cuisine, but I do really like cuisine that comes from chefs that have a lot of experience and knowledge with food.
Is there a chef you admire?
Jordan Kahn. He has a place, Vespertine in LA. He taught me the importance of how things look on a plate.
• See related story: AC3 Chef Brandon Testi
Your last day on earth: Which city would you want to eat in?
LA. There's a ton of awesome food cities in the States. But if it was the end I'd probably want to go to a place I grew up in.
Any pet peeves in the kitchen?
Being a chef is being a person with the most pet peeves. You win the award for most pet peeves and then you get promoted to chef. I try to relax for my own health, but probably my biggest one is folding towels. If I see a disheveled towel on someone's station, I'll probably blow up on him or her pretty fast. It has to be folded.
What has being a chef in the desert taught you about what people are looking for in a dining experience?
Something that is not contrived or inauthentic. A little more relaxed. I think in the past there has been an emphasis on more formal settings and more formal food, and that is going away. Now I think people are looking for the same things everywhere — a little more relaxed and casual, so that's what I'm learning here.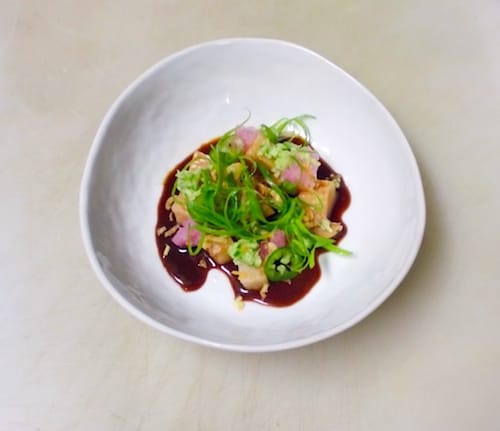 The finished Hamachi dish with ponzu, radish, and cucumber.